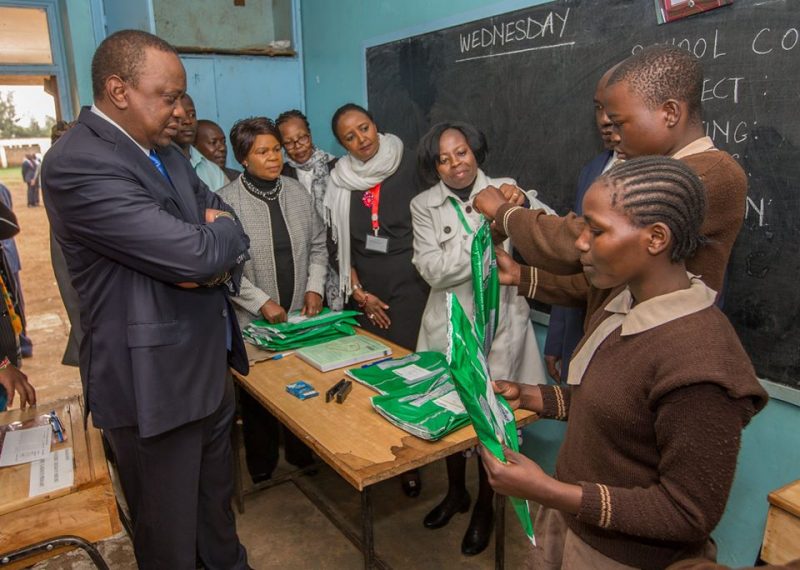 On January 22, 2014 former E*******n Cabinet Secretary Jacob Kaimenyi drew the ire of the public when he told 200,000 pupils who did not secure a place in secondary schools to enroll in polytechnics.
Kenyans could not understand why pupils were unable to secure form one slots regardless of their performance in the Kenya Certificate of Primary E*******n (KCPE).
However the "join polytechnics" song was put to rest on October 31, 2018 when President Uhuru Kenyatta made a surprise visit to Uhuru Gardens Primary School where he wished KCPE candidates success before they sat for the first test on the second day of the examinations.
The president who was accompanied by E*******n Cabinet Secretary Amina Mohammed discouraged the students from cheating assuring them of secondary school slots.
Uhuru spent time interacting with the students asking the candidates what professions they want to pursue after they clear school and at some point he encouraged one student who said she wants to become a teacher to work hard because that is "the best profession in the world".
"Don't be under pressure to do something that is not right just do your level best. My promise is that so long you have done your best, every one of you will find a place in secondary school. All you need to do is do your best," said the president.
READ: PRESBYTERIAN UNIVERSITY'S NIGHTMARE AS STUDENTS DECLINE TO JOIN MKU, BARATON
Deputy President William Ruto who was at Musa Gitau Primary School in Kikuyu, Kiambu County sang the same tune as the president saying that every child has the right to access secondary school e*******n.
"As a government we have made the necessary arrangements to ensure that every child transitions to secondary school," said DP Ruto.
The assurances by the two leaders are likely to reduce on possible cheating cases across the country.
SEE ALSO: PRESBYTERIAN UNIVERSITY BEGINS TRANSFERRING STUDENTS TO MKU
The ongoing examinations have been characterized by watertight security with President Kenyatta ordering the Interior Ministry to work with the E*******n Ministry to set up command centers to monitor the administration of the exams to curb cheating.