More trouble for KBC as another union issues strike notice
The Kenya Union of Journalists has joined the push for better working conditions by journalists working for the Kenya Broadcasting Corporation (KBC), piling more pressure on the state broadcaster's management as it prepares to cover the general elections.
KUJ today issued a statement supporting the ongoing strike at KBC by workers affiliated to Communication Workers Union (COWU) and issued a new strike notice for its members to push for a pay rise.
The (COWU) members went on strike yesterday, demanding implementation of a Collective Bargaining Agreement (CBA) agreed upon with management last month, which entitles them to 13.5% salary increment from July 2017.
"Kenya Union of Journalists (KUJ) expresses solidarity with employees of Kenya Broadcasting (KBC) who are on strike to push for better conditions of work," said KUJ Secretary General Eric Oduor. "In the meantime, KUJ had issued a strike notice to demand implementation of a return to work formula that was sign in March 2012."
He said it is high time the government took seriously plans to revamp KBC to discharge its constitutional mandate, and warned that KUJ would "ensure that operations of KBC are completely paralysed until the insensitive management wakes up from deep sleep."
KUJ employees at KBC had been promoted three job groups higher in 2010 but their salaries were never adjusted. The return to work formula agreed at the time has never been implemented. Secondly, KBC was directed to pay all employees according to the code of regulations that had been developed earlier but only three managers were earning according to those regulations.
KBC also agreed to have employees join a trade union of their choice, but Oduor says the corporation's managing director Waihenya has declined to sign a recognition agreement with KUJ.
KBC, being a state corporation guided by civil service pay scales, has found itself between ferocious unions and a rigid public service bureaucracy that would see it operations disrupted if both unions manage to sustain an industrial action simultaneously.
First journalist to be governor shakes ODM
Granton Samboja, who trained at Kenya Institute of Mass Communications, is an investor with interests in various sectors, including the media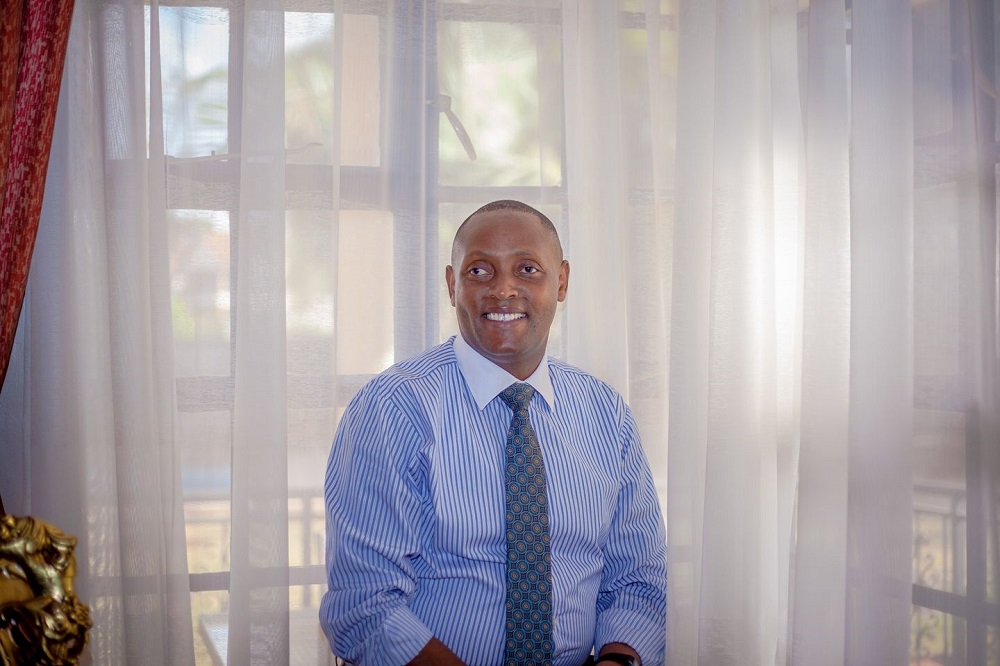 Before the August 8 General Election, nobody gave former journalist Granton Samboja any chance of winning the Taita Taveta gubernatorial seat that had attracted eight candidates, including ODM's  Thomas Mwadeghu and Jubilee's Dan Mwazo.
Former Governor John Mruttu also ran as an independent after losing in the ODM primaries.
Samboja, who studied journalism the Kenya Institute of Mass Communications, is an investor with interests in various sectors, including the media. He has defied odds to rise to the top.
He owned Milele FM but sold part of his stake to Mediamax Networks Ltd, a company associated with President Uhuru Kenyatta, and became its executive chairman. He later sold some of his stake to Deputy President William Ruto, a close buddy and mentor, who also bought shares in Mediamax.  Samboja also owns Anguo FM.
In April 2015, President Uhuru Kenyatta appointed him chairman of the Coast Water Services Board. Samboja resigned in February this year to venture into active politics.
Forged academic papers?
However, the former journalist could land in trouble if his bid to stop the Ethics and Anti-Corruption Commission (EACC) from prosecuting him for allegedly forging his university degree certificate fails. The EACC had recommended to the Independent Electoral and Boundaries Commission not to clear him but was unsuccessful.
The results of this year's election offer interesting scenarios. While in 2013, ODM swept nearly all the seats in the county, which is considered it stronghold. All top seats ranging from governor, Senator, Women Representative and three out of the four MPs in the county were from ODM. This year, it came out empty handed.
READ:
Is Raphael Tuju the new kingping of Luo land?
Observers argue that that the biggest indicator of ODM's dwindling fortunes is the loss of prominent candidates vying for various posts under ODM's banner who were floored by political neophytes under other parties.
Mwadeghu emerged a distant fourth with 20, 436 votes. He was even beaten by Dan Mwazo of Jubilee Party who emerged third with 22,706 votes while Governor John Mruttu who was vying as an independent candidate emerged second with 23, 974. Samboja garnered 40,764 votes.
Ms Silas Mbeo, a political activist in Voi, says Mwadeghu's loss should be viewed in the larger picture of how ODM's fortunes are nose-diving. He points out that Mwadeghu was a prominent member of ODM and was the minority chief whip in the national assembly; a post that should have given him a palpable clout in gubernatorial race.
ODM's dwindling fortunes
"ODM's appeal of yesteryears is all but gone. Voters have decided to try new path from the one they have been following," he claimed.
In 2013, only Naomi Shaaban survived the ODM wave to clinch her seat under TNA as ODM also accommodated majority of MCAs at 15 out of the 20 members in the assembly in the first county Assembly. During the controversial April party nominations, Mwadeghu and outgoing governor Mruttu were battling it out for ODM party ticket.
Mwadeghu emerged the victor with 17, 557 votes while Mruttu came second after bagging 14, 817 votes.
Attempts by Mruttu to overturn Mwadeghu's victory through the political parties' dispute tribunal were futile thus his decision to go independent. "He might be disappointed that he lost his seat but he is glad he beat Mwadeghu who denied him ODM ticket," Mbeo said.
ODM further suffered humiliating loss after its high-flying candidate for Women Representative post Hope Anisa emerged third behind Wiper's Pricillah Mwangeka and Jubilee's Lydia Haika.
Ms Anisa who is also the National Organising Secretary for the Orange Women League bagged 19, 546 votes behind Pricillah Mwangeka's 29, 508, who emerged second. The post went to Lydia Haika with 45, 528 votes, the largest number of votes for any candidate in the region.
Ms Anisa has said she will challenge the results claiming they were manipulated in favour of her opponents. Overall MPs tally in the county stands at ODM two against Wiper and Jubilee's one legislator each. In Voi constituency, Jones Mlolwa of ODM survived a stiff competition against Jubilee's Dishon M'ngonda garnering 18, 408 votes against M'ngoda's 14, 609.
In Mwatate, the incumbent Andrew Mwadime easily recaptured his seat after garnering 15, 396 and beating law professor Morris Mbondenyi of Jubilee who bagged 7, 937 votes.
Wundanyi constituency went to Wiper's Danson Mwashako who garnered 8, 373 votes against 5, 116 of Jubilee's Simon Mwachia.
Ray Mwangola, who is the current chair of ODM in Wundanyi, emerged third with 1,972 votes.
In Taveta, Dr. Naomi Shaaban triumphed with 11,322 votes against Wiper's Morris Mutiso who bagged 11,135. The emergence of new blood with little political experience might herald a new dawn for Taita-Taita politics which seem to be shifting from parties to individuals.
Peter Kenae, a human rights' activist said voting patterns showed that people were no longer being swayed by parties but were judging candidates based on their performance.
Divisive campaign
He cited the case of the newly elected Wundanyi MP Danson Mwashako,who had engaged in mentorship programme for students in the region. "This MP has never been in active politics but that did not count. People saw what he had done and decided to support him regardless of the party," he said.
ODM officials in the region have admitted that the divisions amongst the party officials and candidates in the region cost them heavily. Speaking to KNA on Friday, ODM chair for Voi constituency John Maghanga agreed that party officials and candidates were largely conducting campaigns solo and allowed other parties to prevail.
He blamed Mwadeghu for running a divisive campaign that alienated most ODM members in the region. He, however, stated that the party enjoyed popular support as evidenced by the many Members of County Assembly (MCAs) posts that ODM got.
Out of the 20 wards, ODM bagged eight seats while Jubilee bagged four with the remaining seats getting divided amongst Social Democratic Party (SDP), Agano Party and Ford-Kenya.
"We still have a huge grassroots following in this region. We have the majority of MCAs seats and that is how you know ODM is a force to reckon with," he said.
He also admitted that the party was also wreaked by supremacy battles that saw popular candidates being pushed aside for more influential ones. He said the officials would take stock of what went wrong and strategise for 2022.
He added that the governor elect will have to work closely with ODM MCAs to push through his agenda in county assembly. "The governor is from Wiper but the party does not have a single MCA under Wiper. To survive, he will have to work with the majority of elected MCAs," he added.
DStv creates channel for Mayweather fight
Despite its unusual nature, the duel has attracted international attention with fans and media drawn to the radiant personalities of both contestants
DStv customers are in for a big treat after SuperSport launched a pop-up channel ahead of the "Money Fight" between Floyd Mayweather and Conor McGregor. Channel 213 is now available to all DStv customers from Premium to Access and will broadcast daily from 5pm to 1am until the eve of the fight on August 27.
DStv channel 213 will have an amazing schedule with re-runs of several of Mayweather's great fights, his visit to Africa in 2014 and the popular All Access shows, which offer a fly-on-the-wall viewing experience.
Loud clothes, piles of cash, fast cars and trash-talking. It's all there in a fascinating package of boxing and bluster that will fill the pop-up channel dedicated to next weekend's "Money Fight".  Despite its unusual nature, the fight has attracted international attention with fans and media alike drawn to the radiant personalities of both contestants.
"This is another value-added service which is testimony to our commitment to put our customers at the heart of everything we do," said MultiChoice Kenya Corporate Communications Manager Philip Wahome.  "As such we are making continued improvements and adding more value for our DStv customers."
This follows closely on the move to provide DStv Family customers with all the La Liga games as well as a selected number of great international and local channels.
SuperSport will cross to Las Vegas at 01:00 am (CAT) on August 27 for the action-packed undercard. Big fight fans can watch on their decoders on DStv Premium or on their smartphones, tablets, laptops and PCs on DStv Now online or on the app, or on the SuperSport app.
Highlights of the fight will be available on DStv Catch Up in the hours after the event – this will be on your decoder, or via DStv Now. DStv Catch Up Plus, available on connected Exploras, and Catch Up on DStv Now, will carry the full fight later in the day.
Non-DStv customers will be able to watch the fight on the internet TV service Showmax later in the day. Showmax can be viewed on smartphones and tablets, smart TVs, Apple TV and Android TV, and via web browser.
Bachelor rhino wins Ogilvy a gold medal
The Loeries are Africa and Middle East's premiere awards that recognise creative excellence in brand communication
Ogilvy Africa has won five medals at the Loeries for its "Most Eligible Bachelor" campaign that aimed to raise awareness and funds to protect the only remaining male northern white rhino in the world from extinction.
The Northern White rhino is critically endangered, with only three of its kind left in the world, living at the Ol Pejeta Conservancy.
The agency earned a Gold for Media Innovation, Silver for Public Relations, Silver for Craft, Bronze for Digital and a final Bronze for Integrated Campaign.
The five medals make Ogilvy Africa the number one agency in Kenya and Ol Pejeta the number five most awarded client at the Loeries 2017.
The Loeries are Africa and Middle East's premiere initiative that recognises, rewards, inspires and fosters creative excellence in the brand communication industry.
"Coming just a few months after we bagged three medals for the same campaign at the Cannes Lions affirms that our work is world class," said Mathieu Plassard, CEO, Ogilvy Africa.
In June, the campaign emerged winner in three categories at the Cannes Lions, a first for an agency in Sub- Saharan Africa. Earlier in May, Ogilvy Africa was named Agency network of the year at the African Cristal Festival, which rewards the best campaigns created and broadcast in the African continent.
The Most Eligible Bachelor campaign that run in April was in partnership with Ol Pejeta Conservancy and Tinder, the world's leading social app for meeting new people.