The Nairobi Securities Exchange equities turnover retreated to Ksh772 million from the previous session's Ksh1.2 billion, as the number of shares traded declined to 29.7 million against 37.7 million posted on Monday, touching off fears of a bear run at the NSE.
The drop in market volume forced the NSE 20 share Index down 24.48 points to stand at 2311.47. The All Share Index NASI, however, added a measly 0.69 points to stand at 148.67, while the NSE 25 Share index picked up 5.52 points to settle at 3695.36.
Analysts said the stock market is expected to remain low but stable as banks begin to release their full-year results. "We expect the NSE to remain volatile in the coming days as banks announce their end year earnings. If you look at performance , there is hardly any excitement," according to Gerald Muriuki, an analyst at Genghis Capital.

There is debate on whether the NSE is undergoing a market correction or suffering foreign investors panic flight due to the coronavirus panic. "It is an inescapable conclusion when one plots the NSE 20 share or the NASI for the last 5 years that the market is on a bear run," said Nderi Johnson, an analyst at ABC Bank.
As trading moves to the 2nd week of March, the prices are likely to remain stable as most listed firms release their financials.
The Banking sector had shares worth Ksh88 million transacted, which accounted for 11.43% of the day's traded value. Co-operative Bank actively moved 2.48 million shares valued at Ksh35 million at between Ksh13.95 and Ksh14.80.
Equity Group Holdings closed the day 1.95% higher to Ksh47.10 moving 470,000 shares valued at Ksh22 million. KCB Group erased the previous session losses by 1.95% and closed the day at Ksh47.80 with shares worth Ksh21 million transacted.
The Insurance sector had shares worth 18.2 million traded & accounted for 2.36% of the day's traded value. Jubilee Holdings was down 1.47% to Ksh335.00 and moved 27,000 shares valued at Ksh9 million. Kenya-Re declined by 2.66% to Ksh2.56, down from Kshe2.63 registered the previous session with shares worth Ksh8.2M transacted.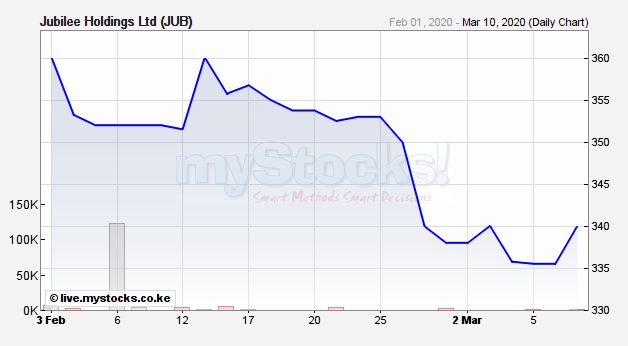 In Manufacturing & Allied, shares worth 69.6 million were traded & accounted for 9.00% of the day's traded value. East African Breweries moved 338,000 shares worth Ksh66 million at between Ksh193.00 and Ksh200.00.
In telecommunication, Safaricom was the day's biggest mover with 21 million shares valued at Ksh591 million changing hands at between Ksh27.15 and Ksh28.60. This represented 76.45% of the day's traded value.