A statement being shared online allegedly from the Media Council of Kenya (MCK) condemning Kericho Government officials for mistreating journalists is False.
The document claimed that some officials mistreated journalists invited to the governor's office to cover an update on the investigation into the embezzlement of funds meant for Londiani accident victims.
"The Media Council of Kenya (MCK) has noted with concern the behaviour of some individuals towards our members today within the precincts of the office of the governor of Kericho County during the coverage of circumstances surrounding the embezzlement of Londiani Accident Crash victims," the statement read in part.
"Our members reported bullying and blackmail tendencies in their course of discharging duty especially when seeking clarity over substantive issues surrounding the incident. A case in hand is when our member tried to ask the governor a substantive question. Derogatory terms were used which is insensitive and uncalled for since it violates the dignity of a journalist and as such, presents a culture that can easily erode our gains in the industry. We call on the institution invoked to act professionally when they need coverage from our members. We will consider the security of our members in future before accepting any invite from the respective institution. We urge the members of the public to be wary of the trend at hand and admonish it abinitio," the statement added.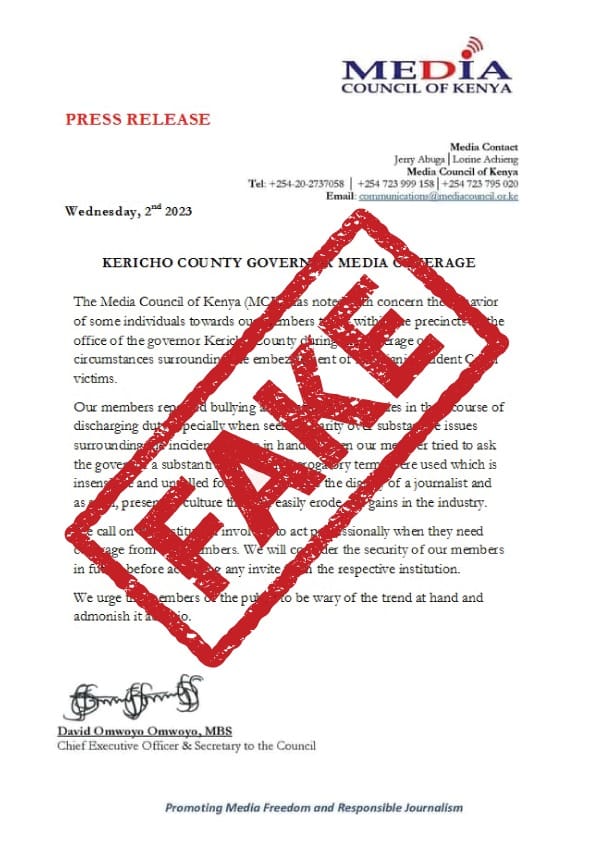 However, in a Facebook post, MCK dismissed the statement as fake.
"This is NOT from the Media Council of Kenya," MCK stated.
Several Kericho County officials are accused of misusing Ksh14.5 million collected for 77 victims of the Londiani road accident. 
Early this month, the Directorate of Criminal Investigations announced it had taken statements from 13 families of the victims of the accident. 
The June 30 accident claimed 53 lives, while 24 people sustained various injuries.
The statement condemning Kericho County Government Officials is, therefore, fake and does not originate from the Media Council of Kenya.
This fact check was published by Business Today with support from Code for Africa's PesaCheck and African Fact-Checking Alliance.