The Standard newspaper has found itself in a potentially damaging situation after withdrawing a story touching on the Raila Odinga family, and believed to be too sensitive.
The media house is understood to have been forced to change today's headline article late last night after Raila, the ODM leader and a former Prime Minister, used his influence to stop the publication of a court report on the succession case of his son, Fidel, who d**d in 2015.
The story had been co-written by Geoffrey Mosoku and Kamau Muthoni under headline THE FIGHT IN RAILA'S HOME was replaced with New Hefty Benefits for Teachers.
Business Today has been told that the paper was ready to go to bed, newsroom lingo for ready for printing, when Raila called a senior manager expressing his reservations about the article detailing the fight between Ida Odinga and Lwam Getachew Bekele, Fidel's widow, over his multi-million estate.
It is not clear how Raila got wind of the article, but it is a poorly kept secret that politicians have planted moles in the form of reporters and editors in all newsrooms.
Read Also >> Inside the Battle for Fidel's Wealth – Mama Ida Odinga vs son's Window
A few minutes later, Raila reached out to Baringo Senator Gideon Moi, who oversees the interests of Moi family in Standard Media. The Mois are the principal owners of the company.
Gideon, who calls the s***s, then called Standard CEO Orlando Lyomu, who summoned Executive Editor and Head of News Kipkoech Tanui, Editor-in-chief Ochieng Rapuro and the newly hired Managing Editor Denis Galava to urgently bring down the story.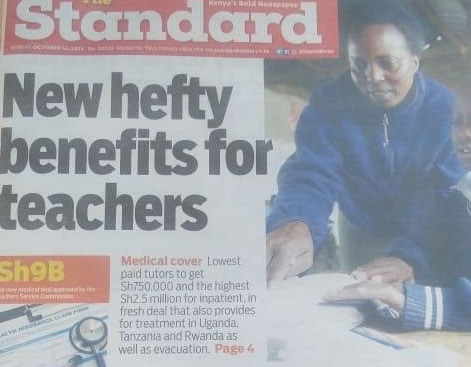 The three, who had already left for the day, were forced back to the office to stop press and find an alternative headline. Since it was too late to craft anything sensible from scratch, they upgraded an article on teachers as it happens the newsroom when the big story of the day d**s.
This is perhaps why The Standard did not make it to the newsstands on time this morning. The c****s, BT has been briefed, forced a recall of the newspaper's early edition that was destined for Mombasa and Western Kenya.
Read Also >> Kenyan Billionaires are Growing and Something Shocking Happens to the Poor
"The Mombasa van has left, while the Western van was being loaded," a staff at the printing press on Mombasa Road told BT this morning. The staff, who requested not to be identified, said given the strength of the article, Standard had done one edition for all regions.
According to details obtained by BT Ida Odinga is f******g Lwam, the Ethiopian lady who has been given the letter of administration for the Fidel estate, which runs into hundreds of millions of shillings according to conservative estimates.
But Ida has objected to her daughter-in-law being granted control claiming that Fidel had two other children with a secret lover. Lwam had one son with Fidel.
Battle for Fidel's wealth
She claims the twins need a share of their late father's wealth, which includes a house in Karen, parcels of land in Kisumu, seven bank accounts and four cars, among others.
Ida claims in court papers that Fidel used to support the kids before his d***h. BT has been told the twins indeed exist, but they were born six months after Fidel's d***h, which gives the case an interesting twist that will be one of the battle areas in the case that comes up for hearing on Wednesday 16th October.
By k*****g the story, Standard has been left with egg splashed on its face and pushed into a credibility c****s that mocks its "Kenya's Bold Newspaper' slogan. This is a lost opportunity for Standard to stand out and defend media freedom.
See Also >> Got money to invest? You are better off putting in this class of assets
It will also put Galava, who joined Standard barely two weeks ago, in the spotlight. This was perhaps the story to announce his arrival at Mombasa Road, which also brings to the fore the thin line between editorial independence and political influence that editors at Standard often contend with.
Court cases are always privileged except in cases where the court, for whatever reasons, lifts that.
As editors and management meet to review last night's events, readers and media watchers will be waiting to see what steps, if any, Kenya's second-biggest newspaper will take to redeem its dented image.
Next Read >> These Socialites Have Perfect Combination of Beauty and Brains