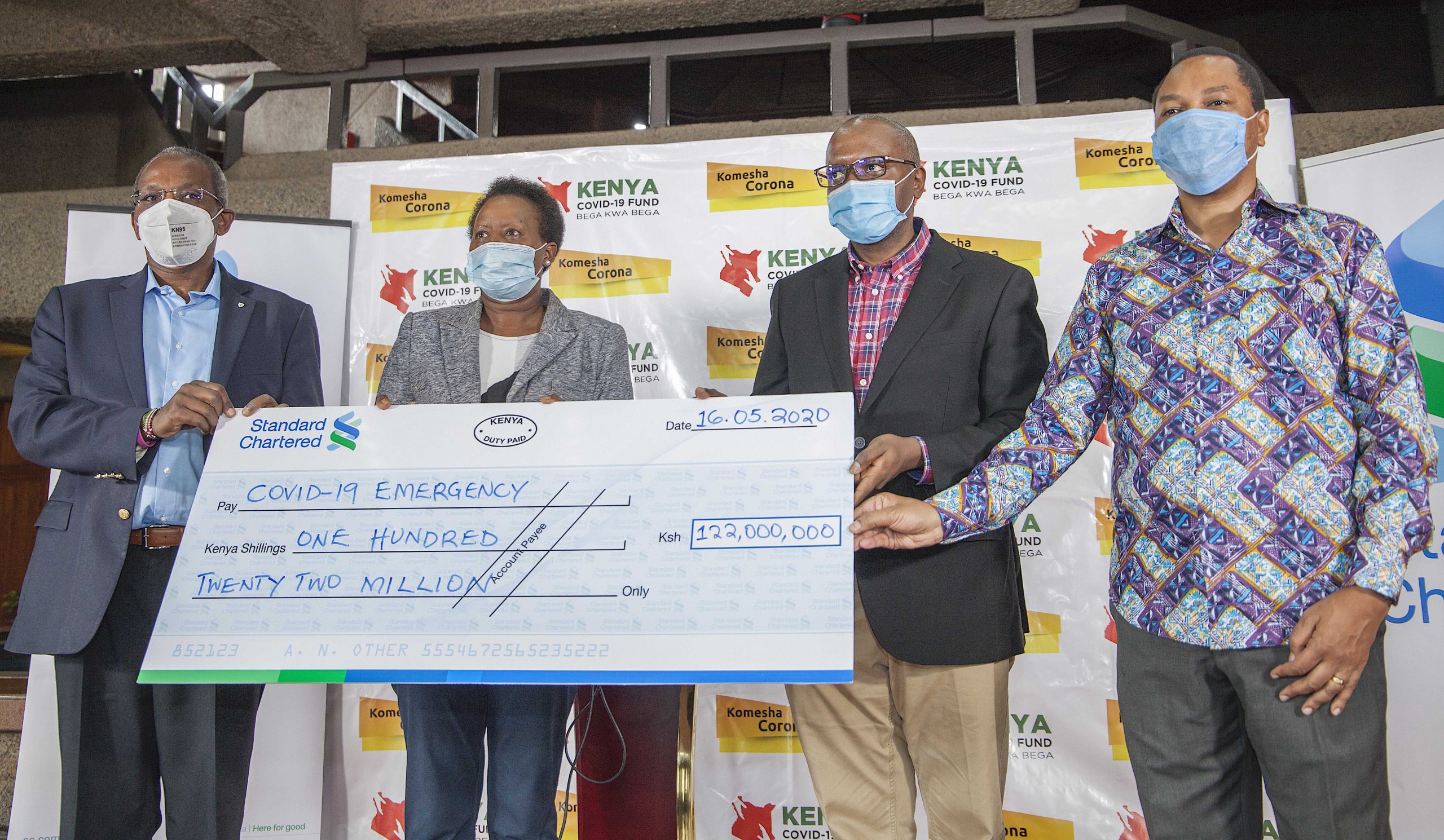 Standard Chartered Kenya on Monday announced the contribution of Ksh122 million (USD 1,150,000) to the COVID-19 Fund becoming the third bank to funnel funds in excess of Ksh100 million to the Jane Karuku led Fund.
According to the lender, the funds will go directly to R*******s and The United Nations Children's Fund (UNICEF) programs that are providing e*******y relief to communities impacted by the COVID-19 P******c.
In total, Ksh32 million (USD 300,000) will be contributed to the R*******s for the provision of urgent medical support such as the provision of primary and secondary health care, communication of protection measures, provision of Personal Protection Equipment (PPE) for staff and volunteers, and the distribution of food and care packages for those impacted by COVID-19.
Another Ksh90million (USD 850, 000) will be funneled to UNICEF for the immediate protection and e*******n of vulnerable children such as the provision of remote e*******n via TV, radio, online and mobile platforms and child protection measures.
The money will also be used to cater for alternative care arrangements and family tracing services for children separated from their families due to COVID-19, training of social workers to conduct home visits to vulnerable children for mental health support, and alternative care and protection services for children of parents or caregivers affected by COVID-19.
Speaking while presenting a dummy cheque to the Fund, Standard Chartered Bank Kenya CEO Kariuki Ngari said the contribution is a culmination of a well thought out COVID-19 Strategy that started with protecting staff & clients and now communities.
"Standard Chartered Kenya is proud to be able to contribute to COVID-19 e*******y relief measures by making available these funds to R*******s and UNICEF programs that reach the most vulnerable people in our communities," said Ngari
Dr. Simon Missiri, Regional Director, Africa at the International Federation of R*******s and Red Crescent Societies thanked StanChart for the contribution saying the funds will go a long way in protecting vulnerable persons and first responders
"Thanks to Standard Chartered's generous donation, R*******s and Red Crescent Societies can support local communities now facing increasing challenges due to the p******c," said Missiri.
Gary Stahl, Director, UNICEF Private Fundraising and Partnerships Division, said, "In any c****s, the young and the most vulnerable suffer disproportionately. This p******c is no different. Thanks to this donation from Standard Chartered UNICEF will be able to support remote e*******n via TV, radio, online and mobile platforms, and child protection measures for vulnerable children across the world."