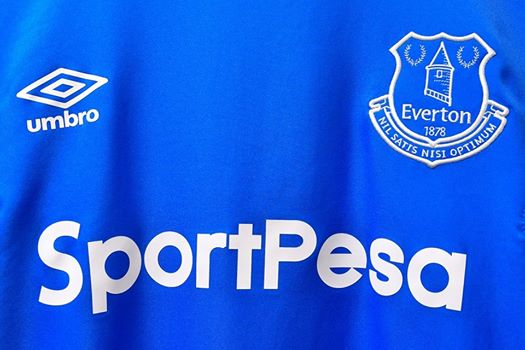 Betting firm SportPesa will be ending its sponsorships with Everton FC and Racing point Formula 1 team in what it terms as a change of approach on sponsorships.
In a statement, the company with Kenyan roots said it decided to change some of its global sponsorships in line with its new business strategy and sponsorships approach. In light of this, SportPesa has terminated two global partnerships.
"To this end, SportPesa will no longer be on the front of the shirt of Everton as a principal partner after the 2019/2020 season. We would like to thank our partners for their support and the amazing projects that we did together," the statement reads in part.
The betting company, which has since moved its main office to Liverpool England, said that it is on the lookout for other sponsorship partnerships. The company will continue to sponsor Tanzania's leading Football clubs Simba and Yanga SC.
According to the company, the decision to keep Simba and Yanga SC on sponsorship was to keep their support of East African sports. SportPesa, however, ended its sponsorships deal with all Kenyan clubs, including AFC Leopards and Gor Mahia, as it exited the country.
"SportPesa will, therefore, continue with its local and grassroots partnerships as they are the cornerstone of our sports development strategy by evaluating these opportunities as they come and as evidenced by the continuing partnership with football clubs such as Simba and Yanga SC in Tanzania," said the company in the statement.
However, SportPesa is yet to communicate about its new global sponsorship approach. The change of the business strategy comes shortly after the company's deal with the Football Association of Ireland was also terminated by the Federation.
SportPesa is only beginning to get used to business life after Kenya hence the change of its business strategy. Things were different when the company was still operational in Kenya as it is here where it grew fast.
As it may seem, things have not been good for the betting company hence the change of the business strategy. While still in Kenya, the company was making way more than it is now because it was dominating the market here.
However, despite their ugly exit from the country, SportPesa played a big role in developing sports in the country. In fact, SportPesa misses Kenya just as much as Kenyan Sports misses the betting firm.
After it withdrew its support, Kenyan sports really struggled with a number of football clubs lacking funds to even pay their players. The withdrawal of SportPesa from sponsoring the Kenyan Premier League saw Sony Sugar expelled from the league.
The betting firm has had to change its business strategy to keep it afloat as well as tap into the global market.