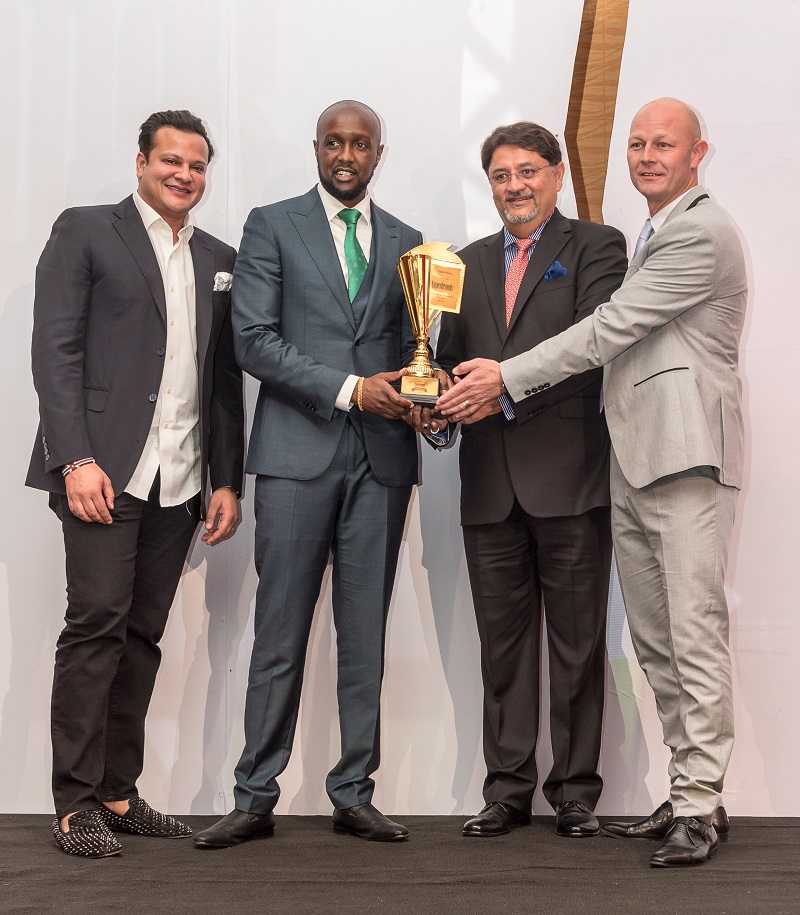 Superbrands East Africa on Friday celebrated 50 of the region's top brands at an awards ceremony held at a Nairobi hotel.
Amongst the top brands that made it to the 2017 / 2018 listing of top brands in Uganda, Tanzania and Kenya were Britam, Chandaria Industries, Dairyland, Darling, Equity Bank, Fresha, The Kenya R*******s Society, RMA, Safaricom, Royal Mabati and Sportpesa. (See full list below).
Superbrands unveiled their Volume V edition of the Superbrands book. The book features all awardees ranging from FMCG brands to corporate giants. Several key international brands are featured alongside the region's strongest homegrown ones.
The brands awarded range from industries of manufacturing, financial services and banking, NGO, real-estate, healthcare, transport, retail, FMCG and b*****g to name a few.
The fifth bi-annual Tribute Awards ceremony hosted over 200 of the key CEOs, captains of industry, movers and shakers and noted personalities. Guests of honour included former Vice President Moody Awori and Vimal Shah – CEO, Bidco Africa, who was also a recipient of the awards. CEO's in attendance included
During the awards, guests were entertained by an internationally acclaimed mentalist, Karan Singh flown in especially from India for the awards. He wowed guests with his ability to predict their thoughts and actions.
Key note speeches from the night came from Jawad Jaffar, Project Manager Superbrands East Africa, who noted "In today's world we are driven by instant communication, accessibility and abundant choice.  The impact that this has on brands is phenomenal.  For those that embrace this rapidly evolving landscape, new markets and exponential growth prospects are aplenty."
He added: "I am glad to say that the 50 brands that we pay tribute to are embracing change. You are at the very frontier of your industries, striving to push these new boundaries and innovate. You span more than twelve industries and touch over a hundred million lives.  Not only do your brands impact consumers through meaningful products and services but also your commitment to sustainability is profound. This is the power and reach of East Africa's most relevant brands."
The 2017/2018 Listing
Kenya
Alliance Media
Ando
Apex Steel
Aquasantec
Autoxpress
Bidco Africa
Britam
Chandaria Industries
Dawaat
Dairyland
Darling
Dawa
E-plus E*******y
Easy Coach
Elgon Kenya
Equity Bank
EXE
Executive Health Care
Festive Bread
Fresha
Jogoo
Kaysalt
Ken Tomato
Kenya R*******s
Landmark Holdings
Mombasa Maize Millers
Nzoia Sugar
Optiven
Pembe
Petrofuel
RMA
Royal Mabati
Safaricom
Sheffield
Sonysugar
Sportpesa
Supa Loaf
The Guardian
The Nairobi Hospital
Tononoka Group
Tuskys
United Millers
Uganda
Bank of Baroda
Radio One
Tanzania
Azam  TV
ITV
Mo Dewji Foundation
Petrofuel
Red Gold
The Guardian
Vita Foam (TZ)
Whitedent
(The above listing is arranged in alphabetical order).