The search for a new Managing Director for the Kenya Broadcasting Corporation (KBC) has triggered controversy with some applicants questioning how PwC, which has been tasked with conducting a competitive search for the man or woman to replace Waithaka Waihenya, went about the shortlisting process.
Nairobi lawyer Suyianka Lempaa, a former KBC staffer who recently won Ksh 2 million in a suit he had filed for wrongful dismissal by the national broadcaster, is now planning to move to court to sue KBC and PwC after his quest to seek information on the recruitment process was ignored. He is among those who were eyeing the job.
Lempaa is accusing PwC of violating Article 35 of the Constitution by denying him information on a matter that is of public interest.
"We have realised that the right to information is not automatic when it comes to urgent matters. The deadline was yesterday and PwC has not responded to our letter so we are planning to move to court because they are using taxpayers money and I am one of those who pay taxes," he told Business Today.
He said KBC has been rundown by poor leadership over the years, leading to its failure to meet basic financial obligations including taxes to Kenya Revenue Authority, statutory and Sacco deductions and pensions contributions despite deducting the same from employees.
When senior managers appeared before the Senate Committee on Information and Communication Technology (ICT), which is chaired by Baringo Senator Gideon Moi on Tuesday, they said the corporation made a loss of Ksh7 billion.
KBC also has an uncleared loan from the Overseas Economic Cooperation Fund (OECF) of Japan, which was borrowed in 1989 and has since grown to over Ksh 40 billion.
Lempaa says KBC's problems are unlikely to go away if there is no radical change in its management.
He wants to know why PwC changed the rules of the game midway by resorting to online submission of applications, which locked most applicants and made it an in house affair.
He also sought to know how many applied, the criteria used to shortlist candidates, a scheduled of when the interviews were conducted and why he did not qualify.
Sources indicate at least two senior managers are on the short list, among them Editor-in-Chief Samwel Maina.
At the Senate committee sitting, Samwel Otieno, who represented the KBC managing director, said it was spending up to Ksh 180 million every month on recurrent expenditure against Ksh 90 million that it was generating.
The committee expressed shock at how the institution was managing its funds and demanded change.
"It is wrong, even in the eyes of God, to deprive labourers of their wages. We are disappointed," said Moi.
READ: AGRIBUSINESS QUIETLY WINS HEART OF KENYA'S YOUNG GRADUATES
Homa Bay Senator Moses Kajwang noted that the future of the employees at the State Corporation was uncertain. "You are treating your people badly, you need to convince us that KBC is worth having," said Kajwang.
Here is Lempaa's letter to PwC: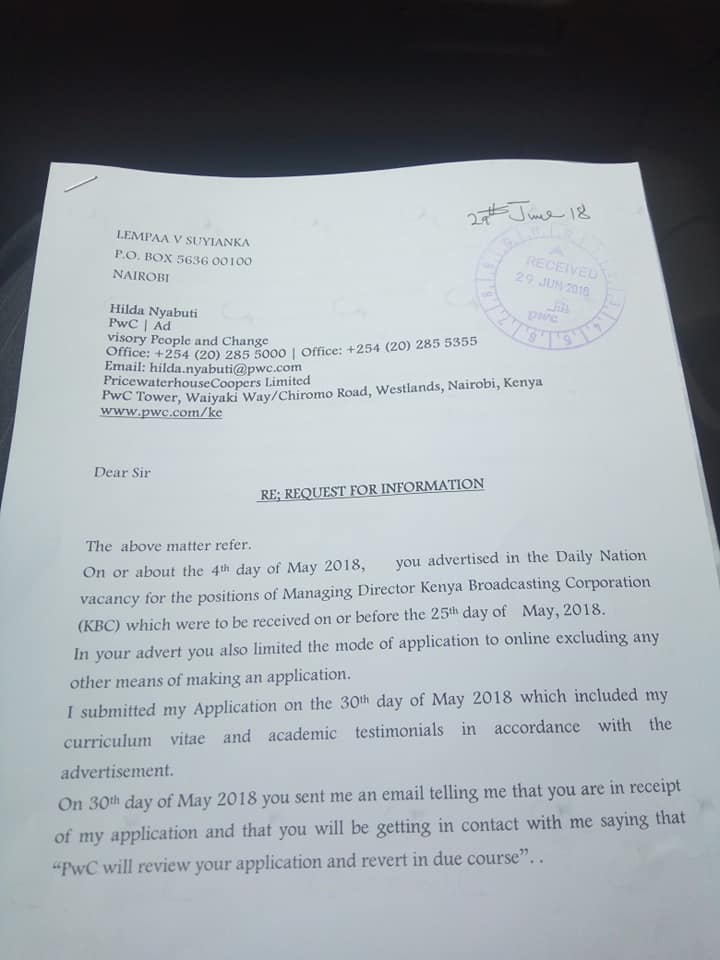 – Additional reporting by Standard.