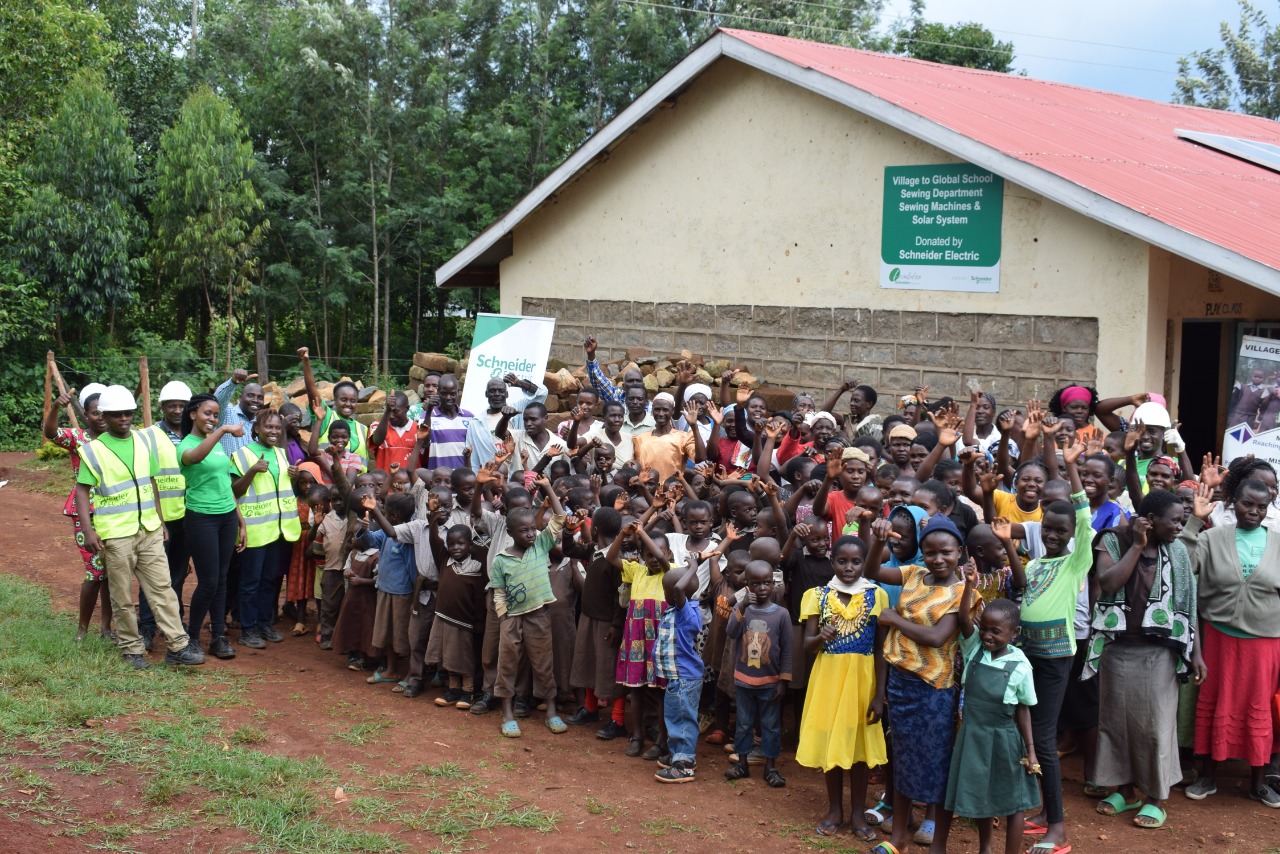 Multinational  energy management company Schneider Electric has connected Village to Global School in Vihiga County as part of the company's plan to empower the community soar to greater heights.
Village to Global School focuses on improving the lives of the families in the community through a structured feeding program to support the less privileged children in the society while at the same time providing quality education to children in the neighbouring communities.
The school also works with parents offering them meaningful and impactful economic activities that will help them sustain and improve their lives.
One of the activities is sewing. Schneider Electric has set up a sewing department where the parents are trained to tailor school uniform for their children which serves as a way for them to earn a decent living.
The school currently supports over 300 children in the school and feeding program running from PP1 to Class 2.
To support the school, Schneider Electric Kenya led by the Country's General Manager in East Africa, Mr. Edouard Heripret donated 3 electric sewing machines and installed an Offgrid Solar PV System dubbed Villaya Solar System, a system that will now see the school enjoy power for operating the sewing machines, lighting and charging of electronic devices.
With the Solar Installation, the school will not only be able to operate the sewing department more efficiently but it will also allow more learning hours to the children and the teachers on demand acess the new CBC curriculum and its tools.
The Villaya Solar system has been engineered towards providing sustainable energy security, ensuring no maintenance cost, environmental friendliness and zero power bills.
Speaking during the ceremony, Mr Ernest Njinga, Village to Global Director said, "Village to Global is extremely honoured by this generous donation by Schneider Electric. The electric sewing machines will help us refine the quality of uniforms that we produce here – giving us an opportunity to engage in selft sustaining entrepreneurship possibilities with the neighbouring schools for the supply of their uniform demands,"
"This we hope will in the long run make us sustainable enough to eventually support our own needs even in the absence of consistent donor funding and support." he added.
Further, he noted, "And with the Solar Lighting System, we will be able efficiently manage our operations, not just in the sewing department but in the overall school. And even the simplest of things like allowing the neighbourhood parents to charge their phones at the school will be an added bonus for us. Sustainable energy and education should be prioritized for the children of Kenya".
"At Schneider Electric, we believe Access to Energy is a basic human right. We want every people on the planet to have access to modern electricity, in the most reliable, safe, efficient and sustainable way," noted Mr. Heripret.
"Such access is a necessary condition to reach better health, education, economic development, access to water, women empowerment, and safety – when night comes. And the stakes are high for the African continent : 600 million people in Sub-Saharan Africa live without access to electricity, meaning one person out of two – for us one small step is a step towards the right direction" he added.
Access to Energy is a key factor to promoting economic development as it supports access to education, increased productivity by enterpreneurs, improvements in health and quality of life as well as aid in the movement to low carbon energies.
Schneider Electric has supplied Access to Energy to more than 24 million people throughout the world, invested in 20 startups, and trained more than 200,000 electricians in rural areas (of which 600 entrepreneurs).
In the coming 5 years, the company hopes to provide access to electricity to 80 million people, train 1 million electricians, and support 10.000 entrepreneurs in rural areas; initiatives that will be replicated in East Africa.
See Also: Rose Producer Eyes More Productivity With New Solar System