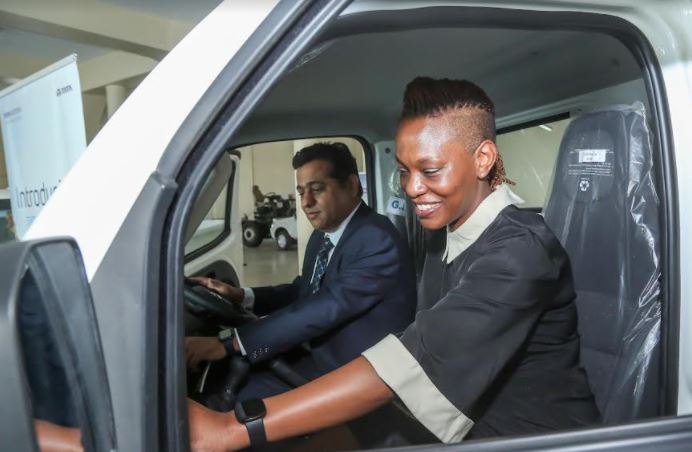 Safaricom CEO Peter Ndegwa on Wednesday, February 1 announced several new appointments at the company, including a new Chief Financial Services Officer, Marketing Director and Director – Public Sector Digital Transformation to support the government's push to digitize public services.
Esther Masese Waititu was appointed as the new Chief Financial Services Officer – putting her in a key role to steer the telco's giant financial services business which includes M-Pesa and lending products such as Fuliza, M-Shwari, KCB M-Pesa and its role in the government's Hustler Fund. The company has also been keen on further expansion in the space with savings and wealth management products in the pipeline.
Waititu joins Safaricom from KCB Bank Group where she's been the Director, Corporate Banking since 2021. Prior to that, she had a 10-year stint at Stanbic betwen 2011 and 2021. She joined Stanbic as Regional Product Head – Transactional Products and Services, East Africa and was promoted to Executive, Strategy Development and Enablement in 2017 and to Head, Client Coverage, Stanbic Bank Zambia, in 2020.
Waititu also worked at Standard Chartered Bank for 5 years, between 2006 and 2011 in Relationship Management and Product Management roles after starting her career at Commercial Bank of Africa (which in 2019 merged with NIC Bank to form NCBA).
She is the holder of a Bachelor of Business Administration degree from the University of East Africa, Baraton and a Master of Business Administration from University of Liverpool, UK. She is also an AoEC Accredited Executive Coach.
READ>Safaricom Taps Lawyer Adil Khawaja To Chair The Board
Boniface Mungania, who has been the acting Chief Financial Services Officer since July 2022, has been appointed Director – Public Service Digital Transformation. The appointment comes amid a push by President William Ruto to digitize over 200 government services.
Safaricom stated that he would "be responsible for developing partnerships within the Public Sector to drive digital transformation for the National and County Governments."
"He will also champion and lead the design, adoption, and implementation of transformative digital transformation initiatives in the sector."
He joined Safaricom in 2007 as a Customer Care Representative before being promoted to a Dealer Account Manager. He joined the Financial Services team in 2011 as Senior Officer, M-PESA Business Development and went on to senior roles in the financial services division including Senior Manager, M-PESA Business Development, Mobile Financial Services Consultant (Vodafone Qatar) and Head of M-PESA Products and Services Development. In October 2021, he was appointed the Payments Tribe Lead.
Safaricom also announced the appointment of Zizwe Awuor Vundla as Director – Brand and Marketing. With over 18 years experience in the sector, Vundla joins Safaricom from Diageo, South Africa where she was the Head of Marketing and Innovation since 2019.
She previously worked at Proctor and Gamble for 15 years, joining as an Assistant Brand Manager in 2004 and rising through the ranks to Head of Marketing and Commercial, South Africa in 2015, at which point she joined Diageo.
NEXT READ>Digital Birth & Death Certificates Introduced: What You Should Know