Safaricom continues to be on the receiving end of criticism from customers over newly introduced terms and conditions for its home fibre service, including the new fair usage policy.
A section of consumers have even vowed to ditch the telco for its competitors over the new rules, accusing Safaricom of failing to live up to its slogan of being 'Simple. Honest. Transparent'. In particular, many were incensed that new usage limits and installation charges were quietly introduced alongside a publicized increase of home fibre speeds for different packages.
The company became the market leader in fixed internet connections in Kenya in August 2019 when it surpassed its closest competitor, Zuku, on the back of an aggressive marketing and onboarding campaign which included no installation costs. On February 8, Safaricom announced the increase of home fibre speeds, much to the delight of customers who were informed that they would bear no extra costs.
"The decision effectively means that Home Fibre customers will get about double the bandwidth they have paid for, while Diamond Package customers will get more than double the speed at 250%," the company noted in a statement, further stating that the changes would take effect on March 1.
Hawk-eyed Kenyans, however, raised questions after noticing the introduction of a new fair usage policy in the updated terms and conditions, as well as the introduction of fees for installation and fines for losing your router or relocating without it.
The fair usage policy introduced data caps will see speeds lowered once consumers hit certain limits. Most PlayStation 4 games have file sizes of 80-200GB, while a 4K stream consumes about 7.2GB an hour. For avid gamers and streamers, the policy was far from welcome.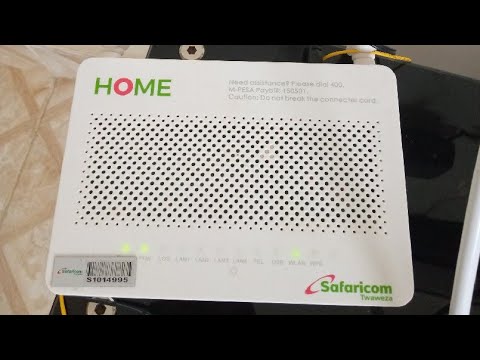 While the Bronze package now promises speeds of 8Mbps, for instance, speeds will be capped at 1 Mbps once the user surpases 500GB.
The Silver package, with speeds of 20Mbps, will be capped at 3Mbps once 1,000GB has been consumed.
The Gold package, offering 40Mbps speeds, will also be capped at 3Mbps once 1,000GB has been used.
The Platinum Package, with speeds of 100 Mbps, will be capped at 3Mbps once 1,000GB has been used.
A new sign-up fee of Ksh3,500 was also introduced for every new Home Fibre connection. In addition, customers will be fined Ksh6,500 if they fail to carry their router when relocating or if they lose it.
The updated terms and conditions sparked an uproar particularly on social media, forcing Safaricom to respond to questions from customers demanding answers.
In responses to various customers, Safaricom insisted that the policy was intended to ensure all customers benefit from the resources. It denied claims that it doubled its internet speeds to hide that their fibre was limited, describing the assertion as 'far from the truth'.
"Far from the truth. The average user hits 350 GB in a month unless you are in the business of reselling, we are all good," the firm told one customer.
It, however, failed to respond to some customers who questioned how much data was consumed in households with multiple members; such as children streaming and downloading movies, others gaming and others working, and whether Safaricom was still the best ISP for them.