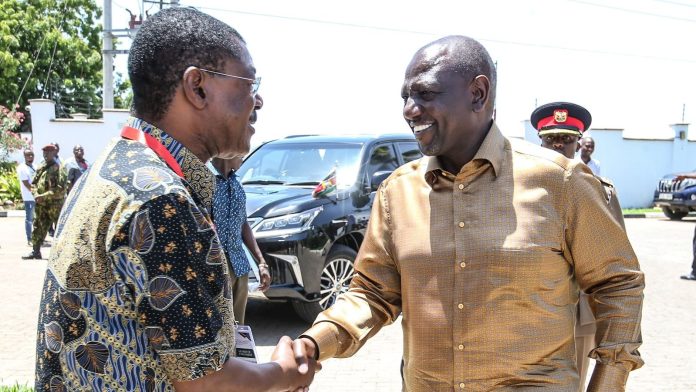 President William Ruto on Monday, January 30 fired a warning at individuals he accuses of evading taxes. According to the President, powerful individuals in government have been avoiding paying their taxes in previous years – a practice he says he will bring to an end.
Ruto was speaking in Mombasa County, where he also took on Azimio coalition leader Raila Odinga who in recent weeks has demanded Ruto's resignation in massive rallies at Kamukunji and Jacaranda grounds in Nairobi. Odinga has maintained that he won the August 2022 poll, stating that the results announced by the electoral commission were manipulated.
Odinga has been rallying his supporters as he demands an audit of the election and IEBC servers, electoral reforms and the ouster of Ruto – latching onto disaffection over the high cost of living and taxes.
"Mr. Ruto has turned into Zacchaeus who was collecting taxes in the Bible. We have told Kenyans to refuse to pay taxes to Mr. Zacchaeus," Odinga stated at the Jacaranda rally on Sunday, January 29.
In an apparent dig at Azimio, Ruto implied that demonstrations against his administration were being sponsored by those keen on continuing their tax-evading ways. Ruto's predecessor Uhuru Kenyatta was among backers of former Prime Minister Odinga's bid for President on an Azimio coalition ticket.
"We cannot continue to operate in a space where those in power exempt themselves from paying taxes. Their day is up. Every citizen must pay tax. Even if they sponsor demos so they don't pay tax, they will pay," he stated.
"I am not talking about additional taxes, I am talking about taxes that have been signed into law," the President noted.
Odinga has also hinted at calling for boycotts of various products associated with companies Azimio accuses of supporting electoral fraud. In coming weeks, he is set to address more rallies around the country.
"We ask Kenyans to totally reject all these policies and demand that UDA resigns immediately from office. In the next week we are going to continue with these public consultations. Our next stop is Kibra, Kamkunji grounds and after that we head to Machakos," Odinga stated.
NEXT READ>CBK Licenses 12 More Digital Lenders – See All 22 Licensed So Far