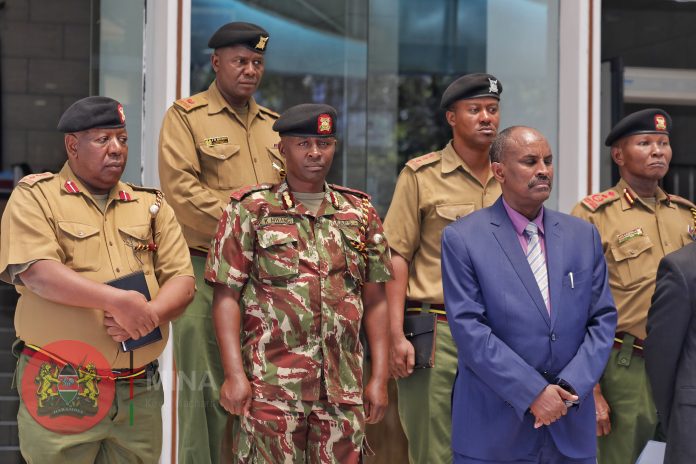 Interior Cabinet Secretary Kithure Kindiki, alongside his water counterpart Alice Wahome, on Monday, January 30 unveiled a new police unit known as the Water Protection Unit (WPU). The unit will be tasked with protecting critical water assets across the country.
The move follows the gazettement of water reservoirs and critical water sources as well as national water management and supply infrastructure as critical infrastructure under the Protected Areas act, facilitating the special protection.
Officers in the unit will be drawn from the Critical Infrastructure Protection Unit. According to a brief from the ministry, the WPU will safeguard all critical water facilities in up to 34 counties under water works development agencies.
Formed through the Water Act of 2016 to replace Water Service Boards (WSBs), water works development agencies in Kenya undertake the development, maintenance, and management of the national public water works within their areas of jurisdiction. The WPU will be expected to protect these projects and water infrastructure.
The new police unit will also respond to emerging security issues in infrastructure under the Ministry of Water, with the Interior ministry stating that the WPU would protect "against vandalism, theft and access by individuals with criminal intent.".
READ>CBK Licenses 12 More Digital Lenders – See All 22 Licensed So Far
Kindiki announced the formation of the unit at a ceremony at Harambee House, Nairobi with high-ranking police officers among those present. Officials who spoke highlighted the government's investments in dams and irrigation, stating that they need to be protected.
President William Ruto has previously pledged that his administration will build 100 dams through public-private partnerships and increase land under irrigation to 3 million acres.
Speaking during the 59th Mashujaa day fete, he stated that in three years, the government plans to expand the land under irrigation to 1.4 million acres – asserting that irrigation was the key to spurring food production and ending shortages.
Kindiki also noted that the gazettement of water reservoirs and sources under critical infrastructure would enable eviction of individuals in protected areas.
READ>Jumia Launches Gadget Mondays Ahead Of TechWeek