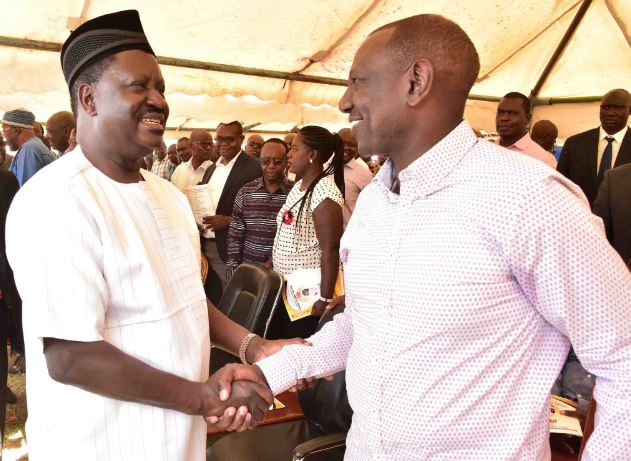 President William Ruto is working to find something to keep Azimio La Umoja coalition leader Raila Odinga busy and productive.  President William Ruto has indicated that he will be offering former Prime Minister Raila Odinga a yet-to-be identified state role in his government. Speaking on 26th September, Dr Ruto said he is ready to give Raila, his challenger in the 9th August presidential elections, a role to play in the government if it serves the 'best interest' of the country.
 The President said he is talking to Raila, the ODM leader, over what role he should play in building the nation. "Today I speak to Uhuru Kenyatta as our former president," President Ruto said in an interview with BBC. "I speak to Raila for your information. I speak to them. They are leaders in our country. We have a country to look after and we are not enemies."
Retired President Uhuru Kenyatta has already taken up the role of Peace Envoy in Ethiopia and the Democratic Republic of Congo in what Ruto says will offer leadership to the region and help him focus on his campaign pledges. "I think there are roles Raila can play as a Kenyan leader," President Ruto told BBC News Africa, "He can support the country in other initiatives may be in the Great Lakes Region, he can work with us as an elder statesman, it is not for me to choose."
Mr Odinga appears to have moved on after the failed bid for the presidency. On Wednesday, 28th September, he headed a multinational discussion on the proposed Ksh9.65 trillion hydro-electric Grand Inga Dam project. Odinga, who doubles as the African Union High Representative, addressed several heads of state and proposed that the project should not be solely undertaken to benefit of the Democratic Republic of Congo (DRC).
See >> Lured By Better Prospects, Two Reporters Quit Daily Nation
He argued that the dam provided Africa an opportunity to harness its own raw materials and called on all states and regions of the continent to chip in and see the dam's completion.
Dr Ruto and Raila battled for the presidency in a closely contested race that ended up at the Supreme Court after IEBC declared Ruto as eventual winner. The Supreme Court dismissed Raila's petition. No formal talks between Raila and Ruto have been initiated."It is a decision to be made by Kenyans. As president, I would deploy all the resources that we have for the good of the country and if Raila Odinga came by, I would find something for him to do but not in the handshake arrangement," Ruto said.A handshake arrangement, he said, would undermine the opposition. "The handshake arrangement was the biggest fraud on the people of Kenya. It should not have happened. Once you compromise the opposition you are headed in the wrong direction, many wrong things will happen as it did," he added.Rad Also >> The Kakamega Tycoon Causing Ripples In Africa
Ruto, who took office of 13th September, dismissed assertions that he secretly worked with former President Uhuru Kenyatta to set up Raila for failure in the 9th August General Election.
A section of Azimio leaders have accused Uhuru of misleading Raila in the presidential race. Ruto said when he realised Uhuru could not support his presidential bid, he decided to form his own faction to spearhead his presidential campaigns.
"Difficult yes but it is the reality. You would waste a lot of time living in denial. When it was obvious that Uhuru Kenyatta was not going to support me I moved on and built another team, but by God's grace we won the election," he stated.
Next >> KPA Implements President Ruto's Order On Port Operations