Radio Africa Group has appointed Paul Ilado as Head of Content at the Radio Africa Group to replace David Makali, whose one-year contract came to a close November.
Makali, who was sourced out of retirement to change the Lion's Place media house's fortunes, opted not to seek an extension of his contract. Ilado, hitherto the Group Political Editor, takes over with effect from 1st January 2019.
Radio Africa CEO Patrick Quarcoo, while announcing Ilado's appointment, said: "We are very pleased to appoint such a capable leader to this important role. We had a very strong field, but Ilado was the outstanding choice given his track record in managing Editorial through transformation and digital disruption."
Ilado, who has worked at Radio Africa for 18 years in radio, TV and the Star newspaper, holds a degree from the University of Nairobi (BA Communication and Sociology).
He started off as a junior reporter on Kiss 100 in 2001 before being promoted to the Chief Parliamentary Reporter in 2004.
He held the position until 2005 when he was promoted to the post of Head of News for Kiss and Classic 105 until 2007 when he took up additional responsibilities in the Star as Group Political Editor.
"Let's accord him our usual cooperation and support," Quarcoo said in a communication to the staff at Radio Africa.
In his acceptance, Ilado said he looks forward to extending the success of Radio Africa Group news business and grow it further in the coming years.
READ: SUPREME COURT SEALS MACHAKOS GOVERNOR ALFRED MUTUA'S WIN
"I am excited at the prospect of taking on this new role. Our news products, especially the Star, our Digital platforms and Radio stations play critical roles in the news business. They represent the pinnacle of professional journalism and the opportunity to lead such a dynamic and inspirational team is a great privilege," Ilado said.
Here is Quacoo's communication to staff: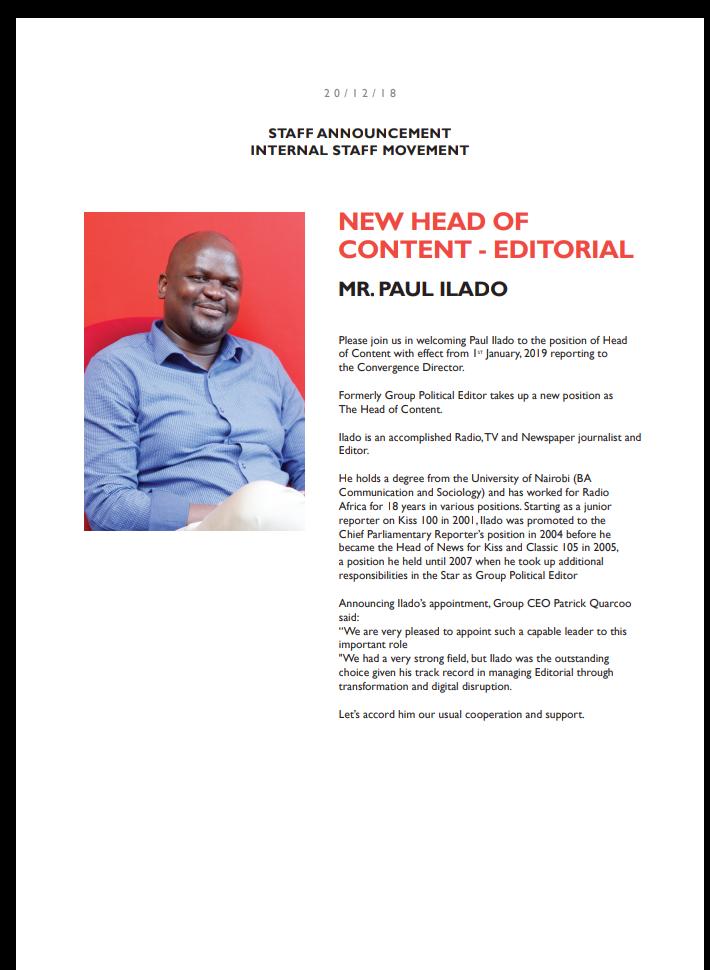 Ilado will be reporting to the Director of Convergence, William Pike.