Just weeks after the mass firing of employees at Mediamax Network Ltd, another round of sackings is expected in a matter of weeks at the Radio Africa Group, one of the leading broadcasting houses in Kenya.
Radio African Group CEO Patrick Quarcoo today announced that the company was finding it hard to meet its financial obligations with shrinking revenues and would, therefore, offload some employees to stay afloat.
Mr Quarcoo, the Ghanain media entrepreneur, in a staff circular, issued a one-month redundancy notice, which sets the stage for a mass layoff mid-December or even earlier. It's not clear how many but given the notice, the number will certainly be big, targeting high earners.
Troubled empire
"In the last four years," he says in the circular dated 18th November, "the media industry in Kenya and worldwide has undergone r*****l changes. Many media houses are struggling to maintain revenue through the traditional print and broadcast models."
He noted that some media houses have closed down operations, while others have repositioned or restructured their operations, as advertising revenues fall due to increased competition from digital platforms and a cut in State adspend as well as the exit of sport b*****g companies which were major advertisers.
Mediamax, owned by President Uhuru Kenyatta's family and Deputy President William Ruto, on 30th October fired 160 employees, mainly in broadcast, citing reduced income streams.
Radio Africa has over the past one year reported a 30% drop in revenues, according to the CEO, which is a major dent on its incomes. RAG runs a stable of radio stations including Classic 105, K**s FM and Radio Jambo, among others.
It also runs Bamba TV and the The Star newspaper, which has been shaken by the shutdown of SportPesa and Betin.
"We are five months into our new financial year and we continue to experience a downward pressure on total revenue," he says in the circular.
Read >> Rich But Jobless, Former Mediamax Staff Begin the Harder Part
"We are now forced by the changes in the advertising markets to transition from our old media revenue model. This now requires a phased restructuring of our business which may include reorganization of job positions, job roles, as well as operational and divisional structures in the company."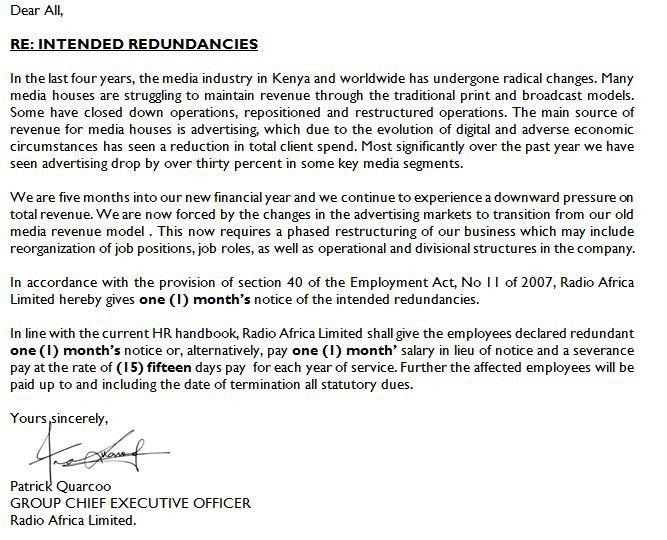 Radio Africa last restructured in February 2017 when it sent home a number of journalists and sales staff as the media houses began showing signs of slowing down. The company mainly relies on Classic 105, its milk cow, backed by Radio Jambo and K**s FM, though there are tendencies of cannibalism among the radio stations.
See Also >> Property or Pension? This is How to Choose the Best Tetirement Plan
The Star newspaper has been struggling since its 2016 rebrand into a political newspaper, with both circulation and advertising dropping. It's been mulling going fully digital, but that still isn't a sure bet in a market still handcuffed to conventional print and broadcast.
Foreign digital media firms such as Google, Twitter and Facebook have a firm hold on the advertising market, funneling away millions of income in advertising revenues every month.
The wheels of change at Radio Africa Group were set in motion in June when a South African media firm that holds majority shareholding in the company sold its media entities in an effort to relieve itself of debt.
RAG was in the spotlight for not remitting employee Sacco deductions for seven months last year.
The sale by Tiso Blackstar Group, which also owns media in Ghana, Nigeria but largely in South Africa, was for an estimated Ksh7.6 billion to financial services firm Lebashe Investment Group. The specific transaction details concerning the sale of its stake in Radio Africa were not made public.
With a 49% shareholding in Radio Africa Group, Tiso Blackstar Group leads in owning stock in the media firm ahead of individuals such as former Nairobi Governor Dr. Evans Kidero, Richard Ayah, Sudhir Vidyarthi, Kiprono Kittony and co-founders Patrick Quarcoo and William Pike among others.
Will newspaper survive?
The Waiyaki Way based media house in March this year shut down its lifestyle radio station, XFM, to launch Smooth, targeting Rhythm and Blues (RnB) lovers. XFM used to play rock and alternative music with its target niche being the affluent and aspirational urban audience.
There has been talk about closing down the newspaper but management still hangs on the hope that it will pick. It is understood that a senior Jubilee politician has shown interest in acquiring The Star.
RAG was in the spotlight for not remitting employee Sacco deductions for seven months last year.
Next Read >> Inside the Moi University Computer Factory