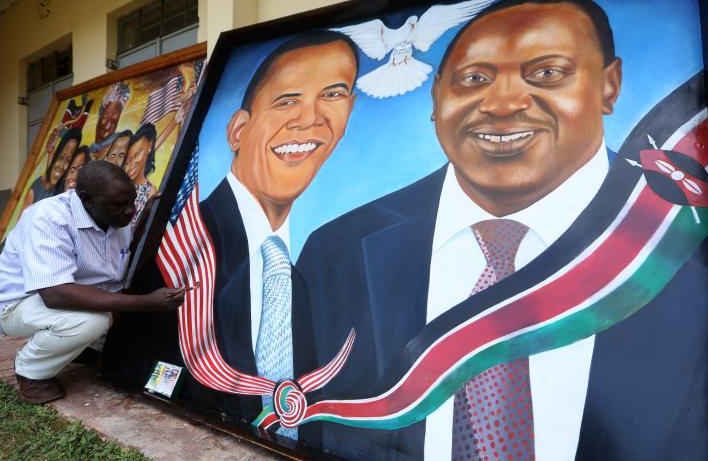 Only one media house will be allowed to cover the Obama visit. According to the police, only journalists from one media house will be allowed to cover the homecoming visit by former United States of America President, Barrack Obama in Kogelo, Siaya county, the police has said.
Nyanza Regional Police commander, Leonard Katana, said that the media house, which he did not name, had paid for exclusive rights to the family to cover the event on Monday hence requesting those not accredited by the family to keep off.
Mr Obama, who is expected in the country on Sunday, July 15 is set to meet President Uhuru Kenyatta and opposition leader Raila Odinga in Nairobi before flying to Alego in Siaya County to inaugurate the Sauti Kuu (Powerful Voices) Foundation Sports, Resource and Vocational Training Centre on Monday.
SEE ALSO: OBAMA GRANDMOTHER CONNED BY SOUTH  AFRICANS
Speaking to the media outside Mama Sarah Obama's home in Kogelo today after leading a high powered security delegation to inspect the facilities that Obama will visit, Mr Katana expressed confidence that journalists not accredited by the family will comply with the requirement. "Let us not have commotion on that day. I believe that those accredited are aware" he said.
Mr Katana at the same time announced that the Ng'iya-Kogelo-Ndori road will be closed to the public on Monday, adding that several security road blocks will be erected on the road to vet those who will try to breach security,
The regional commander, however, said that local residents who reside in between Ng'iya, Kogelo and Ndori will be allowed entry but after thorough check and appealed to the local residents to be prepared to answer several questions from the police.
READ: MICHELLE & OBAMA TO FEATURE IN NEW LIFESTYLE TV SHOW
"Do not lie to us. If you do, we will turn you back or even a****t you" he told those who will try to access the Ng'iya / Ndori road.
The police boss said the Obama visit will be private and expected the public to honour the family demand that only invited guests attend the occasion. "I appeal to the public that it is a private function and only invited guests will be allowed," he said.
He said that the regional security team has put in place adequate security measures both on land, at Lake Victoria and in the air. Mr Katana said that the Kisumu airport has been secured and patrols along lake victoria have also been heightened.
"We have beefed up security not only in Kogelo and Siaya but the entire region so that our visitors have a successful visit" he said. After his brief appearance in his hometown, Obama will leave for South Africa where he is scheduled to stay until July 19.
READ: MAIN TV STATIONS KICK OFF STAR WARS
During his period in South Africa, he will meet with President Cyril Ramaphosa, and also deliver the Nelson Mandela Annual Lecture under the theme; Renewing the Mandela Legacy and Promoting Active Citizenship in a Changing World.