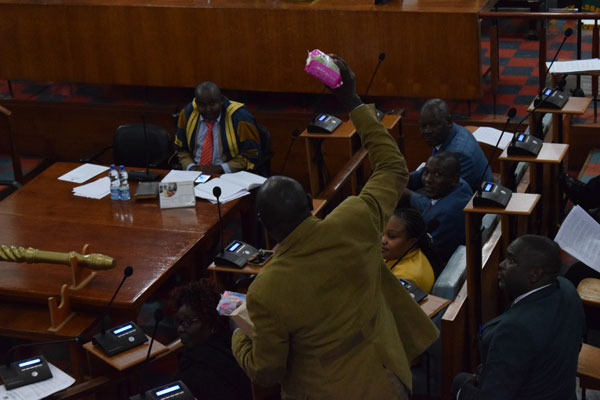 Ward representatives are not happy about the quality of sanitary towels Nyeri County is supplying to schoolgirls.
And on Thursday evening one member of the county assembly (MCA) sought to demonstrate to the House the difference in quality between county-supplied towels and those donated by the national government.
Narumoru MCA Rinyiru Marete, while tabling a report on the county's pad-distribution programme, called on a female ward rep to test the quality of two brands of pads collected as evidence from a primary school.
One brand had been issued to the school by the national government while the other was procured by local authorities.
But Deputy Speaker Joel Gichugu would have none of it, urging the charged members to leave the matter of pads to appropriate experts.
"The house has procedures that must be adhered to. They will be sent to the laboratory where professionals will respond to your concerns," said Mr Gichugu.
Mr Marete was responding to a statement requested by nominated MCA Leah Wachira on the status of a county programme to issue sanitary towels to needy girls and the criteria used in distributing them.
The report on the pad-distribution programme, prepared by the Committee on Special Programmes, Gender and Disability Mainstreaming, revealed that pupils preferred the Nairobi-issued sanitary towels, which they judged to be of better quality.
"We spoke to girls who told us the county government pads were of poor quality. Every school we sampled had the same complaint," he said.
[crp]
A heated debate ensued, with MCAs accusing county officials of procuring substandard pads.
The findings angered female MCAs, who said the girls were being exposed to i********s.
"It is very unfortunate that our young girls in schools are being exposed to i********s. We must be having a very insensitive county government," said Ms Wachira.
"I [go through my monthly cycle] and I would not want to imagine using an uncomfortable sanitary towels. Our private parts are fragile," said youth Rep Regina Macharia
According to the report, the distribution of pads by both the national government and Nyeri County was a duplication of duties and was unnecessary.
The committee noted that the schools they visited were receiving enough supplies from Nairobi.
However, the report notes that schools in more remote areas were left out of the programme.
The MCAs recommended that budgetary allocations for sanitary towels be transferred to other deprived projects.