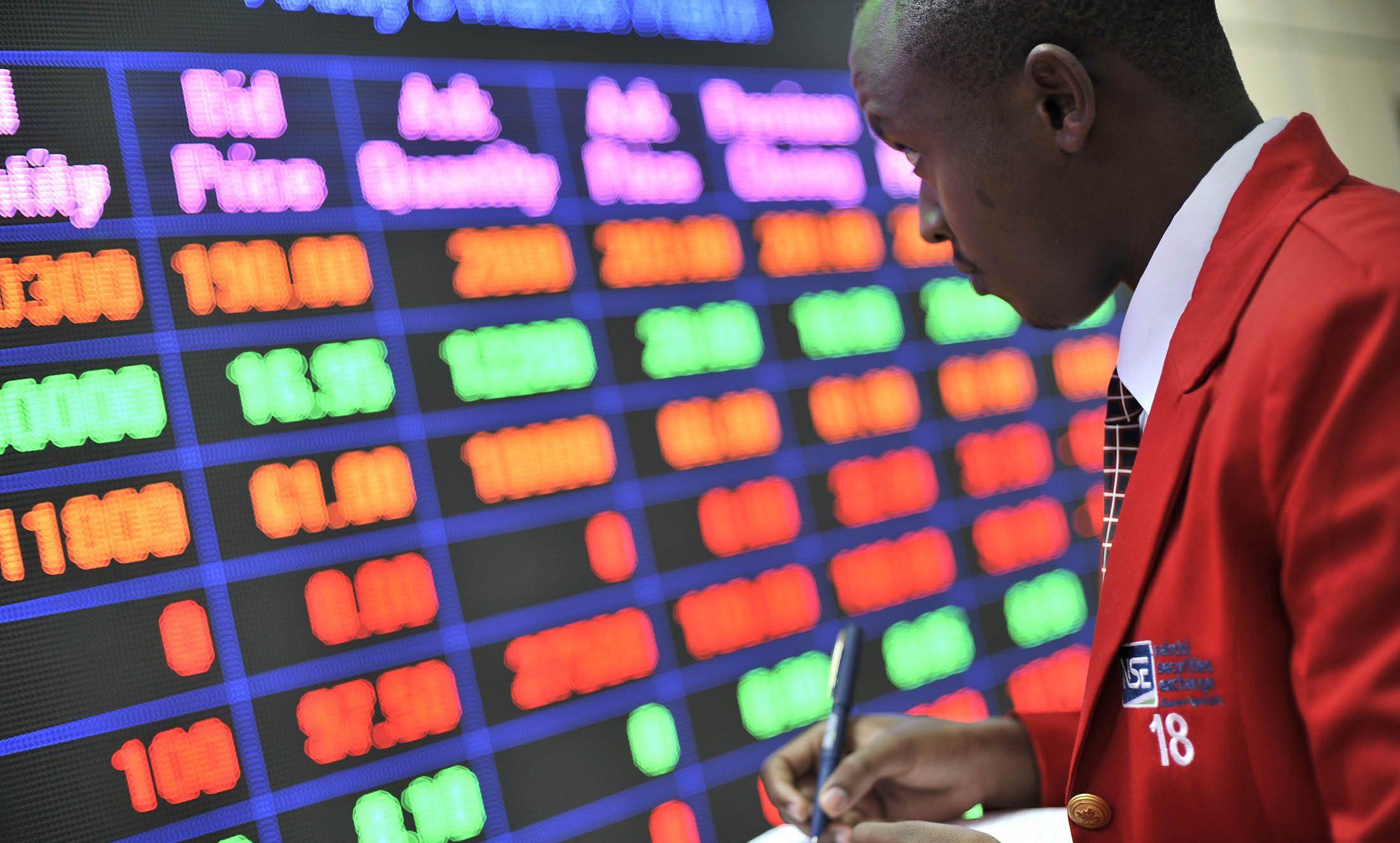 There was a visible absence of foreign investors on the main counters at the Nairobi Securities Exchange(NSE) today, which drove down turnover at the bourse to Ksh198.97 million on a volume of 8.68 Million and 717 deals.
At the previous trading session on Friday last week, a total of 13,683,500 shares in 790 deals, corresponding to a market value of Ksh324.6 Million were traded.
Safaricom was the only counter that attracted the participation of foreign investors during the NSE trading. Its share price fell 0.17% from Ksh30.10 to Ksh30.05 resulting in a turnover of Ksh94.40 million in 92 deals.
The top price gainer at the bourse today was Flame Tree Group Holdings (FTGH) whose share price rose 6.02% from Ksh1.33 to Ksh1.41.
FTGH began the year with a share price of Ksh2.47 but has since lost 42.91% off that price valuation, ranking it 55th on the NSE in terms of year-to-date performance.
Shareholders' fears may be allayed by the 7.63% increase in FTGH share price in recent weeks – since September 14, 2020.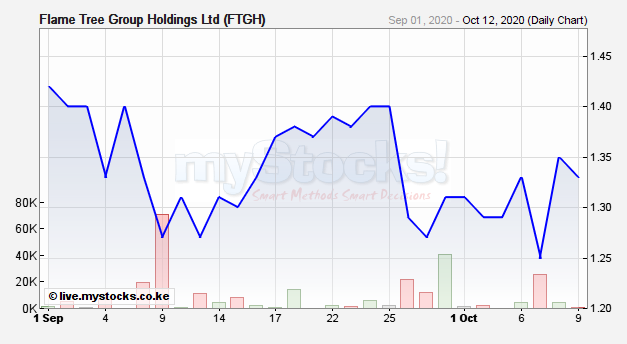 For instance, on 29th September, the share transacted a volume of 22,000 and closed at Ksh 1.29. This price then rose to Ksh1.31 on a volume of 1,200 on October 1st, 2020. On October 8th, the counter moved a volume of 4,700 at a price of Ksh1.35, an increase of 0.10.
Close competitors of FTGH, also listed at the NSE, include Carbacid Investments Limited, BOC Kenya Limited and Crown Paints Kenya Limited.
This Monday, the NSE All-Share Index increased 0.07 from 140.07 to 140.14 while the NSE 25 Share Index increased 10.55 points from 3225.86 to 3236.41. The NSE 20 Share Index was down 6.05 points from 1836.54 to 1830.49
Other top movers at the NSE included NSE (2.10 Million), Equity (829,500), TransCentury Plc (547,500) and NCBA (333,700).
Apart from Flame Tree, other top price gainers in NSE trading were TransCentury which edged up 5.70% to trade at KSh 1.67, Nairobi Business Ventures which rose in value per share by 4.41% to Ksh 0.71, Coop Bank which appreciated 3.4% to Ksh 11.85 and Sanlam Kenya whose share price rose 2.50% up to close the trading session at KSh 12.30.

Top losers were headed by Housing Finance which slumped 7.75% to KSh 3.69, Kenya Reinsurance which shed off 6.78% to KSh 2.20, Total Kenya which declined 4.64% to KSh 22.60, Stanbic Holdings which fell 3.88% to KSh 80.50 and Bank of Kigali closed the top five losers by shedding off3.57% to KSh 13.50.

Five contracts valued at KSh39,000 was dealt during the Monday session on the derivatives market. This was an improvement from 1 contracts valued at KSh36,000 executed during the Friday session.

Bonds worth KSh 3.11 billion were transacted in 63 deals against KSh 2.96 billion worth of bonds transacted on Friday last week.