[dropcap]T[/dropcap]he controversy surrounding the late George Saitoti's son Zachary Musengi's paternity has taken a new twist after fresh documents emerged casting more doubt on whether indeed he is the biological offspring of the former vice-president.
Documents made available to BUSINESS TODAY appear to prove that Zachary Musengi is the mature version of Stephen Wachira, the son of Sebastian Ngunju who was allegedly kidnapped three decades ago in Nakuru and never to be seen again.
Sebastian Maina Ngunju in December asked police to reopen investigations and conduct DNA tests as he seeks to prove that Musengi is his son, born in 1985 as Stephen Wachira.
Family documents, including the birth and church baptismal certificates, and clinic card offer finer details on Stephen Wachira, who is believed to be the now adult Zachary Musengi. If the documents are genuine, they may add weight to Nguju's case and complicate life for Saitoti's widow, Margaret.
The documents show Stephen Wachira's date of birth as 21st September 1985 in Subukia location of the then Nakuru District. His parents are identified as Sebastian Maina Ngunju and Elizabeth Njeri Wachira and attended his child clinics at Subukia Health Centre.
These details are backed by a birth certificate which tallies with the health card and the Certificate of Sacraments received from the Catholic Diocese of Nakuru's John's Catholic Church in Subukia on 1st of February in 1986.
In December 2018, Mr Ngunju appeared again in public about five years after a probe into the case was closed when efforts to prove parentage of Zachary hit a dead-end. He claims his third born child was kidnapped and after 24 years of searching, he found him at the late Saitoti's home with a new name.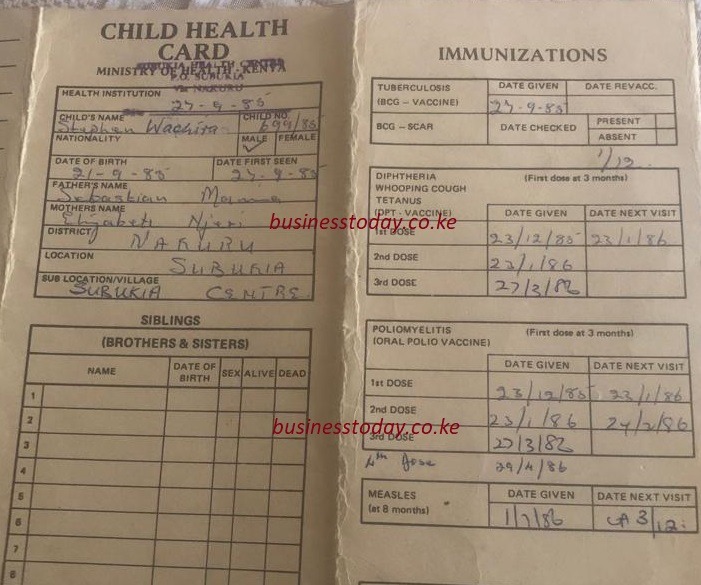 But investigations concluded in 2013 failed to show that Zachary Musengi was the young Wachira kidnapped over 20 years ago three weeks to his third birthday.
He claimed that he had been on the move in Harare, Zimbabwe and the ICC in Tanzania, consulting with human rights organisations on how best to handle the case. He is seeking to have the late Saitoti's body exhumed for DNA tests to be carried out to establish the paternity of Musengi, now aged 33.
He alleges that Musengi was kidnapped from their Subukia home. Ngunju first went public in 2012 together with his wife Elizabeth Njeri, when they filed a case at the Nakuru Chief Magistrate's Court seeking to be allowed to institute a private prosecution against the late Saitoti's wife, Margaret.
A letter dated 18th July 2012 to Zachary Musengi by Hari Gakinya and Company Advocates on behalf of Ngunju's family reveals that a neighbour, Mary Wambui had confessed to stealing the child on instructions of a police officer from Subukia by the name Hassan Dadash. The baby was delivered to another lady in Gatundu who then transported him to Nairobi, according to the letter.
Mr Dadash, who had been transferred to Kajiado, died in a mysterious road accident shortly after the hearing of the case (Nairobi CR Case 2545 of 1989) commenced. The couple is said to have been asked to stop following up the case as the baby had been taken by the then vice-president and was studying abroad.
The letter sought to have Musengi, who is already listed as a beneficiary of Saitoti's vast estate, know that his family was still alive but did not bear fruit. The Ngunju family says they saw their son standing next to Mrs Saitoti during the professor's burial on June 16th 2012.
Human rights activists and lawyers have called for witness protection as the family renews the quest to prove the case against the high-profile family. They question how the case was hurriedly concluded without even calling Ngunju, the man claiming custody of Musengi to testify.
Saitoti family may have to produce birth certificates and details of hospital where Musengi was delivered or attended clinics to counter the new documents from the Ngunjus. It is being suggested the case be handled by an international body since it amounts to crimes against humanity and justice may not be delivered locally.