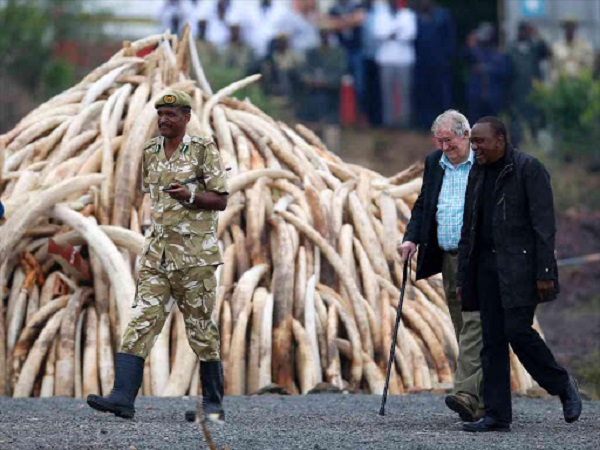 Kenya is calling on the Convention on International Trade in Endangered Species of Wild Fauna and Flora (CITES) Conference of Parties to put elephants on Appendix 1, which calls for total ban in ivory trade in the entire world.
Tourism and Wildlife Cabinet Secretary for Najib Balala said the country will not allow trade in wild fauna and flora.
"This is the message the country is carrying to the forthcoming CITES Conference of Parties (CoP) 18 to be held in Geneva, Switzerland next month," said Balala.
Also, to be placed in Appendix 1 is the Pancake Tortoise whose population has dropped drastically.
"No value in a product called ivory because if we put value in ivory, there is going to be demand. We don't want this," said Balala and called on African countries to stand together against trade in wildlife.
The CS made the remarks over the weekend when briefing Members of the Parliamentary Committee on Environment and Natural Resources on the Draft Wildlife Policy.
He said currently, the largest markets for ivory were in Europe and Japan, with Japan having a total of over 17,000 traders in ivory.
"We will not allow African Elephants to be killed by these traders," he stressed.
The CS also noted that there was need to have a Wildlife Policy, so as to anchor the Wildlife Act 2013 and if possibly amend it.
He said the last Sessional Paper on Wildlife was done way back in 1975 necessitating the country to have a new policy in order to align the sector to the current changing times.
The Draft Policy proposes to provide a framework for legislation that enables the country conserve and manage wildlife better for the present and future generations.
The policy also aims at providing guidance on conservation and management of wildlife in national parks, national reserves and sanctuaries, as well as marine protected areas and ecosystems, research and monitoring, among other issues pertaining to the flora and fauna.
The Chairman of the Parliamentary Committee, Kareke Mbiuki expressed his support for the new policy and urged for its quick implementation.
Read: Armed with Sh18bn, Andela steps up hunt for software developers
Others present were the Chief Administrative Secretary Joseph Boinett, the Principal Secretary of Wildlife Dr Susan Koech, Director General for Kenya Wildlife Service Brigadier (Rtd) John Waweru, members of the Parliamentary Committee on Environment and Natural Resources and other ministry staff.