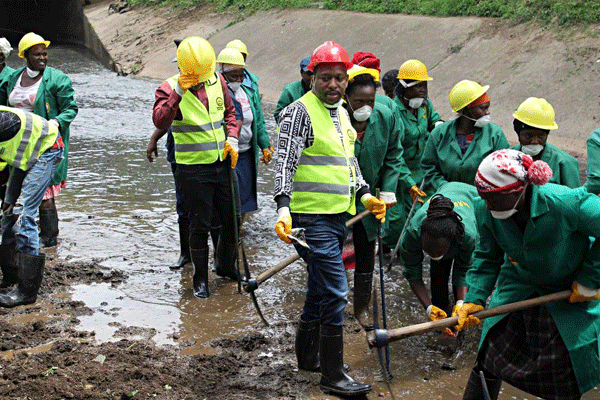 It was mayhem outside the Nairobi County Headquarters as police used teargas canisters to disperse an angry group of Nairobi county cleaning staff who were protesting over unpaid salaries.
The cleaning staff are behind the beautification of the city and normally have on green aprons. They were dispersed by the police after they took their demonstrations outside the governor's office. Governor Mike Sonko has been out of the country for almost a week now.
The demonstrations began at Uhuru park before the group started walking around town demanding pay from the Nairobi county government. Business Today understands that the demonstrating county workers have not been paid for four months.
The Nairobi workers join other county workers who were protesting about the same issue. As per August 2019, Twenty-one counties were yet to pay their workers, even as strikes by county employees began in a number of the devolved units across the country.
According to Kenya County Government Workers Union (KCGWU) General Secretary Roba Duba, seven counties, namely West Pokot, Kilifi, Kisumu, Samburu, Homa Bay, Kitui and Laikipia, had not paid their workers at that time.
Sonko Balling in Dubai
While the Nairobi government workers are staging demonstrations in the country's capital, County governor Mike Sonko is lavishly having fun abroad.
On Sunday evening, a video showing Nairobi Governor Mike Sonko partying in Dubai excited social media users. The governor had stopped by the city on his way back from France where he had been over the last few days.
Sonko, who was accompanied by prominent businessman Stanley Livondo, was ushered into the VIP section of Cavalli Club where they partied through the night. At some point in the video, the master of ceremony at the posh club blurted, "Welcome Mike Mbui Sonko, governor of the great city of Nairobi.
Several television screens in the luxurious club also displayed his name.
The Nairobi governor was on his way from France, where he emerged top in an international award ceremony. Sonko could not hide his joy when he took to his social media pages to announce that Nairobi had beat 105 other cities in the world to bag the Social and Economic Equity trophy.
The award is part of the ongoing Milan Pact Awards 2019, in Montpellier, France.
Sonko was also absent when Speaker of the Nairobi County Assembly made a comeback to her office after 13 months of absentia. Her return was not welcomed by Members of the County Assembly who were responsible for her eviction.