Runaway billionaire businessman Humphrey Kariuki, who is being sought by Kenyan authorities over Ksh 3 billion tax evasion and importation of illicit ethanol, could be in South Africa.
While police had earlier said the businessman had fled to Zambia, the veracity of the version is being challenged after it emerged that his private jet, a Bombardier Challenger 350, left Nairobi at 05.01 pm on Sunday, arriving in Lanseria, South Africa three hours and 57 minutes later at 07.57pm.
Activist Boniface Mwangi, who tracked the flight on flightaware.com, is now seeking to know who cleared the flight and if authorities established who was on board.
"Police say they're looking for billionaire Humprey Kariuki for tax evasion and they have no idea where he is. On Sunday his plane left Kenya for South Africa. Who cleared his plane to depart @KenyaAirports @CAA_Kenya and who were the passengers in the plane @ImmigrationDept?" he posed on Twitter.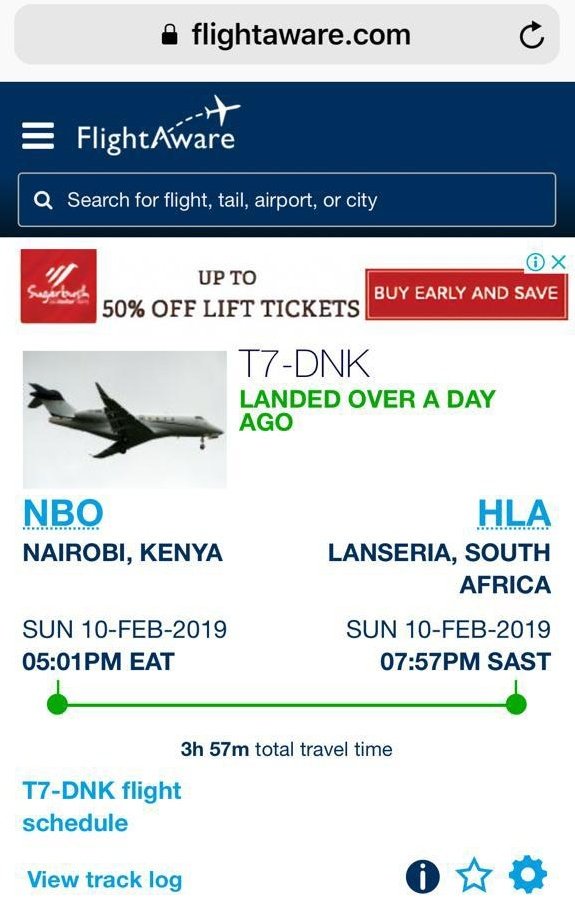 Kariuki, a filthy rich but reclusive businessman, bought the private jet, T7 DNK, last year for an estimated Ksh 2.5 billion
The businessman is being sought for allegedly withholding Ksh 3 billion from Kenya Revenue Authority (KRA) every month.
During the raid on his Africa Spirits Ltd factory in Thika on Friday last week, crime busters seized 312,000 litres of illicit alcohol valued at an estimated Ksh 1.2 billion. The detectives also seized 21 million counterfeit excise stamps.
According to KRA Commissioner of Intelligence and Strategic Operations Githii Mburu, the fake stamps would mean that the government lost Ksh1.2 billion in taxes from the distributor annually and a further Ksh Sh200 in tax from every litre of ethanol which Kariuki's henchmen were smuggling into the country.
At the time, police said they were engaging Zambian authorities seeking to have Kariuki extradited.
"Why run away when you know you have not done anything wrong? Two people (Kariuki and one of his senior managers) have vanished in thin air. Where have they gone to? This means that they have been engaging in shady dealings… If they haven't been doing anything wrong, let them present themselves," said Inspector General of Police Joseph Boinnet during the raid, which was also supervised by Director of Criminal Investigations George Kinoti and Head of the Flying Squad Musa Yego.