Multichoice Kenya has initiated a series of Corporate Social Investment (CSI) programmes targeting different prisons across the country.
The initiative, which is being aired on Gotv, seeks to uplift the well-being of prisoners mirrors the recent comedy show called Jela 5-Star on Maisha Magic East set around a short hold p****n.
The countrywide initiative commenced at Kamiti Maximum P****n when GOtv and Maisha Magic East donated toiletries, clothing items, detergents, and GOtv decoders worth over Ksh 200,000 to the p****n during the launch.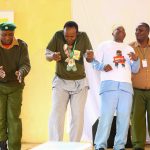 "Jela 5-star is scripted and set around a p****n and tells the story of i*****s. In reality, we do not just want to make comedy out of real life scenarios, but we also want to use our influence and resources to play a positive role in the country. That is why GOtv has launched this initiative to spread cheer among i*****s while also improving their lives. It is only by creating value for our customers, our employees and society at large that we'll build a successful business for the future," said Simon Kariithi, GM GOtv Kenya.ALSO SEE: Maisha Magic East launches three local music shows on
"We understand that i*****s face a lot of challenges in prisons and need a relief from their day to day lives in remand. We know that entertainment is a powerful way to tell stories that touch the hearts and minds of people. That's why we thought it important to come with the Jela 5 Star cast to enact the episodes and provide comic relief to the i*****s." said Timothy Okwaro, Mnet Director of East and Southern Channels.
The cast and crew of Jela 5 Star also acted out snippets of the show to entertain the i*****s. The Jela 5 Star inmate CSI initiative, which will be held once every two months at either a male or female p****n in Kenya.
Jela 5 Star is one of the 15 local shows that Maisha Magic East launched for the year 2017/2018 in an effort to promote local productions. Jela 5 Star is a dramatic comical production that brings to life situations that can be tragic as they can be hilarious, highlighting through comedy, a few areas where remand prisoners would appreciate improvement.
The new comedy drama airs exclusively on Maisha Magic East on GOtv Channel 4 every Monday to Wednesday from 8.30pm – 9.00pm.