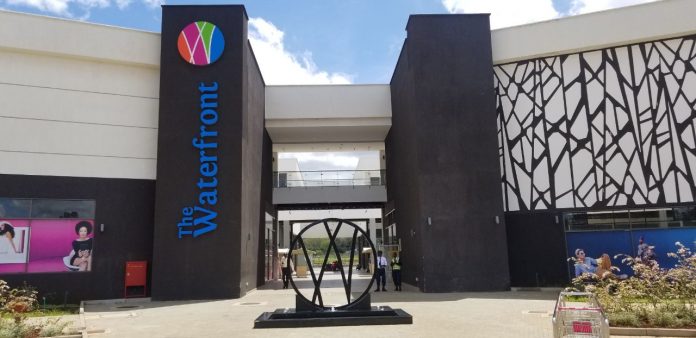 The firm behind Waterfront Karen mall, Crossroads Limited, has come out to dispel reports that the property was up for sale at Ksh20 billion.
News of the planned sale made front page news, with outlets including Business Daily citing an advertisement placed by a property agent. The ad reportedly indicated that Waterfront Karen, along with the 30 acres of undeveloped prime land in Karen that makes up the 50-acre property, was to be sold.
The mall is owned by the heirs of the late Nelson Muguku, renowned poultry farmer and investor. In a statement seen by Business Today, Waterfront Karen Managing Director David Muguku denied reports of the sale, asserting that the information was false.
"We would like to dispel this information and let the public, our tenants and clients know that the information is false and does not represent the position of the management. The information should therefore be disregarded and treated as false. 
"The Waterfront Karen Shopping Mall and its surrounding property remains to be a long-term investment whose main objective is to provide a conducive, safe, environmentally-friendly and world-class shopping & lifestyle experience for the public," he noted.
Muguku stated that information on sale of the property, if any, would be made public through official channels.
Opened in 2018, the Ksh3 billion mall is one of the largest real estate investments made by the family, which previously divested from the late Nelson Muguku's founding stake in Equity group – selling shares worth an estimated Ksh4 billion.
READ ALSO>>>>>Shoprite to Fold Up Kenyan Operation in December
Anchor tenant Shoprite terminated their 10-year lease agreement in July after less than a year at the mall, citing a tough operating environment. The South African supermarket chain exited not only Waterfront mall but the Kenyan market at large, closing stores at City Mall Nyali, Westgate Mall and Garden City Mall.
A legal challenge by Waterfront seeking to compel Shoprite to pay rent for the duration of the 10-year lease agreement failed, with Justice David Majanja ruling that they were only required to pay rent for the period they occupied the space.
Waterfront landlords had wanted Shoprite to pay $4.8 million (Sh527 million) for exiting the lease agreement.
Naivas has since taken over as the anchor tenant at the Waterfront.