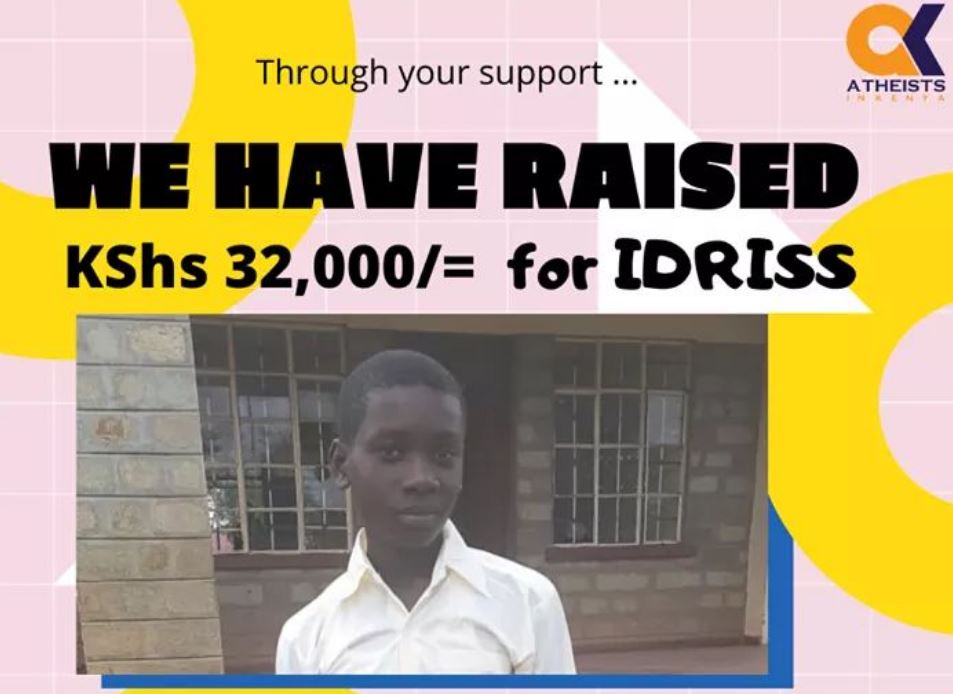 Lately in Kenya, there have been controversial debates between Christians and atheists over the existence of God and the general existence of a supreme being.
As part of their argument, Atheists have always insisted that it is human beings who help each other out of goodwill. The believers have always countered this by saying God helps people through other people. They believe the people who help you have been sent by God.
The Atheists in Kenya Society has taken this to the next level as they have all united to help a needy Form 1 boy from Maranda High School. In a statement sent to media houses, the Atheists in Kenya Society shared the news of their school fees contribution for Idriss Saidi Lutta.
This might have been a move by the Society to prove to others that it is indeed human beings who help each other but the boy's mother thinks otherwise.
'God is real' were the words of the mother who had no idea that the organization that paid his son's school fees was one that does not believe in the existence of a supreme being. As quoted by Standard Digital, the boy's mother said she really appreciated the help she got.
"I am grateful someone has offered to help. I was worried my son's education was coming to an end because I could not afford to pay school fees but now I am grateful to God," said Lilian Ayabei, Idriss' mother.
Lilian had struggled to pay school fees for his boy but her efforts had borne no fruits before the Atheists' Society came in. Lilian who is a vegetable vendor had tried her best to raise Idriss' Sh 53,000 fees but was not successful.
Idriss Saidi Lutta was set to join Maranda High School after getting 401 out of 500 marks in the 2019 Kenya Certificate of Primary Education (KCPE) exams. He was a student at Emining Primary School and emerged the best in Mogotio sub-county, Baringo.
In the press release shared on Tuesday, the president of the Atheists in Kenya Society Harrison Mumia confirmed that the money was solely contributed by atheists.
"We are happy and proud to announce that through the generous contribution of atheists, the first time school fees of Idriss has been fully paid by the society today 14th January 2020, via Cooperative Bank, Bondo. We have also sent money to Mama Lilian to cater for the first term shopping of Idriss," Mumia said.
After knowing about the organization that paid for her son's first term school fees, Lilian said she appreciates them despite their belief.
"As long as they are not devil worshippers, we are grateful they have offered to help us and we accept. The intent is all that matters," she said
Idriss is now expected to report to the prestigious national school tomorrow after completing his shopping.