A social media poster claiming that Kitutu Chache MP Richard Onyonka is running for Kisii governor post is fake. 
The poster has been shared on Whatsapp and has the orange symbol and colour of ODM, Onyonka's party of affiliation.
A fact-check on the poster reveals that it is actually misleading. In fact, on 17th January 2022, Onyonka issued a statement through his Twitter account denying that he is running for the Kisii County governor's seat and flagged the poster as fake. 
"This is to clarify that I am supporting @SimbaArati for Kisii Governor's seat and I will be vying for Kisii senatorial seat. Anything other than that is fake and purposely propaganda. Kindly treat this poster as FAKE," he said.
Soon afterwards, Mr Onyonka also published a post on his Twitter account on 17th January in which he was seen accompanying Dagoretti North MP Simba Arati to Nyamache, Kisii County, for Simba's endorsement for Kisii governorship.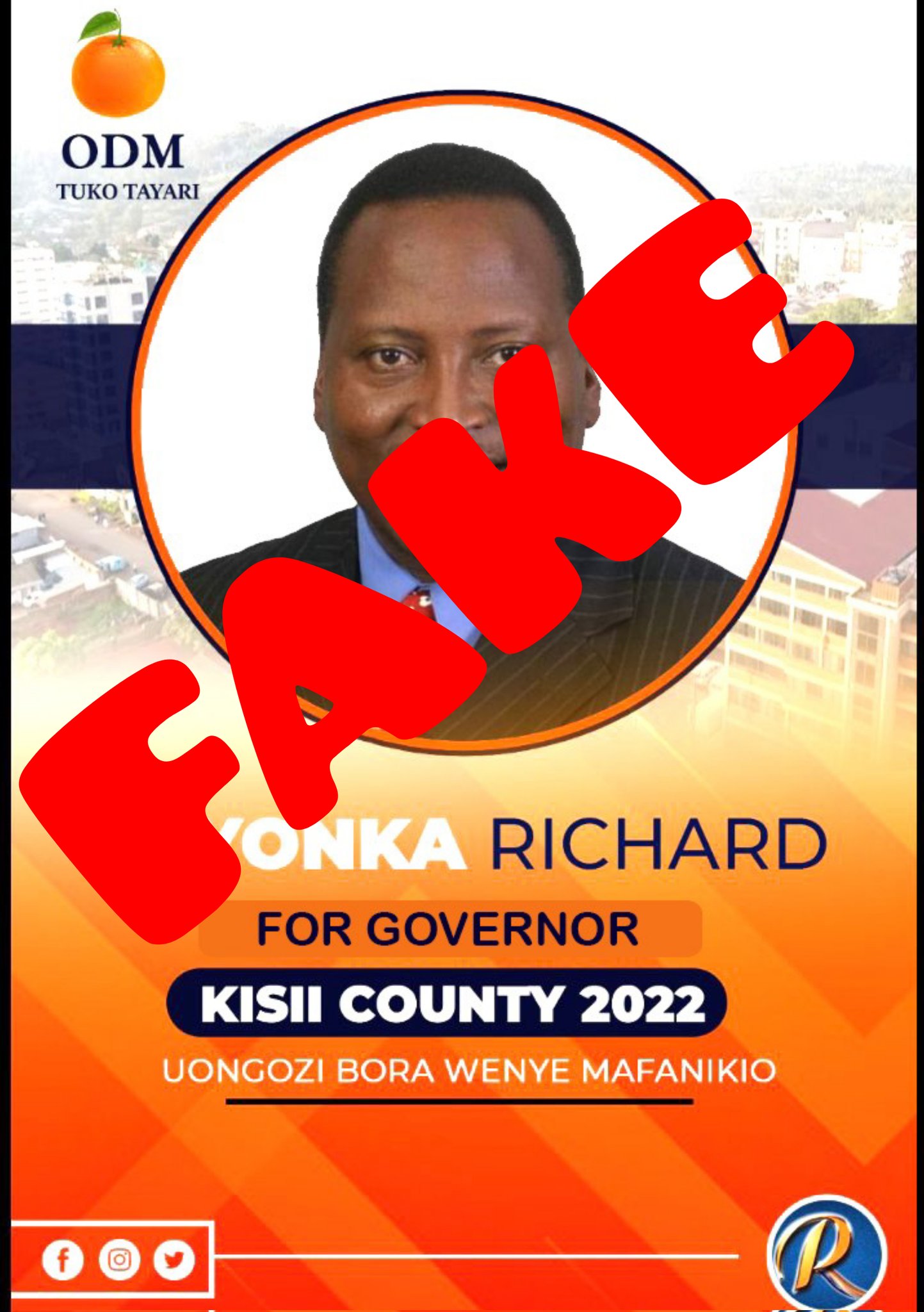 Mr Onyonka, to prove further that he is not interested in the governor seat, said through his Twitter account: "Such a colossal day! Today, I accompanied @SimbaArati  to Nyamache, Kisii and witnessed the people of Bobasi, as they endorsed him for Kisii County governorship. We rise by uplifting and supporting each other. Together, we shall deliver for our people!"
Business Today also contacted the legislator, who confirmed and condemned the misleading poster as fake news, reiterating that he is interested in the Kisii senatorial seat. 
VERDICT: The poster announcing that Kitutu Chache MP Richard Onyonka is running for Kisii governor post is misleading as the MP has disowned it and clarified he is running for the senatorial position.
[This story was produced by Business Today in partnership with Code for Africa's iLAB data journalism programme, with support from Deutsche Welle Akademie ]
See Also >> Photo Showing Mammoth Crowd At Ruto Rally Fake