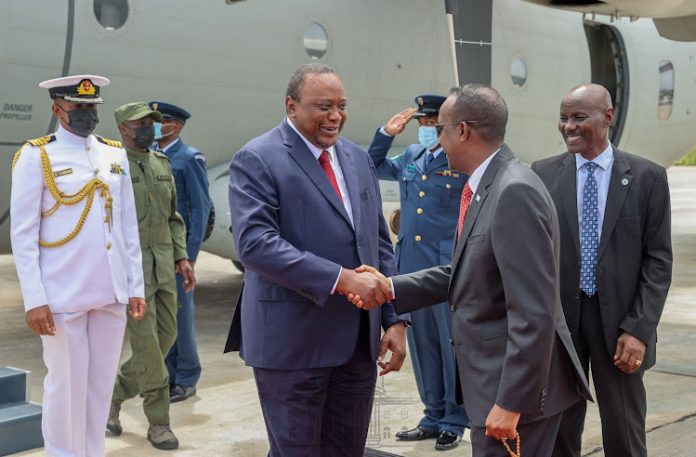 Kenya is expected to resume miraa (khat) exports to Somalia in the next two weeks, Agriculture Cabinet Secretary Peter Munya announced on Friday, June 10.
Speaking in Meru county, Munya stated that a formal trade agreement would be signed in two weeks. He further disclosed that direct flights between the two countries would also resume from next Tuesday, allowing for miraa to be flown directly to Somalia from Isiolo airport.
According to the CS, President Uhuru Kenyatta brokered the deal to facilitate the smooth resumption of miraa exports in his recent trip to Somalia. The President was in attendance at the inauguration of Somalia's new President Hassan Sheikh Mohammed on Thursday, June 9.
Uhuru signaled improved relations between Kenya and Somalia which had soured under Somalia's former President Farmaajo, over issues including the legal tussle for ownership of offshore oil reserves claimed by both countries.
Uhuru expressed his desire for socio-economic co-operation between the two nations. He pledged to work with the new administration in areas including security and trade.
"A peaceful and prosperous Federal Republic of Somalia is the dream of every Kenyan. Kenyans look forward to working with you so that we can all benefit economically and prosper together," Uhuru stated as he congratulated Mohammed.
Miraa exports to Somalia from Kenya had been significantly affected as the diplomatic tensions rose.
News of the expected resumption of miraa comes as good news to farmers in the miraa-growing counties such as Meru. The farmers have seen their fortunes decline in recent years as Somalia was their biggest export destination following the ban on Miraa by EU countries.
The miraa question has become a hot-button issue ahead of the August General Elections.
Both sides of the political divide have sought to assure Miraa farmers of their commitment to improving their conditions and expanding the market for their crop.