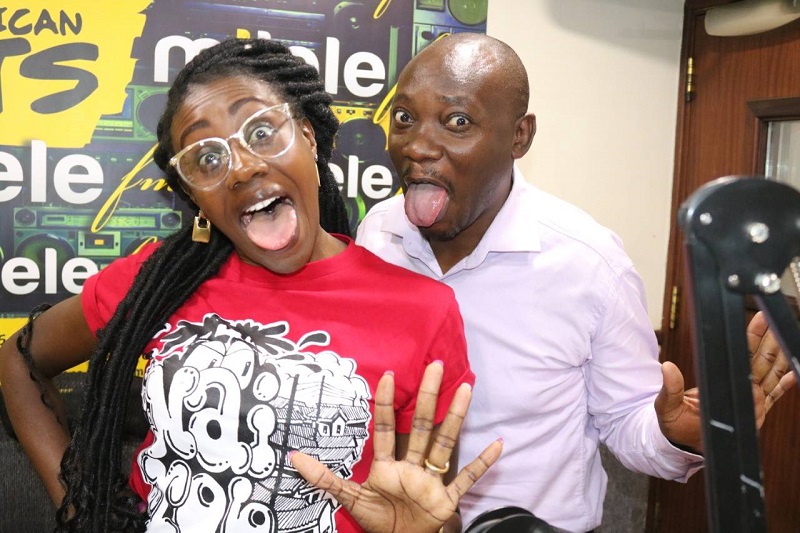 The Media Council of Kenya (MCK) has threatened to ban a popular Milele FM show for airing obscene content.
According to the council, Francis Luchivya and Jacquey Nyaminde popularly known as Wilbroda, who host the MileleDrive evening show, have on various occasions acted in violation of the legal and policy frameworks including The Code of Conduct for the Practice of Journalism, by broadcasting sexual content inside the watershed period which is 5am to 10pm in Kenya. MileDrive airs between 4pm and 8pm on weekdays.
A report by the council cites the March 19 edition of MileleDrive, which it says was pure sexual content, adding the presenters did not caution listeners or make any efforts to moderate their language in a live show.
During the show, Wilbroda narrated how lodging operators are suffering as a result of constantly repairing beds damaged by sexual partners.
"Wenye lodgings wanasema ya kuamba especially hawa wanakujanga kwa short time. Wamekuja XXXX yake mbili, tatu amemaliza ametoka. Wanasema ya kuamba wiki haipiti bila kutoa kitanda kupeleka kwa seremala."
She continues with her monologue: "Vitanda zinavunjwa mpaka wenye lodgings wanashindwa kwani ni mastyles gani munafanya mpaka sisi wenye lodgings faida yetu ni kupeleka kwa seremala kwa repair…"
Wilbroda then goes on to describe various sex styles in a way that we cannot be repeated on a family platform.
According to the council, Section 16 (Sex, Obscenity and Pornography) of the Programming Code states that, "Offensive, obscene, blasphemous, profane and vulgar double meaning words and phrases are prohibited, even if only understood by the segment of the audience".
Similarly, the Code of Conduct for the Practice of Journalism in Kenya on Obscenity, Taste and Tone in Reporting requires that journalists should be careful when handling sexual content.
It states that, "in general, persons subject to this Act shall not publish obscene or vulgar material unless such material contains news."
"Were the presenters aware of these ethical and legal tenets? Further, on what basis did the editor determine that this content was good for public consumption to the extent of recording and sharing it on social media?" Media Observer, an MCK watchdog publication, poses.
MCK CEO David Omwoyo now says that if the trend continues, they would be left with no option but to pull the show off air.
It is not the first time that FM stations are being flagged for airing obscene content, a trend the council partly blames on infiltration of the airwaves by comedians, who are not grounded in the tenets of professional journalism.
Read: IG Hillary Mutyambai vows to fight corruption
Other programmes that have been accused of violating media ethics including Maina & Kingangi in the Morning on Classic FM and Patanisho on Radio Jambo.