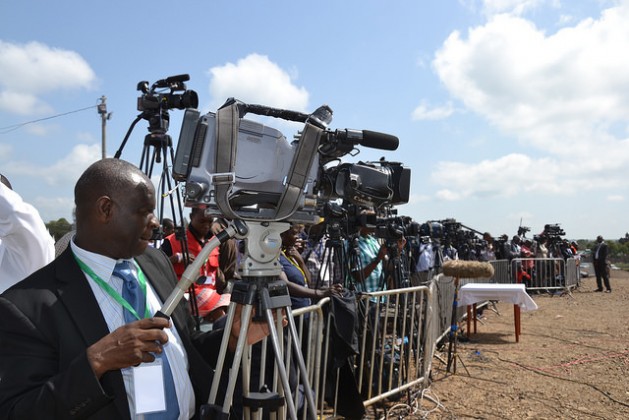 Media Internships: Media and communication students must be sighing with relief after the Media Council of Kenya announced a deal with undisclosed media houses to not only provide internships but also get them paid.
The Media Council of Kenya (MCK) says it has partnered with recognised media houses to roll out the internship programme for the Financial Year 2021/2022 to offer journalism students practical work experience before graduation and prepare them for the job market.
The internship will be for a period of three months, with the Media Council of Kenya providing up to Ksh15,000 for the trainees' upkeep. The council did not, however, disclose the number of students it can accommodate in the programme nor how it will fund the stipend paid to interns.
"The programme will offer internship placement opportunities to journalism students across the country starting December 2021," MCK said in a statement, which which is widely being praised by colleges and students.
Getting internship in media houses has been about as hard as getting the real job itself as the market gets flooded with journalism students. The situation has often been complicated by nepotism by media managers.
Also, in-house talent management plans by media houses have also seen them go out to colleges to pick prospective talent for training, thus locking out thousands of students. Nation Media Group and Standard Group run inhouse graduate training programmes – Media Lab and Standard Group Academy respectively – which provide interns who eventually become employees.
The high demand for internships has also opened avenues e**********n of desperate students. In September Ebru TV started charging journalism students seeking attachment at its newsroom. Ebru TV advertised the three-month incubation programme for students in need of attachment or internship in a media-related field.
In a statement released on 14th September , the media house announced that the slots were limited and those interested were required to pay Ksh15,000 upfront.
>> Media Houses Spoiling For a Fight Over Talent Ahead Of Elections
Meanwhile, beneficiaries of the MCK internship programme will be placed in recognised media organisations under the following areas of specialization: Editorial, Radio, Television, Digital and Corporate Communications. Individual journalism students who meet these requirements are eligible to apply, while universities or middle-level colleges teaching journalism and media studies are also eligible to apply on behalf of the students.
Method of Application
Interested journalism students or universities and middle – level colleges can submit an application letter together with the other requirements to: [email protected] with the subject title: 'Application for MCK Industrial Placement Programme' on or before Friday, 12th November 2021. Applicants should clearly indicate their preferred regions and media houses even though placement will be at the discretion of the Council.
Application Requirements
Final year students from a recognise media or college.
Letter of application from the student.
Recommendation letter from the university or college.
Academic transcripts.
Valid student identification card or registration number.
Evidence of published work or broadcast will be added advantage.
Read >> Nine Prestigious Careers You Can Get In Kenyan Media
See Also >> 10 Side-Hustles Media People Have Ventured Into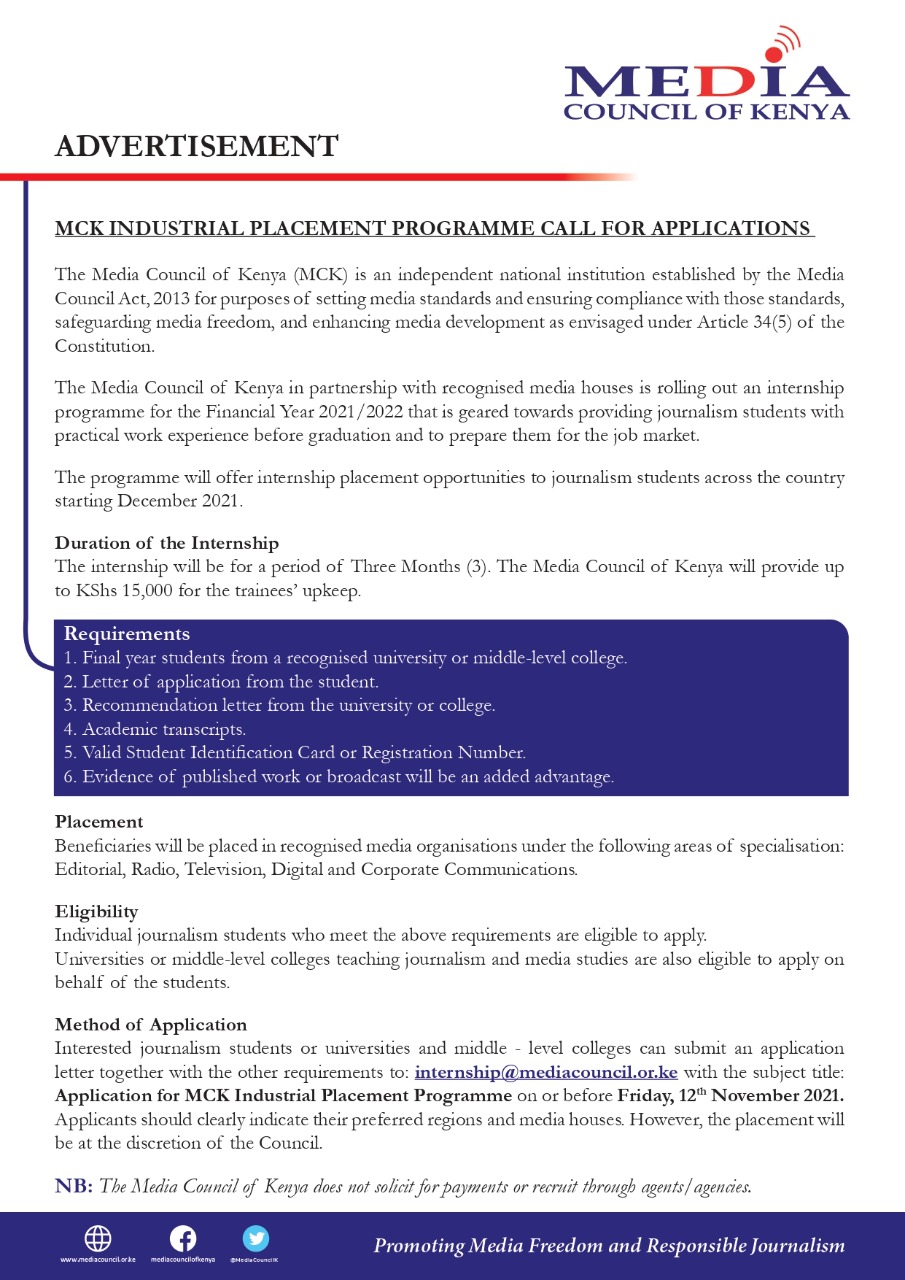 >> Waititu Loses Sh54 Million Deposit in CBD Property Fallout