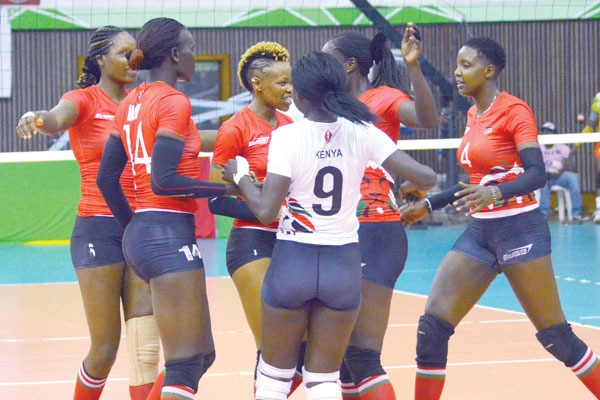 As they prepare for the 2020 Tokyo Olympics qualifiers, Malkia Strikers have made an addition to their technical bench in Italian coach, Shailene Ramdoo. Ramdoo was seconded to be part of the coaching staff in the national women's volleyball team for three months as the team prepare for the Olympic qualifiers set for August in Italy.
The Italian tactician was seconded to Malkia strikers by the Fédération Internationale de Volleyball (FIVB) at the Kenya Volleyball Federation's (KVF) request. Apart from the request for the coach, KVF also requested for financial support from International Olympic Committee through National Olympic Committee of Kenya and the government. Team sponsor National Oil corporation is also expected to complement the contributions made by the aforementioned entities.
According to a circular released by FIVB on Monday evening, the new Olympics qualification system pools the top 24 teams (according to FIVB ranking) into six groups in which the leaders automatically gets a ticket to Tokyo in 2020. Kenya, ranked nineteenth, has been pooled with Italy, Netherlands and Belgium ranked 6th, 7th and 18th respectively.
The KVF president, Waithaka Kioni, has said the federation requested for the foreign coach to bring in new tactics while they aim to improve the quality of Malkia Strikers' players. "We asked for the foreign coach from FIVB to come help raise the level of our girls' competitiveness and more importantly to increase our chances of qualifying for the Tokyo Olympics," said Waithaka.
"Ramdoo will work with 20 players who the local technical bench will have called up to camp since three months is little for him to start a fresh selection. We are in a difficult pool so the players will need adequate specialized attention," he added.
The Italian tactician will work alongside head coach Japheth Munala and his assistant Josp Baraza to see the team participate in the Tokyo Olympics. The team last played in the Olympics in 2004 managing 11th position, similar to the previous 2000 Olympics. Malkia have only participated in the two Olympics and will be seeking to play their third in 2020 Tokyo.
The team will be seeking to salvage themselves after giving a poor show in japan last year when they bowed out of FIVB Women's World Championship with only one victory but four losses. The team traveled to Japan last year without a large share of the first squad with five players being on maternity leave.
The Italian coach will be paid by FIVB while KVF will take care of the tactician's local bills.