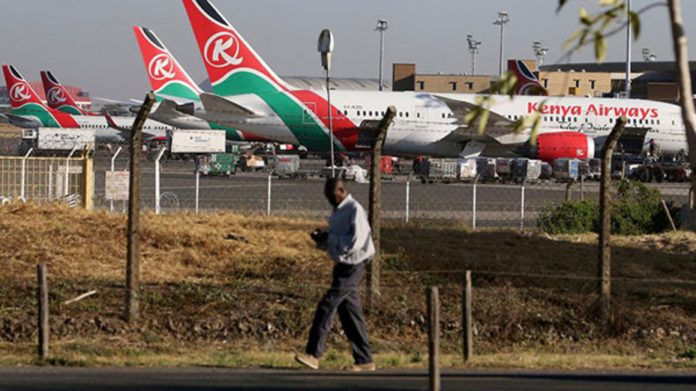 Kenya Airways has warned that it will lose around Ksh300 million per day, or Ksh2.1 billion per week 'at minimum' after pilots announced plans to proceed with a planned strike. The pilots under the Kenya Airlines Pilots Association (KALPA) umbrella intend to continue with the strike despite a temporary injunction granted by the Employment and Labor Relations Court stopping the planned action.
The national carrier made the disclosure in a statement issued hours after KALPA confirmed its decision to proceed with the strike from Saturday, November 5, at 6am, citing their right to withdraw labour as enshrined in Article 41, Chapter 4, of the Constitution.
In response, the loss-making airline described the strike as unláwful, further stating that it was willing to continue engaging the pilots to resolve the matter and avoid the massive losses expected. The pilots want KQ to pay deferred salaries and contributions to provident funds, and resignations of CEO Allan Kilavuka and board chair Michael Joseph.
"We are willing and ready to engage with KALPA within the confines of their mandate in an open negotiation to find practical solutions," Kilavuka wrote in the latest statement.
"We cannot overstate the severe economic impact of this action on different sectors and the entire ecosystem reliant on KQ. At minimum, the unláwful industrial action will cost KQ approximately Kes300M a day, translating to Kes2.1Bn in one week," he continued.
READ>>Mutuma Mathiu Out, Ageyo In as NMG Shakes Up Top Editorial Suite
Both passenger and cargo operations will be hit should the strike proceed as planned. KALPA stated that no Kenya Airways pilots would take to the skies from tomorrow.
"On October 19, 2022, the association issued a 14-day industrial action notice to the management of Kenya Airways, as the last resort in our attempts to seek better working conditions for our members and ensure that Kenya Airways is managed professionally," KALPA Secretary-General Captain Murithi Nyagah stated on November 4, 2022.
"The Kenya Airways management has not made any meaningful attempt to engage, and have these matters addressed," he asserted.
READ NEXT>>CIC Group Sets Ksh7 Million Price For Kiambu Plots