[dropcap]S[/dropcap]ome of Kenya's most flamboyant lawyers have once again missed out in the latest ranking of Kenya's top barristers. The ranking by Chambers and Partners, a London-based firm, lists the most outstanding law firms and lawyers in more than 180 jurisdictions in the world.
Most of those celebrated this year have been cited for successfully representing their clients in arbitration cases in court resulting in multi-billion settlements. Chambers and Partners ranks individual lawyers based on their areas of practice, the basis of their legal knowledge and experience, their ability, their effectiveness, their client service and landmark cases litigated.
Those who met the cut in the 2019 February ranking include former Attorney General Githu Muigai, Fred Ngatia,  Fred Ojiambo, George Oraro, Kenneth Fraser, Chacha Odera, James Ochieng Oduol, John Ohaga, Kiragu Kimani, Kamau Karori, Njoroge Regeru, Law Society of Kenya President Allen Gichuhi as well as Waweru Gatonye, Michi Kirimi, Mohammed Nyaoga, Nazima Malik, Peter Gachuhi and Walter Amoko.
In terms of the most performing law firms in dispute resolution in the country, Dentons Hamilton Harrison & Matthews was ranked in band one as the top performer alongside Kaplan & Stratton Advocates, and Oraro and Company Advocates.
M*****g from the list, however, are outspoken lawyers Ahmednasir Abdullahi and Donald Kipkorir.
Abdullahi's Ahmednasir, Abdikadir & Company Advocates specialises in strategic litigation including conveyance and real estate, commercial and civil litigation, corporate and commercial law, family law, Islamic finance and tax law, among others.
The firm's specialisation in election petitions saw Abdullahi represent IEBC and its chairman in the 2013 (Issack Hassan) and 2017 (Wafula Chebukati) challenging presidential victories by Raila Odinga, which he won and lost respectively.
Read also: Wasn't this meant to be a bribe to Uhuru from a billionaire?
His archival, Kipkorir's KTK Advocates prides itself for acting as legal advisors for many of the leading banks, insurance companies, parastatals and government bodies, universities, societies, regulatory authorities as well as several leading companies in Kenya.
KTK Advocates, on its website, says it has also done significant work for various international clients in both Corporate Law and Commercial Law areas of practice, adding it has built strong associations and working relationships with leading law firms in England, South Africa, Uganda, Tanzania, Sudan, Ethiopia, Eritrea, and Saudi Arabia giving it considerable strength in legal matters with an international or regional ingredient.
Chambers and Partners ranks individual lawyers based on their effectiveness.
But despite boasting of advising Centum Investment on the divestiture of its stock in AON Kenya Insurance Brokers worth Ksh766 million; advising and securing the interests of Co-operative Bank, extending banking facilities worth Ksh6 billion to a corporate borrower as well as offering legal advisory services to Racecourse Gardens, seeking finance in the amount of Ksh929 million for a real estate project, neither Kipkorir nor his firm impressed the authoritative Chambers and Partners.
Read: New York Times transfers Nairobi chief behind dusitD2 t****r a****k report
Abdullahi and Kipkorir sparred on Twitter after the latter sponsored last year's Law Society of Kenya (LSK) Annual Delegates Conference in Diani, Mombasa. Abdullahi claimed he had been issued with cheap bags.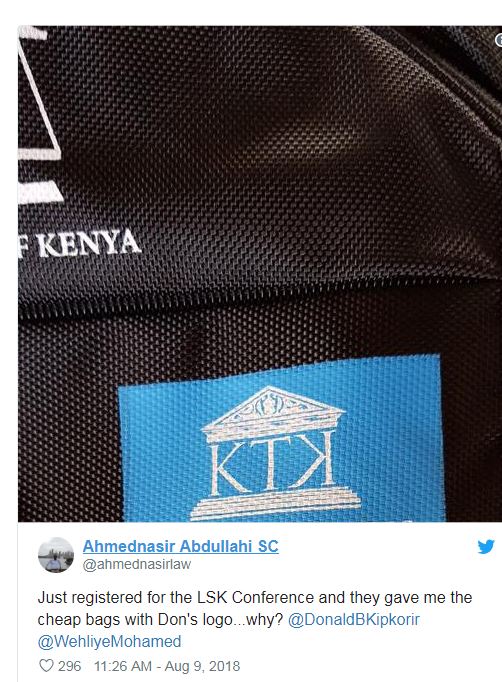 But Kipkorir hit back: "We are in Diani, Mombasa for our Law Society Of Kenya Annual Conference which I annually sponsor with humility."