Royal Media Services (RMS)' Citizen TV and Radio Citizen have maintained their position as the leading stations in the country , according to GeoPoll data covering the period between February 1 and February 14, 2019.
It shows Radio Citizen had a 13% share followed by Radio Maisha with 10% and Radio Jambo in third place with 9% share.
According to GeoPoll, both males and females spend most of their radio time on Radio Citizen, with 13% share amongst males and 12% share amongst females. Radio Jambo has been ranked second amongst males, with 10% share, whereas Radio Maisha had the second highest share amongst females with 10% share as well. Classic FM is ranked third amongst females with 8% share and in joint 4th place nationally with 4% share.
Kiswahili stations in the top 10 list nationally in the first quarter of 2019 had a cumulative 39% share amongst people aged 15+ years. Looking at all radio stations, we see that Kiswahili stations make up 44% of share. English stations Classic 105, Kiss FM, Hot 96, and KBC English Service also appear in the top 10 stations.
Kiswahili remains the preferred language of broadcast nationally, and across different age groups, it is observed that 46% of radio share for listeners aged 35 years is from stations broadcasting in Kiswahili. Vernacular stations command the second highest listenership amongst older listeners aged 35 years and over, having a 38% share.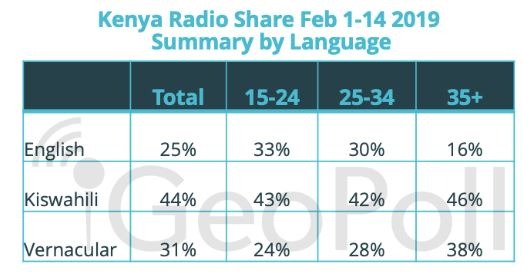 "However, we do observe some differences by age group, finding that older listeners are more likely to listen to Kiswahili or vernacular stations, with only 16% of those aged 35 and older listening to English stations.  By contrast, 33% of audience share for the youth age group (15-24 years old) is for English-language stations," GeoPoll says.
During the same period, Citizen TV had the highest share nationally followed by KTN Home, KTN News, and NTV respectively. GeoPoll says stations that have more female viewers are Citizen TV, Maisha Magic East, and Inooro TV while KTN News, NTV and K24 had more male viewership.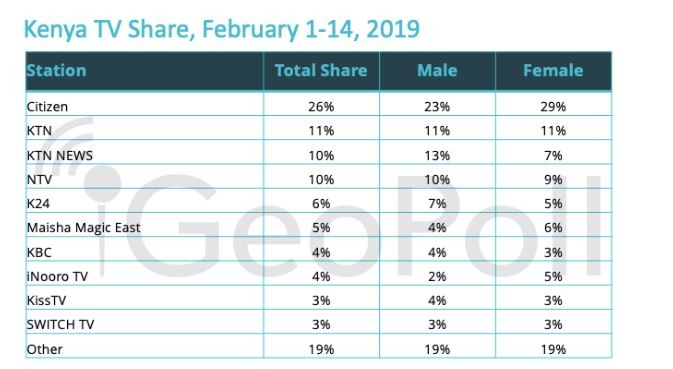 The polls shows Citizen TV had the highest share of this two-week period on Tuesday, February 12th at 19:00, during Citizen Nipashe News. At this time 41.97% of those tuned in were watching Citizen TV. They also had a high audience share, 41.4%, Saturday, February 9th at 11:30 am, demonstrating their strength during both evening and weekend timeslots. NTV had its highest-rated timeslot at 11:30 am on Friday, February 1st, capturing 26.95% of audience share during that time, while KTN Home had a peak share of 25.4% at 18:30 on Wednesday, February 6th, when the Philippine novella The Promise was airing.
Outside Nairobi, the most watched timeslot by females was from 10 am to midday. It is also observed that two other time bands are quite popular amongst females. These are at 2 pm and 8 pm in the night, the later mainly dedicated to Telenovelas and Drama Series. Males have peak viewership at 1 pm, 4 pm, 7 pm and 9 pm going to 10 pm, during the time allocated to news for most channels.
Read: New York Times journalist caught up in terror attack row leaves Nairobi
"When observing trends by age group for those outside Nairobi, we find that TV viewership in the first two weeks of February 2019 is mostly by persons aged 35 years +, with age groups 15-24 and 25-34 years having a lower share of TV viewership across the day. TV viewership for those age 35+ is relatively stable throughout the day, with an increase in the evening hours. The younger age group, age 15-24, has peak viewership towards the end of the day, from 23:00 to 00:00," GeoPoll says.