Dr Naushad N. Merali is not your ordinary businessman. The billionaire serves as chairman of Sameer Group. The reputed Forbes magazine ranks him among the richest men in Africa.
Apart from the Sameer conglomerate, Merali's interests include a stake in Commercial Bank of Africa (CBA), which is majority-owned the Kenyatta family. Notably, the lender is in talks to buy NIC Bank.
His high-level business and political connections are not in doubt and date back to the Moi days and blossomed under Kibaki. So much so that when the government chose to put up a retirement home for President Kibaki at Mweiga in Nyeri, Merali's Sasini Tea donated 1,000 acres. The two are business associates.
The business acumen of Merali, who is now caught up in a web of racketeering, is also not in doubt. In 2004, he is fabled to have made a cool Ksh2 billion in an house deal after exercising his preemptive rights to buy 60% of Kencell to give him a 100% stake.
In the deal, Vivendi, its co-shareholder, wanted to sell its shareholding to South Africa's MTN but Merali talked it out of it. But because he did not have the money to match what MTN was ready offer, he reached out to fellow business magnate Mo Ibrahim to lend him $230 million. Never mind Vivendi and MTN had already signed a contract.
As Vivendi smiled its way to the bank, Merali sold the same shares to Mo Ibrahim's Celtel International for  $250 million. With such an impressive resume and high-level connections, one would expect that Merali knows his way around town, including in the top echelons of power.
It, therefore, came as a shock to many when seven young men were arrested and later charged for impersonating President Uhuru to secure Ksh80 million facilitation fee for a land deal in Nairobi's Milimani area.
The seven's cover was blown after the man sent by Merali to execute the deal got suspicious after sending the first Ksh10 million. Joseph Waswa, Duncan Muchai, Isaac Wajekeche, William Simiyu, David Luganya, Gilbert Kirunja and Anthony Wafula were arrested and later charged with defrauding Sameer Africa Finance Director Akif Hamid Butt of Ksh10 million between January 24 and February 1. They denied the charges and were released on a Ksh 20,000 each.
Lawyer Ahmednasir Abdullahi and activist Boniface Mwangi want Merali also prosecuted for bribery, a position supported by Senior Counsel Paul Muite. While these lawyers want the Director of Public Prosecutions to prosecute the businessman, the matter puts EACC under the spotlight regarding its commitment to implement the Bribery Act, which was a product of public-private engagement.
"Merali is not a child: he is a 68-year-old man who in 2012 according to Forbes Africa's richest is worth 410 million dollars. He is President Moi's business partner in some investments. Merali has been mentioned in the Kroll and the Goldenberg reports on how Kenya was looted by Moi," Mr Mwangi wrote in a hard-hitting post on his Facebook page.
Most government officials have over the years minted riches by exploiting their closeness to power
"Merali was paying a bribe to Uhuru for a tender and it is clearly something he has done for many years. Merali owns the Sameer Group and is an 18% shareholder of Commercial Bank of Africa. So Merali knew it wasn't unusual for a sitting Kenyan President to ask for a bribe," further wrote.
According to the Bribery Act 2016, giving, receiving or engaging in activities that enable bribery attracts conviction leading to imprisonment for a term not exceeding 10 years or a fine not exceeding Ksh5 million, or both. In addition, the courts may impose an additional mandatory fine if the person incurred quantifiable loss or benefit. Under the law, Butt is equally, therefore, liable for the offence.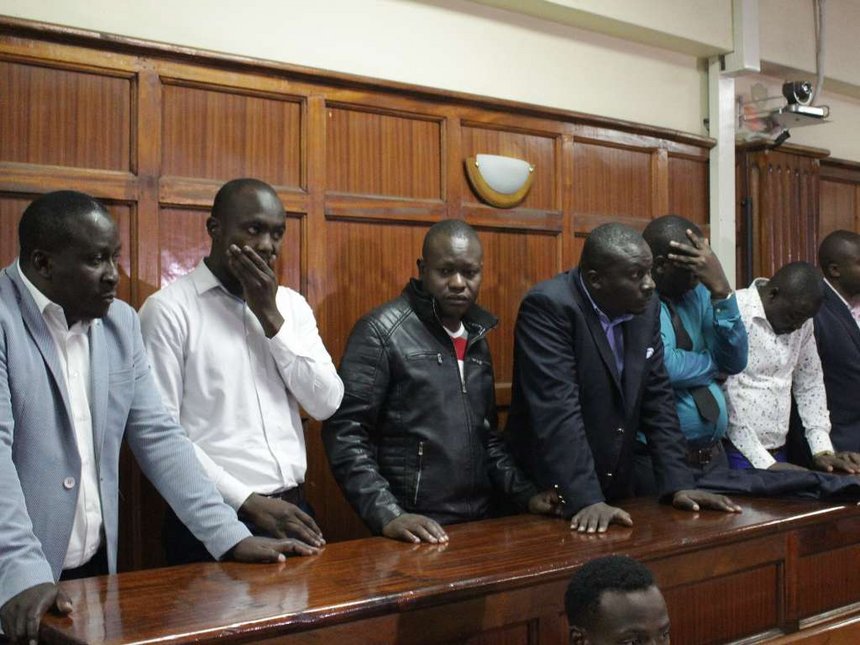 It is surprising how a high-flying figure such as Merali could easily fall for a dubious deal. Confederation of Consumers of Kenya (Cofek) says it can only have happened if the President has never called him using his direct line, which is unlikely. "… he probably has never been called directly by President Kenyatta. And that would explain potential excitement which his scammers over-exploited," the watchdog notes.
The suspects are alleged to have registered a Safaricom line, 0722 208842, in his name.  According to Cofek, if the President had previously called, Merali would probably have saved his number.
In court, the suspects' lawyer Cliff Ombeta claimed the number belonged to Uhuru and that he had been tongue-lashed through it prior to the incident. He said Uhuru should be called as a witness.
Read Also: How university professors are scoring Es in CV writing
But other telltale signs that would have made the businessman smell a scam include why he was calling only when was abroad as well as the amount of money involved. It says it is unlikely the President would be involved in small business deals, claiming some of his aides go for bigger ones.
Cofek also questions why Merali did not issue instructions to a lawyer or professional advisers to deal with the issue and why he asked Butt to deposit cash instead of a cheque.
Aides take advantage of power
But the saga also brings to the fore the power aides to some influential government officials hold. It is a poorly kept secret that most of them have over the years minted riches by exploiting their closeness to power. Most of the time, their strike deals with businessmen, investors and those seeking favours without the knowledge of the bosses. The rent-seeking is often couched in terms such as 'facilitation' fees.
Most of those targeted are businessmen of Indian heritage as well as investors seeking procurement opportunities. The Chinese, especially those engaged in multi-billion deals, are said to be the biggest victims.
Apart from official aides, influence peddling also entails hangers-on who ride on their easy access to the Big Men – there are rarely women – to make money.
Also See: The cash-for-Samosa scandal
It was not, for instance, an exception that as soon as Waswa, the Fake Uhuru, landed in trouble, he was quickly linked to influential figures such as former Sports Cabinet Secretary Rashid Echesa. Photos of him in the presence of other public figures such as Deputy President William Ruto and Devolution Cabinet Secretary Eugene Wamalwa followed.
How much currency one gets for simply being in the presence of such key personalities cannot be gainsaid. But some of the public figures are also known to use close aides as conduits for corruption and other dirty jobs.
A few years ago, a former Cabinet minister rained blows in the parking bay of a government office after a man he had sent to fetch 'facilitation fees' brought a lesser amount than agreed . Apparently, the poor fellow had decided to help himself to some of the cash not knowing the boss knew how much he was supposed to bring!