Starting Friday (Tomorrow), Kenya Airways will not be flying to Rome following the coronavirus spread in Italy.
In a statement on Thursday evening, KQ said that the suspension of flights to and from Rome would last until April April 30, 2020.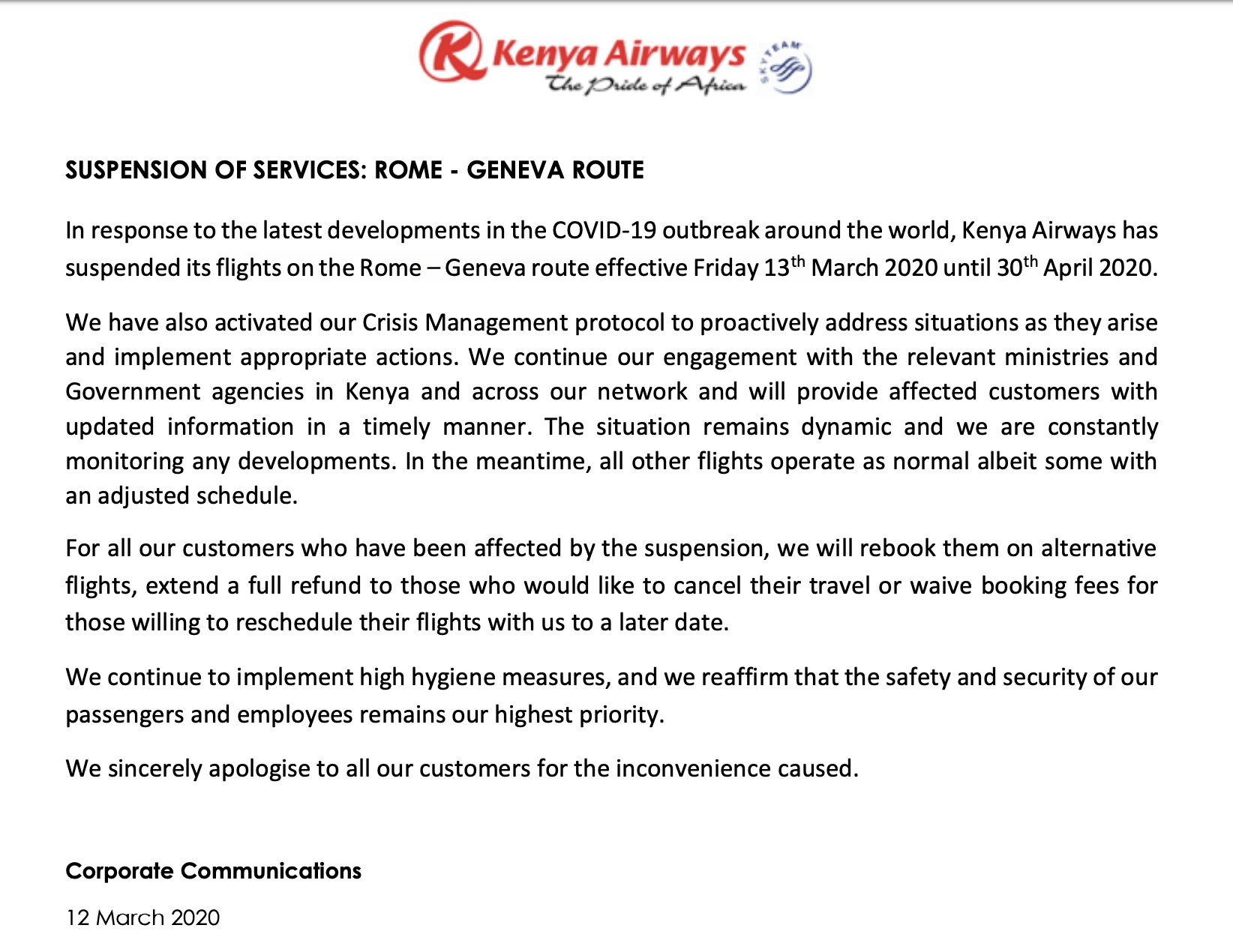 The national carrier has been slow to suspend flights to affected countries with its halting flights to China coming after Kenyans reacted on social media accusing the airline of prioritising profits over me.
Initially, KQ seemed reluctant to suspend flights to China but it on announcing the suspension of all flights to and fro Guangzhou, the airline said its services between Nairobi and Bangkok remains operational.
Already, Kenya Airways has suffered millions of dollars in losses over the suspension of the Nairobi-Guangzhou route due to the coronavirus outbreak.
In February, KQ Chief Executive Allan Kilavuka said that the losses which at the time amounted to US$8 million (Sh800 million) covered both the passenger and cargo segment of the airline's business which lists China as a key cargo origin and main feeder to regional freighters.
KQ suspended flights to Guangzhou on January 31 amid concerns that the carrier was prioritizing its business to the detriment of the safety of Kenyans.
Before the outbreak of the virus, KQ flew to Guangzhou three times a week.
The suspension of flights to and from Rome came after a furore over why the airline was indifferent to the coronavirus ravaging countries and their economies. This after a flight touched down at the JKIA on Thursday evening amidst the spread of the virus now classified as a pandemic by the WHO.