[dropcap]A[/dropcap] typical Kenyan football match always has fans trying to control the flow of the match. Fans can be heard asking the referee at the top of their voices whether he has a single idea on the use of the two cards of the game and one side will always complain as the match heads to the final whistle. Many times it takes a quick shift to blows, stones and a series of disorderly engagements.
Notwithstanding this, the love of the game persists. The enthusiasm for a glistening football career among Kenyan youth is unending even though squarely unattended. A few Kenyans have football as a profession but youngsters want to be the next Victor Wanyama, and now Africa has Moh Sallah.
However, most of the fans do not know the struggle the players have to undergo to keep them happy especially in Kenya. Take Terror Squad football club, for instance. The club plays in the Football Kenya Federation (FKF) Nairobi East regional league.
The Academy has in the past bred big names in the Kenya Premier League sides Sofapaka and Mathare United. It is where George Odhiambo once played before his KPL debut.
But there, it is a tale of waking up to collect garbage, run a movie shop and a computer gaming local cafe in Mwiki, Kasarani to afford the food, shelter and healthcare one needs before not only kicking and controlling but also running after the ball to defeat an equally determined opponent.
Kasarani MP Mercy Gakuya, however, recently came to their aid. She donated 10 balls and saw them registered in the FKF league that is now in its third week. Terror Squad picked up three points in their first FKF match against Kiwi FC in a 4-0 thriller but fell 0-2 to Umoja's Wajiji FC last weekend, a team with a host of Nigerian talents.
The team has put up with hustles for some of its players just to ensure they don't drop their love for the game into what would be an ill easy way to earn a living.
"Most of our players have to take these menial jobs that we have invested in as a team to help us run the quest to nurture our abilities. They hope for a day football will light up their life and have never wanted to give up even though it has never been made any easy," says Vincent Okelo Mussir.
He volunteers as the team's coach, a job only a few would love to do on a daily basis after their office work. In the event a player is injured, the team through contributions and a helping hand from well-wishers foots the bills eating into what would be their normal operations costs.
This year, the team has played 12 matches in which they have lost only two and secured a single draw while conceding 13 goals against their 36.
Terror Squad Football Academy was formed in 2001 and operated as Kasarani Red Eagles FC between 1999 and 2001.The academy has since then endeavoured to use football as a tool for peace and social change with a working affiliation to the Mathare Youth Sports Association.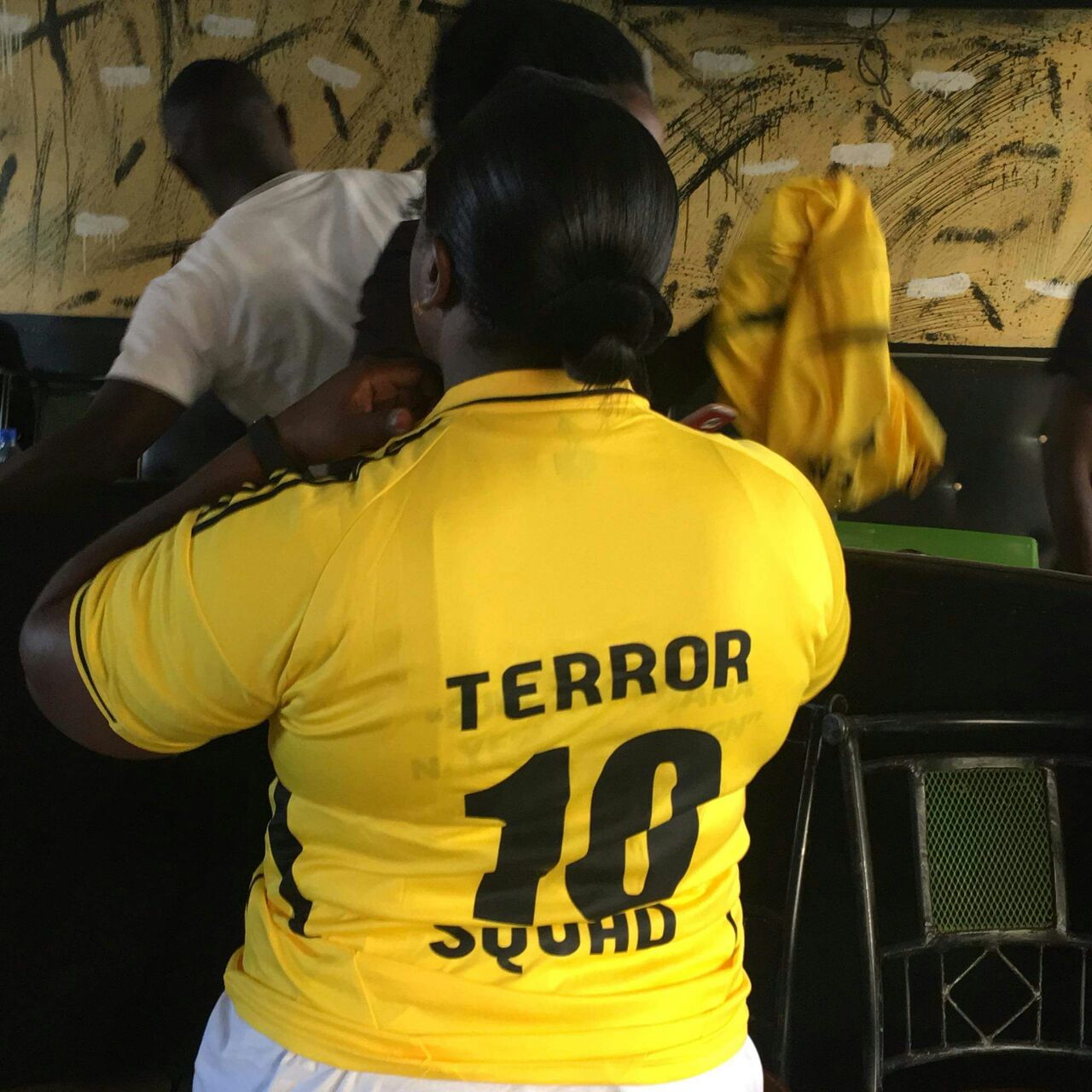 "It is a dream come true for our team, the MP attended our monthly meeting where we were launching our 2018 home kits and fundraising for equipment. She donated 10 balls to the team and promised to help build structures that other teams could emulate in the constituency," said Mussir.
Last month both the Terror Squad male and females' teams joined the world in Celebrating World TB day through a one day 16 team tourney in which they were declared champions in the Mulika TB Maliza TB contest held on March 24, 2018, which was attended by outgoing US ambassador to Kenya Robert Godec, Health Cabinet Secretary, Sicily Kariuki, MYSA Board chair Bob Munro, Nairobi County Health Directo DrThomas Ogaro and Dr Rudolf Eggers representing the World Health Organisation.
READ: Kenyans moved Sh1.6tr mobile money in 3 months
The team will host Nairobi Water FC in their third regional FKF match on Sunday.Data obtained from the FKF regional league records show some of the teams way ahead into their fifth fixture of the season while others will be on their third game.
A number of the teams had not remitted their registration fees and were left out in earlier fixtures as they strived to raise the over Ksh 40,000 required by the federation.
But the MP's gesture is not enough. A more lasting solution needs to be found. Well wishers, anyone?