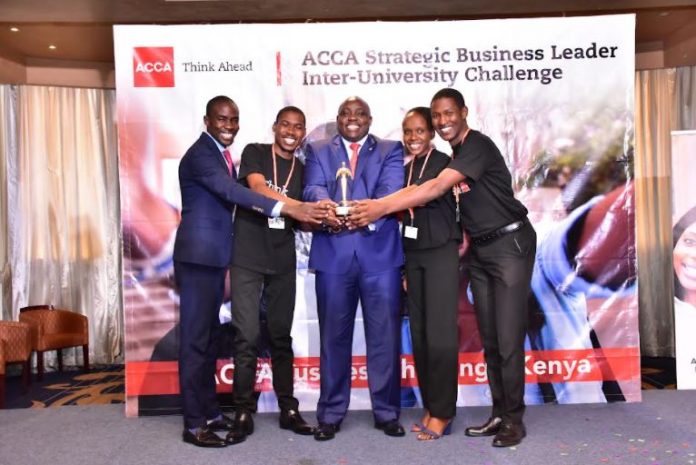 The Association of Chartered Certified Accountants (ACCA) has awarded the ultimate winners of the ACCA Strategic Business Leadership Inter-University Challenge-Kenya that was aimed at equipping students in the accountancy space with relevant key competencies in readiness for the job market.
Team Veex Strategia from Jomo Kenyatta University of Agriculture and Technology (JKUAT) won the overall top position with Team Incredibles from Egerton University as the first runners-up position and Team Frontline Champions from Multi-Media University as the second runners up team.
Each of the four members of the winning team walked away with a Ksh150,000 ACCA scholarship, laptop, trophy, certificate of participation and ACCA gift hamper. Each team member of the first and second runners-up position walked away with a trophy, smartphone, certificate of participation and ACCA gift hamper. All members of the top three winning teams won internship and job placement opportunities with eight top employers that have partnered with ACCA.
"ACCA SBL Inter-University Challenge-Kenya is the first of its kind. Our Strategic Business Leader paper mirrors the workplace and provides students with real world challenges allowing them to demonstrate a blend of technical, practical and professional skills. We must ensure that our young people acquire professional skills, technical expertise and professional qualifications that will improve their employability and competitiveness," Geoffrey Ochieng, ACCA Africa Change Lead.
In the awards ceremony held in Nairobi, the top 11 finalists went head-to-head to showcase innovative case studies to test their ability to function as a leader in a simulated workplace environment as the judges evaluated a blend of technical, ethical and professional skills.
Higher E*******n Loans Board (HELB) Chief Executive and Board Secretary Charles Ringera, who was the Chief Guest, commended ACCA for its flagship mentorship project in building capacity for young people to excel in their profession.
"I would like to commend ACCA for taking the lead in solving workplace dilemmas and taking charge in shaping the future of the profession. ACCA has set precedence in leveraging Artificial Intelligence (AI) capabilities in accountancy for problem-solving skills to enhance strategic processes. The students have the advantage to build networks and organization skills more rapidly as they have quick access to technology," said Ringera.
This follows the shortlisting of 44 team members from eight Universities who made it to the top 11 finals after qualifying for the third and final stage of the competition. Initially, the applicants encompassed 266 teams (comprising four students each) who hailed from 38 institutions of higher learning across 15 counties in Kenya.
"We believe that the students who have gone through this highly competitive six-month challenge have understood the relevance of competencies such as Financial Management, Leadership & Management, Strategy & Innovation and Ethics & Professionalism, Data Digital & Technology, Management Accounting, Advisory & Consultancies, Governance Risk & Control and Stakeholder Relationship Management in business leadership. The opportunity for the students to pair up with institutional mentors and ACCA member mentors has also given them valuable hands-on experience of the accountancy profession," Steve Obuogo, ACCA Head of Kenya and Tanzania.
The 11 finalists' teams, with each team consisting of four members, were:  Titans & Generations Z from Strathmore University, Royals & Alpha from the University of Nairobi and Thee Chosen Pack & Veex Strategia from Jomo Kenyatta University of Agriculture and Technology. The others are The Strategic Grandmasters from Oshwal College, Frontline Champions from Multimedia University, Still Steel from Kibabii University, The Incredibles from Egerton University and Elite from Jaffrey Institute of Professional Studies.
The judging process partner for this challenge was PKF LLP Kenya and the winners will also receive career mentorship & training, internship and job placements from various partner organisations including KPMG East Africa, Oracle, PKF Kenya LLP, RSM Eastern Africa Consulting Ltd., BC Patel & Co., Knight Frank Kenya, Mayfair-CIB Bank and Crowe COR LLP.
Read: ACCA Partners With ICPAK To Enhance Member Benefits
>>> Accountants Launch Inter-University Challenge For Students