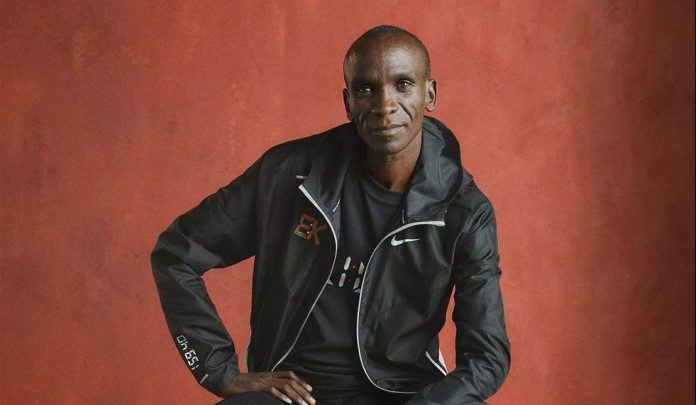 Thanks to Eliud Kipchoge and Peres Jepchirchir's exploits in the Men's and Women's Marathons respectively, Kenya's national anthem was the last to be heard at the just-concluded Olympics – ringing out twice at the closing ceremony in Tokyo on August 8. Aside from the competing teams which were present at the stadium, millions followed the closing ceremony from around the world on TV and streaming platforms.
The Marathon is considered the Olympics' defining event. By delivering a dominant performance to retain his Gold Medal from Rio 2016 the World Marathon record holder wrote another chapter in the history books. Kipchoge has adoring fans from across the globe and has become a darling of the international sports media – discussed in the same vein as the likes of Michael Jordan, Michael Phelps, Tom Brady, Serena Williams, Lebron James, Lionel Messi and Cristiano Ronaldo, all legends who defined their eras in different sports with sheer domination.
Winning a second Olympic Gold also made the Kipchoge brand even more valuable than it already was. When it comes to Kenyan athletes leveraging talent and global stardom into deals worth millions of dollars, a few names such as 800M World Record holder David Rudisha and former Tottenham Hotspur midfielder Victor Wanyama come to mind. However, it all pales in comparison to the unprecedented success of Eliud Kipchoge and the big bucks he now commands.
In addition to lucrative partnerships with global firms, Kipchoge also picks up big checks  from big-city marathons around the world. In the last eight years, he has entered 17 marathons and won all but two.
It's no surprise some of the world's biggest companies and richest people are lining up to work with Kipchoge. In 2019, leading sports business media company SportsPro named him as the 31st most marketable athlete in the world, featuring on a VIP-only list of 50 that includes Kylian Mbappe, Naomi Osaka, Tyson Fury, Mohammed Salah, Giannis Antetokounmpo and Son Heung-Min.
The research gave each athlete a Promotional Effectiveness (PE) score to visualize marketing potential over the coming three-year period, factoring in criteria such as age, home market, crossover appeal, charisma and willingness to be marketed.
Management
Kipchoge is represented by Global Sports Communication, a highly-ranked agency whose client list includes Ethiopian Marathon legend Kenenisa Bekele, Kenya's 1,500m Olympic champion Faith Kipyegon and Uganda's 10,000m World Record holder Joshua Cheptegei among other elite athletes.
Kipchoge has partnerships with leading global companies including INEOS, Nike, Maurten, NN Group and Isuzu.
INEOS
Petrochemicals giant INEOS has become one of Kipchoge's biggest backers in recent years. It is owned by Sir Jim Ratcliffe, one of Britain's richest men. Ratcliffe, a sports enthusiast, also controls French Ligue 1 club OCG Nice, the British America's Cup sailing team and the world-beating cycling squad Team Ineos, formerly known as Team Sky.
According to leading publications including Forbes, Ineos poured an estimated $19 million (Ksh2.06 billion) into Kipchoge's historic sub 2-hour marathon which was marketed as the INEOS 1:59 Challenge. It was no cheap affair. The global marketing blitz around the achievement is still going on almost two years later, with the documentary Kipchoge: The Last Milestone released this year on major streaming and TV platforms.
To put things into perspective – Kipchoge arrived in Vienna, Austria in October 2019 for the run in a private G280 jet owned by Sir Ratcliffe, and INEOS took up about 14 rooms at the Marriott Courtyard hotel there for about two weeks. It costs about Ksh57,000 a night at the hotel, meaning at least Ksh161 million was spent on accommodation alone – that's without even factoring in what it took to put together the team of sports scientists, coaches, technology and marketing experts to achieve the feat. In addition, decorated athletes with massive achievements of their own were recruited as pace-makers for Kipchoge.
Kipchoge himself refused to disclose how much he earned for completing the challenge, jokingly chiding nosy journalists: "Money is not important. I'm running to make history, but if you have a price, you can give me."
Interestingly, the INEOS sponsorship of Kipchoge among other sporting ventures saw the marathoner dragged into the global debate on sports-washing – as critics accuse INEOS and other powerful, moneyed corporations and countries of using sports to clean up their images and divert attention away from tainted human rights and environmental records. INEOS is one of the world's top producers of non-degradable plastics, which are a huge polluter of the world's oceans.
Nike
For a sportswear and lifestyle brand such as Nike, a much loved, disciplined and dominant athlete as Kipchoge is a dream come true. Their partnership allows Nike to translate the admiration Kipchoge gets from running enthusiasts and casual fans around the world into sales and brand strength.
Nike is Kipchoge's official sponsor and has been instrumental in his career and success both on and off the field. It was Nike which bankrolled Kipchoge's first attempt at breaking the sub 2-hour marathon in Monza, Italy in 2017 – when Kipchoge painfully missed the mark by 26 seconds.
Nike is also one of two main sponsors of Kipchoge's professional road running team – NN Running Team – alongside 175-year old international financial services company NN Group.
This year, Nike unveiled Eliud Kipchoge's own collection elevating him into the league of global sports stars with shoe and apparel deals with Nike. The range includes a Pegasus 37 shoe in Kenyan flag colors and the words 'Eliud' and 1:59, celebrating his sub-2 hour marathon run.
It also includes the AlphaFly Next% shoe in the Kenyan colorway and 'Eliud' themed running jackets, tracksuits and t-shirts. While details of Kipchoge's deal remain confidential, Nike athletes with their own ranges usually get a bonus to sign the deal and a cut of annual earnings from the range. Michael Jordan whose Air Jordan brand is worth billions of dollars generates over $130 million in annual income from Nike, while numerous other athletes including top NBA basketballers make anywhere between $1 million and $50 million a year from their Nike deals.
Maurtens
Sports supplements manufacturer Maurtens AB markets its products as "The World's Fastest Sports Fuel" and therefore it is no surprise that they are among brands which have partnered with Kipchoge.
Kipchoge has been pictured with Maurtens drinks during marathons and training camps. The carb-rich drinks include ingredients meant to provide energy, hydration and recovery particularly for athletes in high-endurance sports.
He drank Maurtens during his Berlin Marathon run in 2018 when he broke the World Record, during his Monza attempt at breaking 2 hours and in training camps ahead of the Olympics. Maurtens has similar partnerships with several other world-beating athletes.
NN Running
Kipchoge is the key man in NN Running Team – the world's first professional road-running team. It was founded by Jos Hermens, the director of Global Sports Communication and has Netherlands-based financial services conglomerate NN Group as its main sponsor alongside Nike.
The NN Running Team is a key element in Kipchoge's vision of an F1-style marathon circuit complete with well-funded teams.
"We want to offer our support to the sport, its athletes and all the people who practice running or jogging themselves. With the sponsorship of running events in countries in which we do business, we also aim to enhance awareness of the NN brand, which includes Nationale-Nederlanden and NN Investment Partners," the NN Group notes on its website.
Athletes from 15 nations in the NN Running Team benefit from access to coaching expertise, medical assistance, and nutritional and other ancillary support. They also get to connect with a large global fanbase.
Marathon Winnings
Winning big-city marathons is synonymous with Kipchoge. It also earns him a pretty penny in fees and bonuses. Cash rewards vary across different city marathons.
When he broke the World Record in Berlin in 2018, he reportedly pocketed a bonus of around 69,000 USD (Ksh7 million) for setting the record in addition to an estimated 50,000 USD (Ksh5 million) prize for winning the race. He received an estimated Ksh 4.5 million for winning the 2018 London Marathon and a similar amount for repeating the feat a year later.
Of 12 big-city marathons he has run since 2013, Kipchoge only failed to win twice. Do the math.
He is also entitled to Ksh1 million from the Government of Kenya as a reward for each Olympic Gold medal.
NFT collection
In 2021, Kipchoge hopped on the NFT wave and made a tidy sum as he sold some of his career highlights as NFTs (non-fungible tokens). He auctioned highlights from his world record marathon in Berlin in 2018 and his historic sub-two-hour marathon in Vienna for $37,000 (Ksh4.02 million), with the highest bidders also getting personalized video messages from Kipchoge.
A non-fungible token is a unit of data stored on a digital ledger, called a blockchain, that certifies a digital asset to be unique and therefore not interchangeable. NFTs can be used to represent items such as photos, videos, audio, and other types of digital files.
In recent months, NFTs have created a new revenue stream in the worlds of arts, sports and entertainment.
Isuzu East Africa
Vehicle manufacturer Isuzu East Africa in 2017 unveiled Eliud Kipchoge as its brand ambassador after he signed a deal worth an estimated Ksh14 million. He also received a brand new Isuzu D-Max.
"We have signed up with Eliud because over the years he has demonstrated strength, resilience and reliability in his performance. He has not failed and that resonates well with our Isuzu D-Max that we are giving him," Isuzu EA CFO Charles Kariuki explained when the deal was first unveiled.
On 22nd October, 2020, Kipchoge signed a new partnership agreement with Isuzu EA to run for the next one year as Isuzu D-Max Brand Ambassador. As part of the new deal, Isuzu EA will also work with the Eliud Kipchoge Foundation to uplift the wellbeing of community through access to learning, sports talent development and environmental conservation.
More Reads:
Kipchoge Lands Huawei Deal for New Campaign
Eliud Kipchoge Smashes World Record in Berlin
Kipchoge, INEOS Team up to Nurture Cycling Talent in Kenya
INEOS Billionaire Who Backed Kipchoge Enters Kenya's Car Market