They look eerily similar. Only that one is the President of the Republic of Kenya and the other is a Kenyan citizen residing in Umoja Estate in Nairobi. One was born in the land of milk and honey and has enjoyed the trappings of power all his life while the other's journey in life has involved blood, sweat, and tears.
President Uhuru Kenyatta's look-alike Michael Njogo Gitonga looks so similar to the Head of State that anyone who knows him or who has come across him refers to him as Uhuru or "Uhunye", President Kenyatta's nickname in sheng.
In the same vein, when Mr. Njogo's photos first started circulating on social media, many Kenyans were convinced that they were of President Kenyatta only to find out later they were not.
Carbon copy faces similar mannerisms but worlds apart in terms of social class. But are President Uhuru Kenyatta and Mr. Njogo related?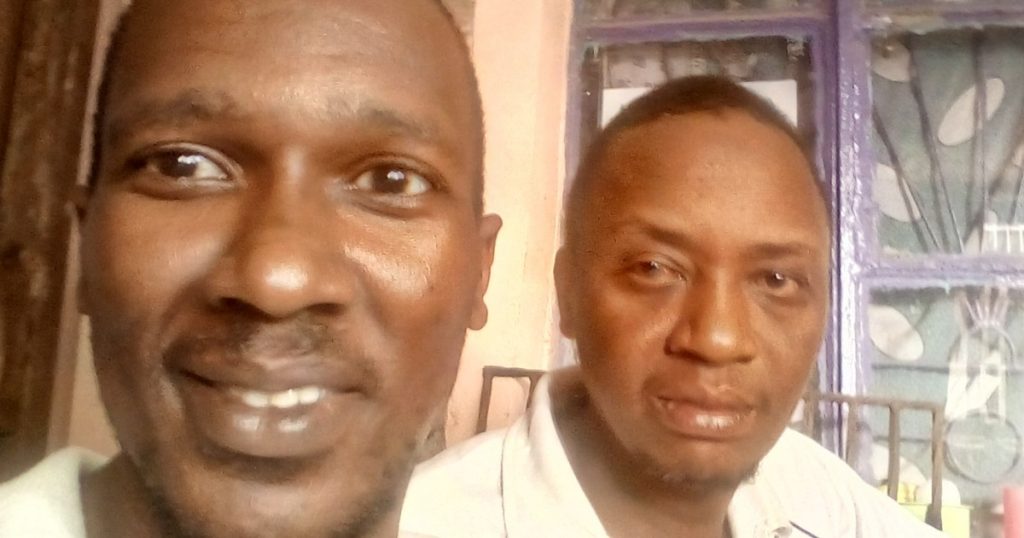 The best person to answer that question would have been Mr. Njogo's late mother who at one point served as an administration police officer in Gatundu and well the other person in good stead to answer the question is well…..
Mr. Njogo runs a pub business in Umoja estate which has now been closed indefinitely following an order issued by President Kenyatta directing that all pubs and bars in the country be shut down to arrest the rapid spread of COVID-19 in the country.
In Umoja, everyone knows him as "Uhunye" and it is very likely that on a daily basis that he will bump into a person who will ask him for some money thinking he is rich because of the wealth associated with the Kenyatta family.
"In that instance I take out my wallet and take out what I have to spare and give it to them, said Mr. Njogo in an interview with a local TV station on Saturday.
"Sometimes I give it deep thought and ask myself whether we could be related because for sure we look very alike. Anyone who has come across my picture on social media is convinced that it is President Kenyatta in the photo and the situation is the same in my everyday life because everyone calls me Uhuru or Uhunye," he added.
"I have three children. Two boys and one girl. Whenever my children are playing with their age-mates they are referred to as Uhuru's children. If my son was here your curiosity would be pricked because he looks exactly like him (Uhuru)," added Mr. Njogo.
Joe Matheri, Mr Njogo's close friend maintains that his pal has similar mannerisms to the president
"Most people tend to falsely believe that he is rich which is the farthest thing from the truth. Sometimes he uses the little he has to help people. Whenever he interacts with people, they tend to ask him for money and it is ingrained in his nature to be generous so in that instance, he dishes out what he has even if it is Ksh20. But it also tends to go both ways because of his popularity and generosity people tend to help him out whenever he is in a fix," stated Mr Matheri.
The facial similarity with the Head of State is not all gloom either, in some situations his look has tended to get him out of tricky situations.
For instance, when the government starting enforcing the night-time curfew as a measure to limit the spread of COVID-19, he was arrested for violating the order but when he was taken to Buruburu Police Station, all police officers kept a mile away from him fearing that he is related to President Kenyatta.
When his fellow offenders were given punishments to clean and slash the grass he was asked to supervise them.
When asked whether he is aware of any relation to President Kenyatta, Mr. Njogo said, "I am not in a position to know whether we are related. Only my late mother would be in a position to give an answer to that question. All I can say is that I respect the President and just like everyone else I am baffled by how similar we look,"