A tweet on 25th November by blogger Robert Alai claiming that lawyer Miguna Miguna had been granted permission to return to Kenya was false. The tweet came after Miguna was barred from returning to Kenya on 15th November after the Kenya government issued instructions restricting his travel.
Miguna Miguna had planned to travel to Kenya on 16th November but the airline he had booked, Air France, denied him a boarding pass which prompted him to file a case in court.
The High Court, on 23rd November, directed Miguna Miguna to obtain an emérgency travel document from the Kenyan High Commission in Ottawa, Canada, or Berlin, Germany, within 72 hours.
Justice Hedwig Ong'undi directed Foreign Affairs Cabinet Secretary Raychelle Omamo to ensure the order was complied with. At the end of the stipulated time, Miguna had not been issued with the travel documents, hence delaying his return to his motherland.
The blogger then posted a tweet claiming that the government had lifted the Red Alert order that had been issued to airlines barring them from facilitating Miguna's movement to any country in Africa.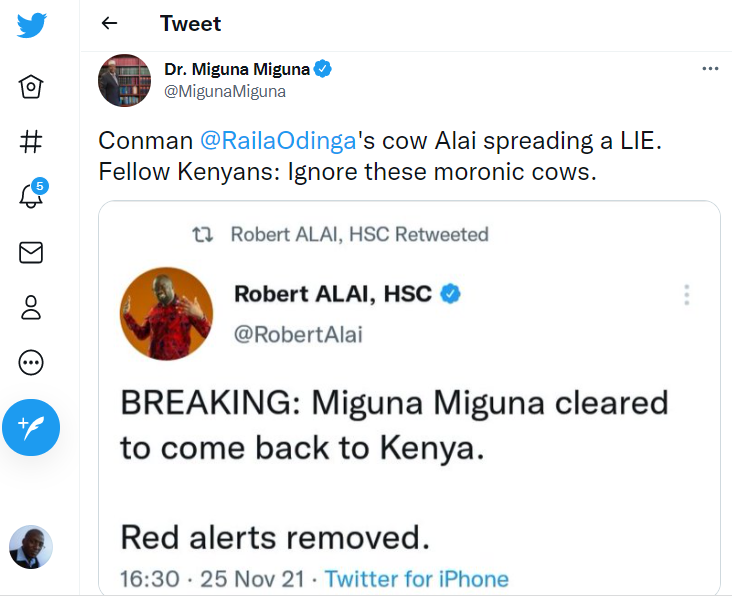 Miguna, however, dismissed the report, indicating in a counter tweet on 25th November that the information was fake and that the government had not lifted the red alerts. He even called on media houses that had reported the 'news' to retract it. "Retract the fake news you broadcast today about the Red Alerts. The fact is that President Uhuru Kenyatta, Interior CS Fred Matiang'i, and his PS Karanja Kibicho have NOT withdrawn them, or obeyed the Court Orders," he said through Twitter.
Miguna described the information as propaganda. "…they have refused to issue me with a travel document as directed. Let no one spread any other nefarious propaganda. The struggle continues," he said.
Meanwhile, if the information was correct, Miguna himself, and even his lawyer, would have shared the news with media outlets. His lawyer, Mr Nelson Havi, on 29th November only issued a communication thanking the Solicitor General for  advising the ministries of Interior and Co-ordination of National Government to comply with the order and ensure Kenyan embassies in Berlin (Germany) and Ottawa (Canada), issue Miguna Miguna with emergéncy travel documents.
Besides, a Google search on the news items yields articles reporting that the court had actually declined to lift the red alerts.
VERDICT:  A tweet claiming that the government of Kenya had lifted Red Alerts on Miguna Minguna's travel was fake as it was disowned by Miguna himself and his lawyer  Nelson Havi has not communicated any lifting of the red alerts.
[This story was produced by Business Today in partnership with Code for Africa's iLAB data journalism programme, with support from Deutsche Welle Akademie ]
Next >> Woman Asks To Be Buried Alive Over Children's Joblessness