A social media post quoting former Nyeri Town Member of Parliament Ngunjiri Wambugu calling on ODM Party leader Raila Odinga to retire from politics is fake.
A Twitter account operating under the Twitter handle @BrianMOfficial and account name "Hon Ngunjiri Wambugu, CBS, MP Fun" shared the post urging Kenyans to force Raila, who lost the race for the presidency to President William Ruto in the last general elections, into retirement.
The post reads, "We must now take Raila to a retirement. I'll help to push the big Wheelbarrow. Wacha apumzike (let him take a rest)."
Investigations by Business Today reveal, however, that the post is fake. First, the former MP, who lost his seat in the 2022 polls, disowned the post, saying the account used is not his. "These guys need to stop with these fake accounts. When I have something to say, I always say it; without help. I am currently selling tea and mandazi in Nyeri Town. Politics is for later," he stated through his Twitter account.
The account impersonating Wambugu was created in May 2021 when he was serving as Nyeri Town MP. It has over 71,000 followers. On the other hand, the genuine  Twitter account for Ngunjiri Wambugu was created in June 2009 and has over 185,500 followers.
Since losing the election, Raila's critics have been calling on him to retire from active politics.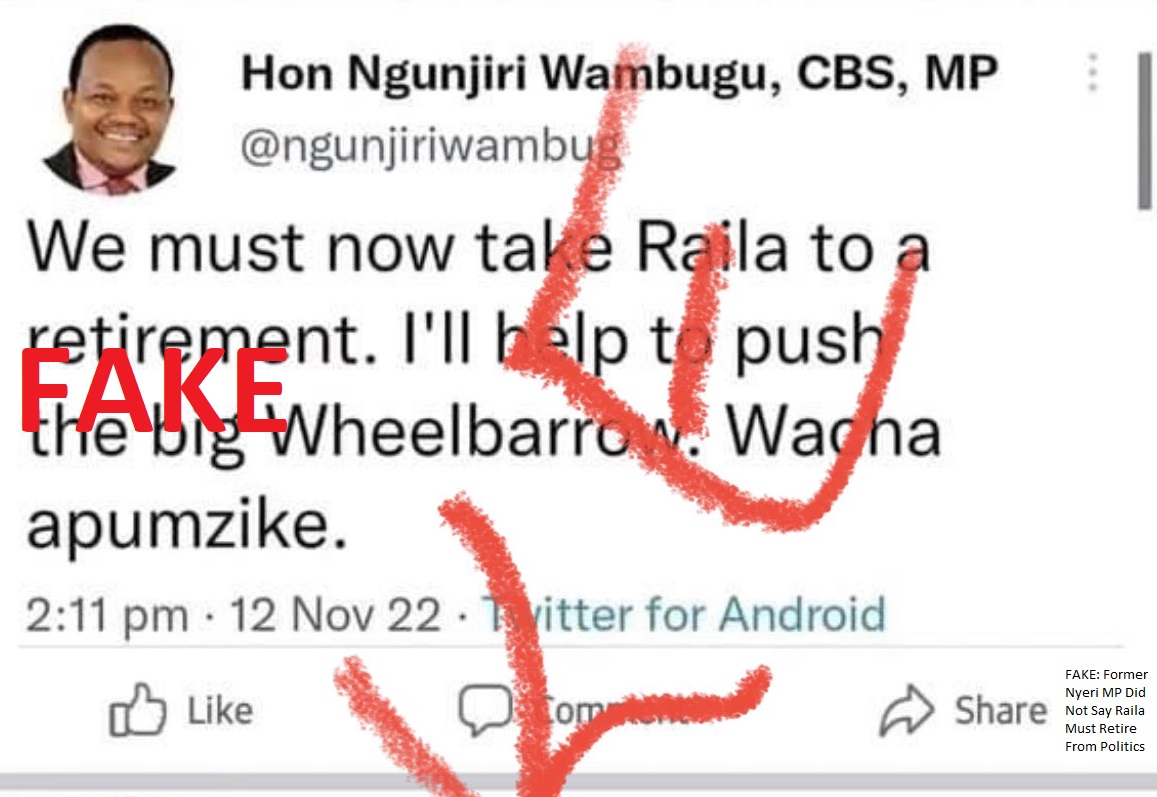 But the former Prime Minister recently urged his supporters to be patient with him. Speaking in Siaya County on 29th October, Raila said he is still pondering his next move and urged his critics to desist from speaking on his retirement, stating that he would exit the political arena at the right time. 
"When my time to retire from politics comes, I will peacefully exit the stage. There shouldn't be any discussion about that. Our focus now should be reforming the politics of this country so that democracy may thrive," Raila stated while addressing mourners at the burial of his wife's bodyguard. 
The Twitter post stating that ODM Party leader Raila Odinga must retire from politics has been disowned as coming from a phoney account and is thus fake.
This fact-check was produced by BUSINESS TODAY with support from Code for Africa's PesaCheck, African Fact Checking Alliance network and the United Nations Development Programme.