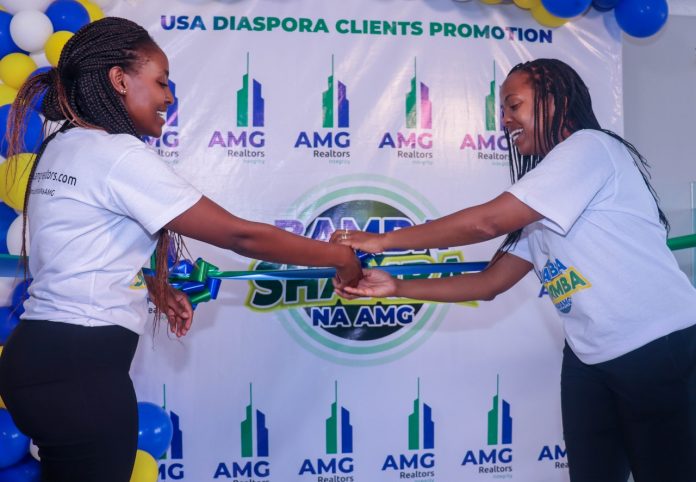 The Bamba Shamba Na AMG promotion by Kenya's premier real estate Company AMG Realtors nears its grand draw after nearly five months of thorough competition. The promotion which targeted Kenyans living and working in the United States of America has been running since November 2021 and has so far registered over 7,000 entries from different states across the US.
The promotion is AMG Realtors' way of giving back to its US diaspora clientele as Kenyans in the diaspora continue to contribute to the country's economic growth through their diaspora remittances. However, despite their contribution, Kenyans in the diaspora are usually faced with the daunting task of having to involve third parties while seeking investment back home, a situation that usually drains and burdens them at times while in a foreign land, with some of the remittances ending in the wrong hands.
AMG Realtors believes it has continued to mitigate this challenge and incentives like Bamba Shamba na AMG are meant to emphasize its efforts. It aims to give back to its loyal customers for believing in its services.
"As AMG Realtors we relate and empathize with Kenyans in the diaspora situation and thus we came up with the Bamba Shamba Na AMG promotion to reward our loyal customers for investing in AMG Realtors' properties. Some of these out-of-this-world prizes include plane tickets, holidays, gift vouchers, land and the ultimate grand prize to be won will be a five-acre land in Nanyuki," the Company said in a statement.
Participants in this campaign were required to buy any property with AMG Realtors and for every Kenya Shillings 50,000 spent, a participant earned one entry ticket. The final draw which is set for Thursday 28th April 2022 will see one lucky winner walk away with a grand prize of a five-acre piece of land in the prime Nanyuki area.
Some lucky participants already won different prizes including Amazon and Walmart Shopping gift vouchers, a return plane ticket from the USA to Kenya, a 50 by 100 plot in Nanyuki, a holiday for two, an all-expenses paid trip to Disneyland in Florida, among others.
AMG Realtors is marking ten years in business.
Read: Kenyans Use Ksh211Bn Of Diaspora Remittances For Real Estate, Home Expenditure
>>> The Hard Reality Of Living In a World Of Fakes