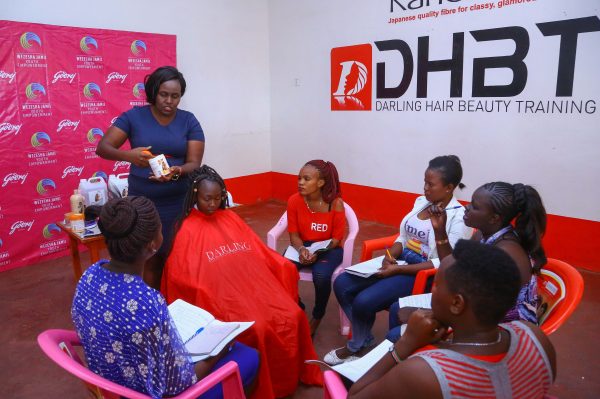 Godrej Kenya is set to open two more centres in Kitui Country by the end of this year under its Wezesha Youth Programme.
The programe – a partnership between the Council of Governors and Godrej Kenya – is currently being rolled out nationwide as part of the National Government competence based e*******n for vocational training centres.
Godrej Kenya Corporate Responsibility Manager Charles Mugendi said that the company seeks to grow sustainable local small and medium enterprises while supporting the reduction in unemployment among youth.
"Through the hairdressing and beauty therapy training, we are empowering youth to identify and seize emerging opportunities that can help Kenya sustain its productivity. They will also be provided with financial literacy, communication and business skills to enable them be entrepreneurs,' said Mugendi.
The two new training centres in Kitui County will be based in Mutomo Vocational Training Centre and Mwingi Baptist Vocational Training Centre.
In the last two years, Godrej Kenya ran a pilot program where 1,000 youths in vocational training centers in Nairobi, Kitui, Trans Nzoia, Migori, Machakos, Kisii and Uasin Gishu counties were trained. Following learnings made in this pilot phase, the Wezesha Youth Program was redesigned for sustainability and scale. So eleven ultra-modern training labs have been established in the targeted counties.
The next phase of the programme's implementation will target 20,000 youth in 22 counties with ultra-modern designed training labs established to facilitate delivery of quality training.
"Through this programme, we envision in creating an employable workforce among under privileged youth from informal settlements in urban Kenya and rural Kenya," added Mugendi.
In 2011, Godrej Consumer Products entered into a partnership with Darling Group Holdings and acquired a 51% stake in the business. Darling, which has operations in 14 countries across Africa, is a market leader in hair extension products; a category which it has pioneered in the continent.
The Darling business was founded in 1979 by Saadallah Khalil and his uncle, Ali Hoballah. They started by trading in basic synthetic fibres used for braiding in Senegal in West Africa.
The Darling brand today stands for beauty and is an enabler for every African woman to transform the way she looks. It has tremendous affinity with salons and is the preferred brand for stylists across Africa.
Darling enjoys market leadership in most of the countries that it operates in and dominates the landscape in East Africa, where it has been consistently ranked a 'Superbrand'. We manufacture locally and our products are used by over 100 million African consumers.