A statement circulating on social media claiming that oil marketer Rubis Kenya criticised some politicians for associating it with President Uhuru Kenyatta family is fake. According to the statement dated 4th April, 2022, some politicians had blamed the company for the country's escalating fuel crisìs.
The statement had, among other things, purported to give the Rubis stand on the fuel shortage obtaining in some parts of the country. The fuel shortage has hit hard in Western Kenya, Nyanza region and some parts of Rift Valley.
The statement disassociated Rubis from the Kenyatta family and explained that it was a France-based multinational that has invested in different countries in Africa, Europe and the Caribbean. "Rubis Kenya Limited, and all our subsidiaries, have no connection whatsoever with the Kenyatta family and consider this narrative to be callous propaganda and a weaponization of political narratives to disadvantage our business while promoting a competing gas business in which one of our leading 'critics' has significant stake.
On the fuel shortage the statement says says, "In collaboration with relevant authorities, Rubis Energy has endeavored to make the current situation as short and unrestrictive as possible for its customers. We made a strategic decision not to hoard fuel and made all our stock, including reserves, available for purchase by the Kenyan public. Rubis Energy Kenya should be applauded for this, not demonized."
A factcheck on the statement revealed it was fake. Rubis Kenya Ltd disowned it saying it did not originate from its management. In a statement on Twitter and Facebook April 5, it said the statement is fake, urging the public to only get information from the company's official social media pages and communication channels.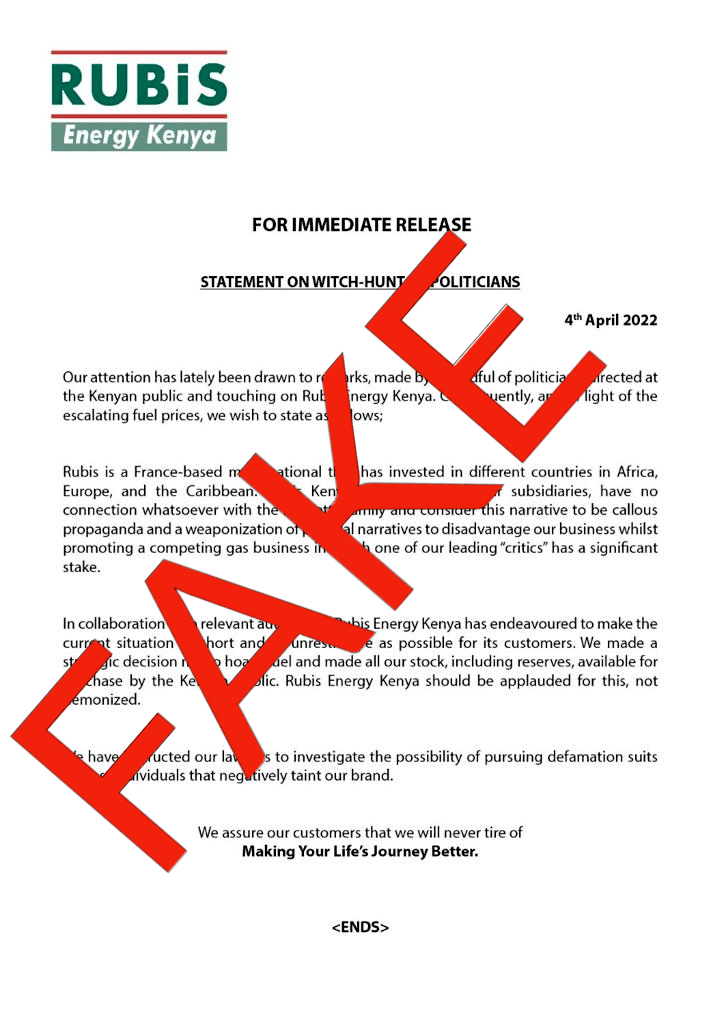 "We wish to notify the public that the below statement being circulated online is FAKE. We urge you to be cautious of any information shared and received that is not from our official social media handles @RubisEnergyKenya and our official website," it was, flagging the statement as FAKE.
VERDICT: The statement doing round on social media giving Rubis Energy stand on its ownership and fuel shortage is FAKE as the company as disowned it.
Next >> Tax Demand For Deputy President William Ruto