Untold story of Uhuru's rural home life
A LOOK AT THE BACKROOM STORIES YOU NEVER READ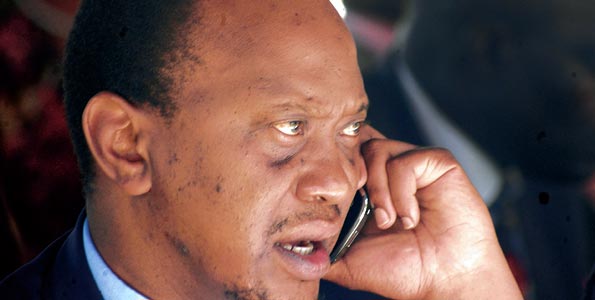 He might have been born and brought up in an environment whose definitions perfectly fit into the weaving and parentheses of aristocracy. However, his persona, individual mien and character do not evince an iota of bourgoisie upbringing and hang-ups. Whether from close range or peripherally, it is clear the 55-year old Commander-in-Chief understands and appreciates his fellow citizens quite well.
It should, therefore, not surprise that at one point he will be at home with bling bling-loving Nairobi Senator Mike Mbuvi Sonko, be at ease with the commoners of  Mathare, Maranda, Gaichanjiro, Kiritiri and native Ichaweri as well as the 'streeters' of Nairobi, Mombasa, Nanyuki, Kakamega, Nakuru, Nyeri and Eldoret. Or even the peasants of Kimende, Nyamache, Sololo, Kacheliba, Ole Nguruone, Lumakanda, Kathonthweni, Kabras and Ng'arua.
Yet when he is not waxing lyrical with local business magnates and economics dons, he shall fittingly be gracing and stealing the show in the hallowed corridors of the White House hosted from the then world's most powerful politician, Barack Hussein Obama – the 44th President of the United States of America or hosting most influential religious leader on earth, Pope Francis.
That is the unassuming package that is Uhuru Muigai Kenyatta, the 4th President of the Republic of  Kenya.  In ways more than one, the line between the Uhuru of yesteryears and the man now saddling  history records as Kenya's Chief Executive Officer is very thin indeed. He remains – and his body language speaks as much – a sociable, indeed, people-oriented personality, even with the trappings of power and high office unavoidably lacing his court, name and movements.
The script, plot and role might have all changed. But in many ways, the character, the theme and the face remain the same. I happen to have met the most political son of independent Kenya's first President long before he strode onto the apex of power and influence, politically speaking.
SEE ALSO: Why first born children are more intelligent that their siblings
Frequent acquaintances of his today concur that the man I now watch on television from the comfort of my sitting room continually grappling with the Herculean challenges of running the politically noisy, multi-ethnic and culturally diverse Kenyan nation coupled with the rigours of presiding over a battered economy, remains exactly the one I had met before. Even though, I am fully awake to the fact that there is one story about him that I am yet to, and might never, write.
For many obvious reasons, the Ichaweri homestead of the Founding Father of the Nation the late Mzee Jomo Kenyatta, off Gatundu Road, is not a go-zone for every Bamba, Bambi and Bambino. For starters, photography is prohibited here. Leafy, taciturn, thoroughly gardened, tightly guarded and urbane, it has no space for your daily Jack and Jill to roam around asking for water, salt and lighters or avocados, sugarcane and bananas while engaging in endless camaraderie as is wont to frequently happen in my rural Kabras.
It is, therefore, a matter of privilege for one to find themselves there. As I was one day. Ichaweri and all that goes with it is a historical setting, plainly speaking. When there, therefore, you capture every moment and bit of activity with a much keener interest than you would be in Kasipul Kabondo, Kitengela, Kipipiri or Kasikeu.
Being at Ichaweri allows you to learn some things you would never have known if you are not a journalist and if – for whatever reason – your national geographic trips have never taken you beyond the frontiers of Kabras.
While Ichaweri can boast producing president – two so far – the great place that is Kabras in ugali-abundant and sugarcane-filled Kakamega County is where we pride ourselves in having produced, arguably, Kenya's all-time footballer in the defensive right position via Jonathan Niva and, arguably also, Kenya's most controversial Chief Justice Zacchaeus Richard Chesoni, as well as a host of celebrated news purveyors within both the print and electronic cadres.
Back to Ichaweri. When here, one is chanced to see former First Lady and Uhuru's mother, Mama Ngina Kenyatta, from close range, learn about the late Kenyatta's liking for traditional music such as the renditions by his favourite dancing troupe, the Nyakinyua Women's Group, a single church-building where the late Mzee used to worship every Sunday with preachers drawn from different denominations every week.
It was indeed a matter of privilege, 14 years ago, when long-time acquaintance Kathleen Kihanya, a pushy and unrelenting results-oriented communications and public relations guru who together with current Sigowett/Soin Member of Parliament Justice Kemei had been in charge of the media wing of presidential candidate Uhuru Muigai Kenyatta in the 2002 General-Election, handed me a personal invite to attend the launch of a HIV/AIDS Constituency Fund programme for Gatundu South constituency in Kiambu County. Uhuru Kenyatta was the area MP at that time in addition to being the Official Leader of the Opposition, his party Kanu having lost to Mwai Kibaki's NARC in the 2002 elections.
SELF-HELP: The seven lifestyle changes that will make you successful
Ms Kihanya was very clear that the invitation was from the local MP himself and that it was his considered wish that I attend the function to be held at Gatundu town. "In case you do not have means of your own transport will be provided for you," Kihanya assured. I got a friend, Eng. John Muchwanda Chitala, who was then working at the American Embassy in Nairobi to chauffeur me to Gatundu where we arrived at 9.am (the function was slated for 10.am).
However, it was not until an hour later that the event took off. It lasted three hours and when it was all over, with pictures taken, notes written and questions asked, Ms Kihanya whispered to me that we were being invited to Ichaweri for a close-range interaction with the local MP, Uhuru Kenyatta. It was around 4pm when we were ushered in by tough-looking Red Berets into the Ichaweri compound via a long one-lane avenue.
Also there from the Fourth Estate were fellow scribes Njonjo Kihuria and James Wakahiu as well as the Vitimbi entertainment group of the late Mzee Ojwang and the hilarious Mama Kayayi. For the next four hours, we had a one-on-one, mingling with the man who would become Kenya's president eight years later. During that period, in the midst of drinks and bites galore, I observed Uhuru closely. The conclusions I made still linger in my mind to date with a tinge of freshness.
High sense of local humour
In all practical purposes, the man enjoys a hearty laugh. He likes humour. The kind of entertainment provided by the likes of Vitimbi group are to the best of his liking; they tickle him a lot, leaving him in deep laughter that jerks tears of joy out of his eyes. (Earlier on we had just been informed by a courtier that Mzee Kenyatta enjoyed similar entertainment provided by the famous Nyakinyua Women Group dancers and on Sunday by visiting clergymen – there is a multi-denomination building in the compound that acted as the church).
I was not surprised years later to watch Uhuru on live television, now as president, wallowing into animated long laughter, seated next to his wife, as he watched the young man from Highway High School in Nairobi as the lad performed the 'Otonglo' play at State House, Nairobi, during the Schools Drama Festival. The love for drama and general entertainment are naturally in him.
We talked about a wide range of subjects stretching from the push for a new constitution, the then discredited graft-riddled Judiciary, his previous visit to Kabras in 2001 at the invitation of local MP Peter Soita Shitanda to hold a fund-raiser for my old school, Malava Boys High School, the tough challenges ahead of his KANUparty (then in the opposition after 40 years in power), my mug-shot photo that appeared alongside my column "A Look in the Mirror', a picture he described as 'older, rougher and bigger" than me the person, among many other issues.
Noticeably, Uhuru oozed confidence. He was very composed and at ease with himself. He answered all the questions thrown at him with so much composure, very sure of himself matter-of-factly without looking for references, enquiries, posing or hesitations. It was clear to all of us there that he has a clear mind in him. Years later, I have watched him as president, display the same picture and exude confidence of a man on top of things, fielding all manner of questions from media corps without an iota of halting or grumbling. He knows his stuff.
Next: The secrets to becoming a millionaire
Then from the blues came my time to tick under the sun. I did instantly. We were all now in what the Irish fondly describe as 'Speak-Easy' mood, a Cloud Nine of sorts or thereabouts. Having studied the Ichaweri homestead and all its surroundings, especially the mean-faced red-beretted GSU guys positioned all over, I was wondering, using the Kabras picturesque, how young Uhuru might have been dating his future wife. That is a very intimidating environment for a young man, even woman for that matter. At that time I had never heard of or even set my eyes on Uhuru's wife, the current First Lady Margaret.
And so, at the spur of the moment, I asked Uhuru that vital question: "Can you tell me, how were you able to court and bring your future wife in such an environment before marriage? There is no space here for that kind of friendship. How was your dating game like?" My friend Kathleen Kihanya, she is a heavy one for sure, deliberately stepped on my left foot with a lot of weight to stop me from pursuing that line of conversation, and quietly whispered into my ear: "sasa hiyo nayo unaitoa wapi? Jameni, hiyo ni ya nini saa hii? (where is that coming from? Of what use is it now.") Time was coming to around 7.pm. Kihanya's concerns and antics were noticed by no one but me. The rest were still eager to hear how our seemingly benevolent host would respond.
Usiende kupayuko huko
To the surprise and amazement of one and all, Uhuru took a deep prolonged laughter, amid intermittent coughs and tear-wiping, and then looked back at me and said: "Lakini hiyo si ya kuandika kwa magazeti." After which he gave an equally prolonged answer which left all of us in stitches. None of us had expected such frankness. Thereafter, laughter and sippers' hissing captured the rest of the evening at Ichaweri. The banter went on till 9.30pm when we asked for leave to return to Nairobi.
As we entered Eng. Chitala's car ready for departure, Kihanya rushed to us just to remind me: "Remember, usiende huko kupayuka, payuka, yale mambo mengine hayakukua ya kuandika. Usisahau hiyo," before biding us farewell. Down West in Kabras where I was born and brought up, I was nurtured to keep my promises. I always do. I have kept that one too. I have never written about the rib-cracking answer I got from Uhuru in Ichaweri. I never might.
However, whenever I see Uhuru and the First Lady together I never help bursting into laughter, even if I am just alone. Whether then or today, one thing comes out clear: Uhuru Muigai Kenyatta is a down-to-earth, buddy-like people's person.
Also by this author: I nearly went crazy about my first byline in the Sunday Nation
---
The author is a Revise Editor at The People newspapers. Email:[email protected]
[crp]
First byline that gave me the mighty last laugh!
REPORTER'S DIARY: A LOOK AT THE BACKROOM STORIES YOU NEVER READ

First by-line craze: 'Why is she just smiling without asking me who wrote the story?' I silently wondered with enthusiasm
Sharing a newsroom with some of the country's best journalists was a matter of privilege in those early days. As a trainee journalist, there was nothing more exciting and soothing than having banter daily with the then top-notch scribes.
George Anthony Mbuggus (Editor-in-Chief), Joe Kadhia (Deputy Editor-in-Chief), Laston Mutegi Njau (News Editor), Catherine Waithera Gicheru (Deputy News Editor), Otula Owuor (Science Editor), Wahome 'Whispers' Mutahi (Associate Editor – Culture and Arts), Justin Macharia (Sunday Editor), Patrick Mungai (Features Editor), Wangethi Mwangi (Chief Sub-Editor), Nicholas Musonye (Sports Editor), Peter Warutere (Business Editor) and Nixon Kariithi (Deputy Business Editor) were the men who formed the leadership meniscus on whose watch I cut my teeth (or as Chinua Achebe would say it, 'I broke my bones') along Tom Mboya Street on the first floor of Nation House, where the then headquarters of the country's largest media outfit, Nation Printers and Publishers (now Nation Media Group on Nation Centre) were located.
In ways more than one  these crop of men and woman formed a substantial percentage of Kenya's creme-de-la-creme in the Fourth Estate at the time. They were some of the best hands to work with or under and even just be around them. You always learned a lot, so fast and steadily.
Mutegi Njau in particular was a bully of sorts. Though he and I got (and still do) along very much – of course with a lot of perseverance – it is not lost on me that so many of my intern colleagues from the University of Nairobi's School of Journalism, Kenya Institute of Communication (KIMC) and Moi University abandoned their attachments in a huff after only one or two weeks because they could not stand the relentless terror unleashed by the abrasive News Editor.
Whereas he sharpened your skills and workmanship to credible levels, you really needed to be made of some sterner stuff to withstand Mutegi. I am among the few who tolerated him for the entire three-month (for a record four times) internship periods. I do not regret. And I thank him to date.
Tough, inquisitive, thorough, pedagogy and nocturnal Speak-Easy enthusiasts gave you the best and expected the best from you as well. It was not, therefore, surprising that in less than six months after joining college (my current boss at People Daily and former class-mate at KIMC Joseph Maina Muiruri can bear me witness), I made history as the first student in our class to have a published article in the Sunday Nation.
The media industry has since transformed and expanded tremendously such that today's trainee journalists might not be as mesmerised as we used to be then on registering your first by-line in the print media or voice on radio and face on Kenya Broadcasting Corporation television screen.
It was in 1989. I used to stay with my sister, Margaret Naliaka, in Eastleigh. I had woken up very early that Sunday because I wanted the whole world to know that I was now a published man of letters. Sunday Editor Justin Macharia had hinted to me the previous evening: "kijana (youngman) we are using your article tomorrow. It is a good piece. Keep it up. Write more."
So on this day I asked my brother-in-law, Darpson Musawa (my sister's husband) that I would go and buy that day's (he liked reading) papers for him. He gave me the money for that. I got the Nation and Standard and went straight to the page where my article was, read through it three times while standing at the vendor's selling point. I was disappointed that none of the persons who had crowded there was commenting on my story, leave alone opening the page where it was.
See Also: Journalists get hangover from vanishing of their unwinding den 
I went back to the house, spread the page on the table and went to take a shower. I left for office where I anticipated that some fellows there would make positive comments about my piece. On entering Matatu No. 9, I went to sit next to a middle-aged (I must admit she was very pretty) woman with a mean-looking face that falls in the parentheses of banking and  accountancy who was reading that Sunday Nation.
She was reading Wahome Mutahi's 'Whispers' column. On completion she started to quickly flip through the other pages. I heaved a sigh of relief when she stopped on page 17 where my article was and began to read it earnestly. I had pegged the theme of my story on revelling parents who carry along their children to noisy social joints where they engage in binge drinking, chain-smoking and sensual dancing in front of their tender offsprings, only to regret years later when those very children take cue from them and engage in similar escapades. Renown artiste Paul Kelemba (Maddo) had given it an apt eye-catching caricature to sum it all.
Why is no one exited?
As the Matatu cruised to town, I could see the woman moving her fingers from one line to the next as she read the story animated. Every now and then she would shift face from the page and smile with a lot of joy. At other times she would just grin and continue reading. Since I was the author of that story, I was expecting her to tell me that the writer of the article had powerfully driven the point home. She did not.
Every time she broke into laughter I would ask myself: "Why is she just smiling without asking me who wrote the story? Does she know that I am the author? I could as well have told her, "You should know people." But that was a whole two decades before that phrase would emerge from a Deputy Chief Justice called Dr Nancy Baraza to make relevance to readers.
In no time we arrived in town and I alighted without the woman knowing that I am the one who had lightened up her morning. My frustrations were not over. In the office, not even one person made reference to the story. I had a sad day.
I had to wait till the following day while in class for our News Writing lecturer, one Siliya (a political exile from Malawi) to make a positive comment about the article and instantly turned me into a college celebrity as a published author. That journey, craze and drive have not stopped. It will never stop. The travails of a first time by-line.
---
The author is a Revise Editor with The People Dailynewspaper,Email: [email protected]
 To react on this article, scroll down the comments section and share your views.
[crp]