Are you ready for the big bang of digital disruption?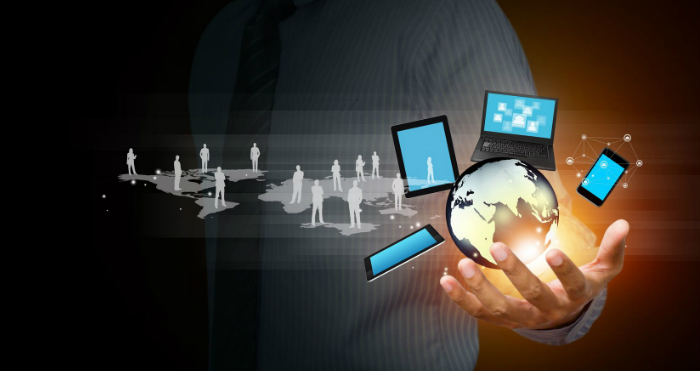 There is a natural mystic
Blowing through the air
If you listen carefully now you will hear
This could be the first trumpet
Might as well be the last
Many more will have to die
Don't ask me why
Things are not the way they used to be
I won't tell no lie
One and all got to face reality now."
The foregoing lyrics of "Natural Mystic", one of the most definitive songs by the reggae legendary group of the late Bob Marley and the Wailers, could never have been more prophetic. The world today is undergoing some of the most drastic social, economic and political changes. Nothing, and no one, seems to be spared by the unfolding scenario.
Specifically, I'm referring to the unprecedented science and technology developments that have gripped humanity. There is hardly any nook and cranny that have not been touched by some form of technological disruption. Clearly, things are not the way they used to be. Unbeknown to many of us, a seismic shift has been happening under our feet.
And, Safaricom Limited chief executive officer Bob Collymore should know. On 8th June, 2017 Collymore was at the United States International University – Africa, to deliver a keynote address at the Chancellor's public lecture. His talk titled, "The Sound of Disruption", brought to the fore several realities about the new world that many of us take for granted.
Collymore started by posing a question to his audience – what is the first thing that we all do when we wake up in the morning? The answer was rather obvious! The majority of respondents were in agreement that, for one reason or the other, they check their mobile phones. Barely 20 years ago, however, the answer would have been different, with each person having their own idiosyncrasies.
Yes, the ubiquitous mobile phone is now in the possession of almost every adult. But just 10 years ago, we could not have foreseen the kind and number of functions this gadget is currently performing, away from its initial role of voice and text. You can now manage almost your whole life on the mobile phone, including education, health, finances, dating, business, faith – name it.
A few years from now, you will not need a physical office location to make your billions! There will be an App for almost everything under the sun, enabling you to operate seamlessly from one function to another, using the same technological platform. With the mighty internet, you will work for your client, invoice him or her, get paid and receipt online, pay your bills, book your holidays.
Collymore compared the ongoing digital explosion to other "silent" revolutions like the Big Bang that created the world, and The Great Spark that led to the discovery of fire. He cited a few cases of what is happening, for instance, in the entertainment industry, over the last couple of decades.
At its peak in 1989, American movie store, Blockbuster, operated 9,000 stores in the US, making $6 billion in annual revenues. The company opened a new outlet every 17 hours. But in 2013, Netflix came on the scene. Instead of going out to rent movies, people could now simply stream movies from their homes. This was enabled by increased data availability, staggering growth of video content, and decreasing cost of connectivity. Blockbuster adamantly refused to adopt the new changes. Today, it is as dead as a dodo!
Also from this author
Conversely, about 20 years ago, music giant Polygram ruled the music industry, when LPs and music cassettes was all we knew. But in 1998, the company's CEO came across research that showed consumers had started buying music in a new format, the 'CD-ROM', which had more capacity and better definition. Consequently, he sold off his company just in time before it became redundant. The music business has since developed to an all-digital affair, with stupendous carrying capacity in flash disks.
Indeed, we are now in a transformational, knowledge-based, digitally interconnected world. Think about the following: we are creating 2.5 Quintillion bytes of data, compared to 100GB in 1992. Every year, the world is producing two million new books, 182 billion tweets, eight million new songs and 400,000 new products. Think self-driving cars, artificial intelligence, Big Data, the Internet of Things and 3-D printing, and you will have an idea of what's coming.
So, what are you going to do, either as an individual or a company? Are you going to survive and ride the new wave to a brave new world, or will you just sit and wait to be relegated into oblivion? It's scary, I know! What you know now could tomorrow become outdated, making you start searching for new answers. Only the brave will survive.
---
The writer is a communication consultant and public policy analyst. [email protected]
[crp]
Brand Kenya takes a beating as political tension escalates
Kenya is fast garnering negative publicity arising from the September 1 Supreme Court decision that ruled the country must go back to the presidential polls in 60 days
For local lovers of soccer, and East Africa as a whole, the month of September ended on a shocker. After two years of anticipation, the Confederation of African Football (CAF) dropped the bombshell. Kenya will not host the Africa Nations Championships (CHAN) 2018, after all. The unfortunate news must also have reverberated globally across the sporting world.
It was not totally unexpected though. According to CAF's statement, Kenya's general unpreparedness for the tournament, coupled with the current precarious political climate caused by an ugly electoral standoff, resulted in this unfortunate decision by the premier continent's soccer governing body.
Kenya is fast garnering negative publicity arising from the September 1, 2017 Supreme Court decision that ruled the country must go back to the presidential polls in 60 days. By a majority, the judges quashed President Uhuru Kenyatta's re-election for a second term, citing certain electoral irregularities and technicalities by the Independent Electoral and Boundaries Commission.
CAF's devastating news comes in the wake of a gradual dwindling of Kenya's economic fortunes since the country went into elections campaign mode earlier this year. Although the Central Bank of Kenya has reassured us that the economic fundamentals are still strong to support sustained economic growth, the political undercurrents are threatening to tear this assertion asunder.
Ultimately, what is the import of all these, one may ask? It is about Brand Kenya. Now, think about leading consumer brands in the world like CocaCola, Microsoft, Samsung, Nike, Google, Apple, McDonald's et al. The common denominator among them is that they do everything possible to protect their image in order to maintain pole position in the market. That is why they dedicate millions of dollars annually in advertising and marketing.
But the latter is not sufficient for a brand to sustain global market leadership. Consumers, partners and other stakeholders are always keenly watching the 'behavior' of the brand. For instance, a whiff of scandal usually leads to jitters in the stock market, while consumer watchdogs warn of class action to protect consumer rights. That is why no amount of public relations by Kenyan sporting authorities and other leaders could whitewash the fact that our preparedness for CHAN 2018 was mediocre, to say the least!
Imagine Kenya as an international brand, which we are. First, we are well known and feared internationally for our athletic prowess. By default, Kenyan athletes usually win most long distance athletic international meets, both at an individual and national level. Secondly, Kenya is one of the most popular tourist destinations in Africa. Our weather, wildlife and beaches are a veritable attraction for those seeking where to spend their money in leisure.
Quite often, you come across a foreigner describing Kenyans as warm and friendly. We know of expatriates who have worked in Kenya and found an excuse to stay on. The general good-naturedness of Kenyans is a strong attribute of Brand Kenya and the contents of her 'soul'. Another aspect that identifies Kenyans is the citizens work ethic and industriousness, both at home and overseas. Our human capital and resource is renowned globally for its high value delivery. That is why various Kenyan professionals are in demand, with individual Kenyans excelling in many fields.
However, let me reiterate that for top brands, perception about their products or services is as crucial as reality. You cannot blow hold and cold at the same time, and expect people to have total confidence in your brand. Therefore, no matter how hard we work at marketing Kenya, our actions as a country must bear the hallmarks of decisive and united action towards meeting our national goals.
Currently, heightened political tension is the notion trending about Kenya. The world is viewing Kenya as a potentially dangerous country for one to visit or do business with. The direction which we are heading does not inspire confidence in those who would like to invest their fortunes on our soil.
In the last five years, Kenya's reputation index and inspiring force had gained equity, cementing our already growing status as the region's economic powerhouse. This was both a cause and effect of increasing visits by global leaders like American President Barrack Obama, Pope Francis, Israel PM Benjamin Netanyahu, Facebook Founder CEO Mark Zuckerberg, pop icon Madonna and, recently, Alibaba Group Chinese business magnate Jack Ma. The associated branding voice was settling us square in the global map.
Kenya's brand equity is critical for both present and future investments. Even as we squabble internally, let us not let water from our dirty linen washing machines to flow into the international arena. We should take a cue from countries like Egypt and Israel who continue to receive millions of tourists every year amidst the perennial dread of terrorist attacks.