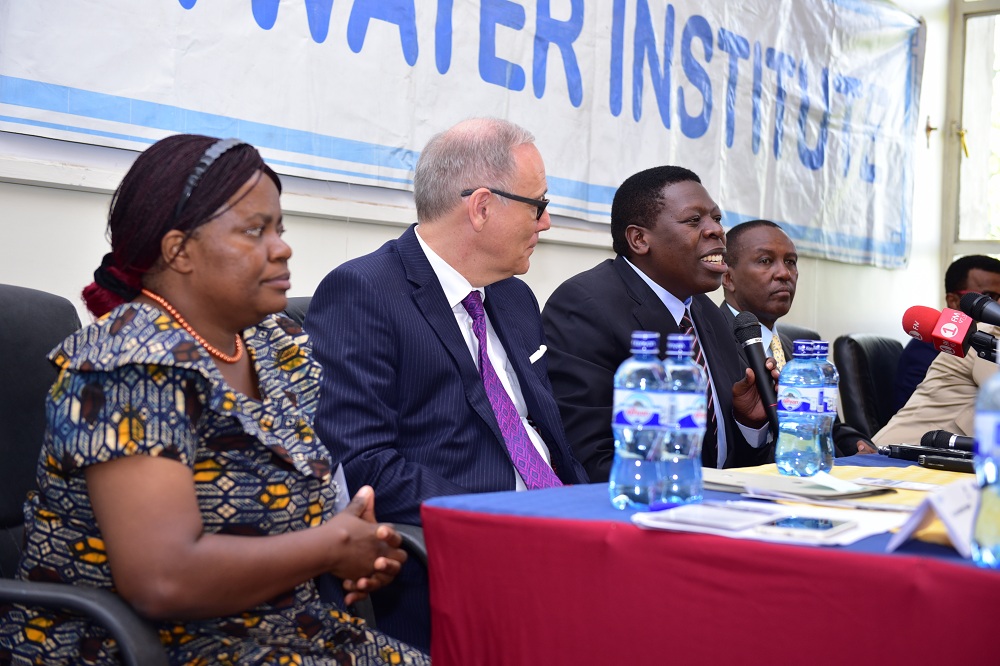 Water and Irrigation Cabinet Secretary Eugene Wamalwa has called on the politicians and their supporters to be mindful of the water infrastructure while holding demonstrations across the country as it affects delivery of the essential commodity to Kenyans.
On Friday, Nasa demonstrators in Kisumu destroyed a water hydrant along Oginga Odinga Street forcing the Kisumu Water and Sewerage Company (KIWASCO) to shut down its supply lines in the lakeside city.
Speaking while opening a one-week German Wastewater management workshop at the Kenya Institute of Water, the CS said the ministry was working hard to bring on board more development partners to enhance water management across the country as most parts of the country have been hit by severe shortage of water.
The German Ministry of Environment, together with the Delegation of German Industry and Commerce in Kenya (AHK Kenya) is holding its second Kenyan-German Water and Wastewater Week in Nairobi. The Water Week brings together Kenyan public and private water companies and water utility representatives to review strategies that have been put in place for a collaborative way-forward.
"The German experts comprises of eight subject matter experts and industry professionals, who will conduct workshops on the basis of their expertise covering topics that include Operation of water infrastructure, Ensuring water quality and Water loss reduction, among others," says Mrs Maren Diale-Schellschmidt, the Country Director of AHK Kenya during the opening of the workshop.
The Water Week comes at a time when the country is again facing severe water shortage, particularly in rural areas of the northern rift. This is not only affecting the livelihoods of families in over 23 arid and semi-arid counties but also businesses all over Kenya are getting more and more exposed to the scarcity of the water resources. The availability of water is threatening the prosperity of the private sector and hence also for reaching the ambitious goals of Kenya Vision 2030.
The Government and the entire water sector face increasing challenges to meet the ever increasing demand for fresh water for human consumption, agricultural needs and industrial demand. It is for this reason that also the National Ministry for Water and Irrigation is endorsing the 2nd Kenyan-German Water week in order to facilitate knowledge transfer from Germany to both private companies and public institutions in Kenya.
The Kenyan-German Water Weeks 2016 and 2017 form part of the Export Initiative Environmental Technologies of the German Federal Ministry for the Environment. AHK Kenya has organised the Water Weeks on behalf of the BMUB together with both Kenyan and German partners.
AHK Kenya is part of the worldwide German Chamber Network (AHKs) with 130 offices in over 90 countries, and is closely cooperating with the 79 regional Chambers of Commerce in Germany, Ministries, Embassies as well as various private sector organizations both in Germany and Eastern Africa.