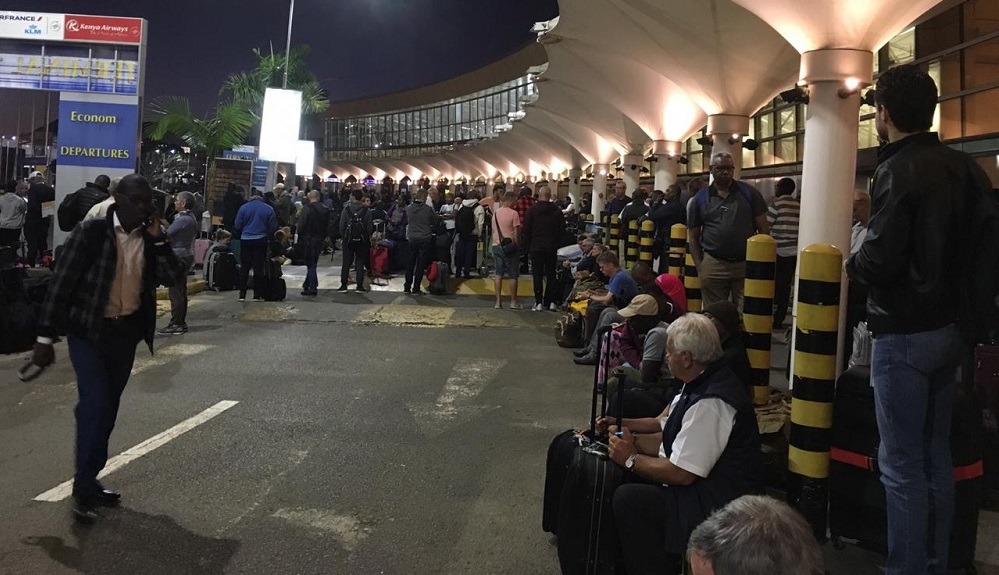 There is a major crisis at Kenya's Jomo Kenyatta International Airport (JKIA) as aviation workers kicked off their strike to protest proposed plans to handover airport management to Kenya Airways, defying a court injunction suspending the industrial action.
The strike, which started at early hours of Wednesday, has affected tens of flights in and out of the airport leaving hundreds of passengers stranded.
The industrial action that caught passengers unawares has led to crisis at JKIA, considered a regional aviation hub, as no flight has landed since 3 am with a Rwanda Air plane leaving empty with no passengers on board. The boycott has paralyzed the air transport as all inbound and outbound flights have been marked scheduled .
The workers under the umbrella Kenya Aviation Workers Union (KAWU) have raised questions on the proposed merger of Kenya Airways and Kenya Aviation Authority (KAA) which they claim will leave most of them jobless.
The merger, however, has been blocked by Parliament and is still under scrutiny. The union workers include, maintenance staff, air traffic controller, cabin crew, ground staff and security.
"In partaking in the industrial action, then the workers in this industry will be confident that their grievances will be looked at," said Moses Ndiema KAWU secretary-general.
Interestingly, the KAA on Tuesday had advised travellers that flights would not be disrupted and assured them of normal operations. KAA had obtained a court injunction to stop the strike by the aviation union, with Kenya Airways echoing the same message through online platform after the court ruling.
[ Video: Single Turkish man fights and subdues two Kenyan watchmen]
"The strike notice dated February 27, 2019, by Kenya Aviation Workers Union stands suspended following issuance of an order of injunction by the Employment and Labour Relations court on March 5, 2019. We wish to assure the general public of normal operations at all our airport," KAA stated.
The workers are demanding the removal of KAA boss Johny Andersen, chairman of the board Isaac Awuondo from office together with their KQ counterparts.